Main content
Rock around the clock: Jeremy Deller's 24-hour film fest
Artist Jeremy Deller has curated a unique programme of music documentaries for Helsinki's IHME Contempary Art Festival. 24 Hour Rockshow runs non-stop over 28-29 March in the Finnish capital, and includes a host of obscure gems alongside well-known documentaries on the likes of the Rolling Stones and David Bowie.
Deller says: "Rock music is an art form that grew up in public - and, luckily, at times in the presence of the some of the best filmmakers of the age. This persuaded me to put together 24 Hour Rockshow - a midday-to-midday film event about rock music and culture in all its glory and misery.
"The main selection criteria was that the films were made 'in the moment' and are not nostalgic retellings of classic rock myths. The Rockshow will screen classics like Gimme Shelter and Cracked Actor, as well as lesser-known films like the The Rock and Roll Singer which have a degree of poignancy that will I hope touch the believer and non-believer alike."
You can watch The Rock and Roll Singer - which follows Gene Vincent's disastrous 1969 UK tour - in full below. We've also curated a selection of clips from Cracked Actor, Alan Yentob's 1975 documentary on David Bowie in America.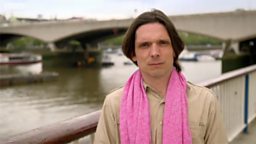 Jeremy Deller
The Rock and Roll Singer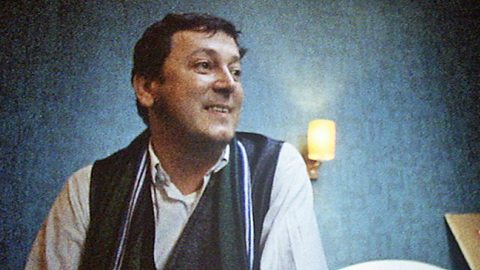 A 1970 edition of Late Night Line Up following Gene Vincent on a four-day UK tour.
Deller says: "Rarely has such misery been dumped on an artist with a camera crew present as in this film, in which rock'n'roll pioneer Gene Vincent undertakes a humiliating tour of the UK in 1969, aged 34.
"Nothing goes to plan as the singer is shuttled between rehearsal rooms, hotels, TV studios and gigs by Teddy Boy throwbacks who have kept the rock'n'roll flame alight in his absence.
"Though the musical landscape had changed beyond recognition since his heyday, the fast practices of managers and promoters remain - and they drive Vincent to distraction with their reluctance to pay a bona fide legend.
"The tour was curtailed by the combined efforts of the Inland Revenue, Vincent's ex-wife, and Don Arden, the notorious manager and enforcer. He would be dead within two years."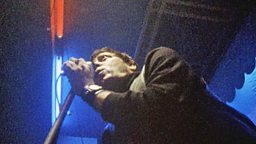 Gene Vincent on stage
Cracked Actor
Another highlight of the 24 Hour Rockshow programme is Alan Yentob's 1975 rockumentary about the extraordinary rock star David Bowie. Shot in 1974 and transmitted in January 1975, Cracked Actor follows Bowie in Hollywood as he begins to discard the elaborate costume and make-up of his legendary character Ziggy Stardust and assume a new, more enigmatic role.
Yentob recalls his experience of making the documentary while a 27-year-old producer-director for the BBC's Omnibus strand.
Also showing
Gimme Shelter (Albert & David Maysles, Charlotte Zwerin, 1970, 91 min)
DOA (Lech Kowalski, 1980, 90 min)
Message to Love [Isle of Wight Festival] (Murray Lerner, 1970, 127 min, 35mm)
Heavy Metal Parking Lot (Jeff Krulik & John Heyn, 1986, 17 min)
Kovasikajuttu (Jukka Kärkkäinen, J-P Passi, 2012, 58 min)
Wattstax (Mel Stuart, 1973, 98 min)
Björk: Biophilia Live (Nick Fenton & Peter Strickland, 2013, 97 min)
Saimaa-ilmiö (Aki & Mika Kaurismäki, 1981, 128 min, 35 mm)
The Who Suomessa (Timo Aarniala, 1967, 16 min)
Fiorucci Made Me Hardcore (Mark Leckey, 1999, 15 min)
Sielun veljet Moskovassa (Tahvo Hirvonen, 1987, 29 min, 35mm)
Depeche Mode 101 (David Dawkins, Chris Hegedus, D. A. Pennebaker, 1989, 117 min)
Stop Making Sense (Jonathan Demme, 1984, 88 min)
Can Free Concert (Peter Przygodda, 1972, 51 min)
Rockers (Ted Bafaloukos, 1978, 100 min)
The Rock and Roll Singer (producer: Tony Wheeler, BBC, 1969, 51 min)
Johnny Cash Live at San Quentin (Michael Darlow, 1969, 50 min)
The Cramps: Live at Napa State Mental Hospital (Joe Rees, 1981, 20 min)
For more details on the programme, including notes on each film by Jeremy Deller, see the festival website.
Acid Brass revisited
Elsewhere at the IHME festival, Jeremy Deller is revisiting his 1997 work Acid Brass - in which a selection of acid house records were re-scored and performed by a traditional brass ensemble. The 30-strong Töölö Brass Band, led by Ville Paakkunainen, will play techno classics A Day in The Life, Can U Dance, Cubik, Pacific 202, The Groove that Won't Stop, What Time Is Love, and Voodoo Ray on 27 March.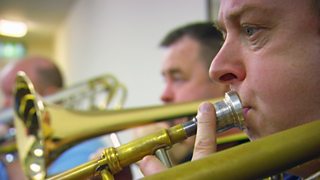 In this clip from a 2012 Culture Show Special, the artist and members of the Williams Fairey Band discuss the original project.
More film from BBC Arts
When documentary-makers recreate true stories, it can have an incredibly powerful impact.

The black actors, directors and producers who paved the way for the current generation.