Main content
Memory Tapes - January 2016
Dear Dad
Wednesday 27 January, by Matthew Mills Team Laverne
Helen Lang and her Dad have both been through rather a lot of late. But it's amazing what a humble mixtape can do to heal emotional wounds. Here's Helen to explain how hers did just that.
So the story behind my mixtape is that of my Dad and I.
In 2011 my Dad (Robert Lang 70 years of age in Feb 2016) and I (Helen 40 august 2015) began corresponding through letters having not being in touch with one another for over 7 years - due to a incredibly heated argument. In the time that we hadn't been in touch he had suffered from acute myloid leukeamia a form of blood cancer which is quite rare and resulted in his having extensive chemotherapy and blood transusions. Whilst he was in hospital undergoing treatment he lost his home and his extensive and memorable collection of vinyl along with all his other possessions which were taken and / or destroyed.
Dad had owned an absolutely amazing collection of varied genres and artists - from motown, blues, classical, pop, rock, jazz, dance, movie soundtracks and electronic. His musical tastes ranged from tracks like Bad Penny Blues by Humphrey Lyttelton to Touch Too Much by AC/DC
I was devastated at the news that he had lost his collection of vinyl and that he had been ill without me knowing. I felt helpless and guilty and not being able to help him but was still angry at the situation that had seen us fall out.
My dads music collection was such a big part of my childhood. I copied album covers like the surreal Ferguslie Park by Stealers Wheel while at school & copied the die cut window of the fold out Jailbreak album by Thin Lizzy. I loved the artwork of the vinyl and music library that i had access to back then.
After several letters between us both I decided to make a mix tape for him to try and convey how I felt about him and sent a selection of tracks which would remind him of holidays we'd shared, events and occasions in our life which had been special. In between these songs I have slowly introduced songs and tracks which I've heard because they've been showcased and supported by BBC6Music. I listen to music all day in my art studio at home.
My dads reaction and acceptance of new music is brilliant and he absolutely loves it. He loves being able to find tracks He goes to a local record store to discuss tracks he's heard and to look " a bit cool" when discussing new artists and to buy albums on CD.
Dad can't ever make me a playlist as his access (and understanding of) modern technology is so poor that he simply writes to me now with requests for songs: Tunes he can remember from dj'ing in clubs in the 60's & 70's as well as songs from his childhood and what he calls his courting days. There are songs that come with a story all of their own for him. If he meets me after i send him a CD he will always say "You know what that song reminds me of?".. and a long story follows..
Most recently I have introduced my Dad to Lambchop whom he loves, Nouvelle Vague, Tune Yards, Arcade Fire, Unknown mortal orchestra and as of today I am going to put Malukayi by Mongwana star onto a cd for him.
He loves drum driven or piano driven tracks - always is a sucker for New orleans left handy heavy piano (im not sure even i know what that is) and is quite into his ambient, chilled tracks nowadays. He loves a good chord progression as he calls it and is super chuffed that he has all this new music at his fingertips.
Dad requests music which I then listen to via the mac that i work on. He's introduced me to Duncan Browne, Glen Campbell, Tim Harding, Fats Domino, Allen Tousaint and Lou Christie (Lightnin strikes… whatta track)
Hope this is of interest to you and would love my Dad to be here and talk to you about his love of new music mostly thanks to BBC 6.
Lambchop - Up With People
Duncan Browne - Journey
Fragile State - Every Day A Story
Steely Dan - Kid Charlemagne
Aint Nothing Going On But The Rent - Gwen Guthrie
Yolanda You Learn - Pat Methany
Howard Jones - What Is Love?
War Baby - Tom Robinson
Arcade Fire - Reflektor
James Wells - Baby Im Still The Same Man
The Family Robinson Tapes
Wednesday 20 January, by Frank Palmer Team Laverne
Gifted to listener, Lloyd all the way back in 2003, today's Memory Tape would become the soundtrack to a true odyssey in the history of the family Robinson. We're not even going to attempt to summarise this monumental voyage, and the importance of Ian's mixtape initself, so we'll let Lloyd do the talking…
I'm writing to tell you about the compilation my mate Ian did for me and my family when we went on a sailing trip back in 2003. My mate Ian Light gave me the three-CD collection just before I left with my wife Sam and 2 year old daughter Jess to begin three years living on-board a sailing boat. He called it Family Robinson and each CD had with its own unique artwork. The artwork had been very thoughtfully created and featured pictures of globes and atlases and other such expeditionary paraphernalia. Unfortunately I have since lost the cases but luckily the discs have survived.
Here's the Mix:
Family Robinson Volume One
I Wanna Make It Wit Chu – Desert Sessions
Drive – R.E.M.
Wild Is the Wind – David Bowie
Heartbeat (tainai kaiki II) – Sakamoto
This Is What She's Like – Dexy's Midnight Runners
We the People Who Are Darker Than Blue – Curtis Mayfield
Here I Am (Come and Take Me) – Al Green
Raspberry Beret – Prince
Love Hangover – Diana Ross
Miss You – Rolling Stones
Walk On By – The Stranglers
While My Guitar Gently Weeps – The Beatles
There Is a Light That Never Goes Out The Smiths
Ring of Fire – Johnny Cash
Birmingham – Randy Newman
Always on My Mind – Elvis Presley
Hit The Road Jack (Live) – Ray Charles
Family Robinson Volume Two
Sailing – Rod Stewart
Dolphins – Tim Buckley
Song for Bob Dylan – David Bowie
Since I've Been Loving You – Led Zeppelin
The Cedar Room – Doves
Race for the Prize – The Flaming Lips
Goddess on a Highway – Mercury Rev
Try Again Today – The Charlatans
History – The Verve
Señor (Tales Of Yankee Power) – Bob Dylan
(I know) I'm Losing You – Rare Earth
I'm Going Home (Move) – Marvin Gaye
The Harder They Come – Jimmy Cliff
Twist & Crawl – The Beat
Family Robinson Volume Three
Days – The Kinks
That's Entertainment – The Jam
I Don't Know What I Can Save You From – Kings Of Convenience
Any Day Now – Elbow
Bang Bang – Paul Weller
Venice Queen – Red Hot Chilli Peppers
The Hardest Button to Button – The White Stripes
Yoshimi Battles the Pink Robots Part 1 – The Flaming Lips
The Boy with the Arab Strap – Belle and Sebastian
It's About Time – The Beach Boys
Wooden Ships – Crosby Stills & Nash
You Make Loving Fun – Fleetwood Mac
This Is the Sea – The Waterboys
Some Misunderstanding – Gene Clark
Perfect Day – Lou Reed
God Only Knows – The Beach Boys
Here's The Story:
Here's what we did: we quit our jobs, rented our house out and moved with our CDs to Portugal and took up residence on-board an oldish sailing boat called Wind Charger. She was a hidden gem we'd found whilst holidaying on the Algarve. We spent some time fixing her up and getting her seaworthy again. As well as breathing new life into an old boat we also managed to create a new life and Tom was born in Faro in 2004. Now with a crew of four we embarked on a couple of years sailing and living aboard our boat. Initially we stayed quite local to where we'd started and particularly while our Tom was very small, we took advantage of the beautiful sheltered waters of the river Guadiana. It was in places like Alcoutim and Pomerau that we met other experienced live aboard cruising sailors and we learned from them what we needed to do to our boat to get her ready for a transatlantic crossing – which did seem to be emerging as our ultimate objective. So, with Tom almost ready to start toddling and Wind Charger re-rigged and in pretty good shape we filled her up with food and water and sailed out of the river Guadiana and made passage towards Madeira. This would be our first extended passage and is still probably the roughest we ever had. Five days later and after a 48 hour storm we arrived in Funchal.
After Funchal we headed south to the Canaries. We did some cruising round the islands for a bit before landing in Santa Cruz on Tenerife where we spent some time making preparations for our crossing and meeting lots of other crews doing the same thing. We seemed to gravitate to other sailing families of whom there did seem to be quite a few. We became quite a close group and formed a loosely organised rally called 'Tobago A-Go-Go' for which to be entered you simply had to be going to Tobago. This was a very sociable period with many parties at which varied nationalities would get together and share in each other's terror/excitement about the prospect of an ocean crossing on a little boat. The topics for discussion at these impromptu gatherings were rarely anything other than boat related. Thankfully if you found yourself at one of these gatherings, and you weren't a sailor, you would have found some comfort in Ian's music, which was always playing.
Eventually we left Santa Cruz and headed south for the Cape Verdes. After a brief stop here we set off across the Atlantic. Sixteen days later we arrived in Pirate's Bay at Charlotteville in the north of Tobago. We had Christmas at sea where miraculously Santa Claus still managed to find us. Still Ian's mix was on repeat. It might seem sad but I guess it was more than just the music - it was a connection to our great mate. It always reminded us of him, and by association, of home. It was a comfort which from time to time was absolutely essential. I'd even go so far as to say that it pulled us through on a number of occasions. From Tobago we cruised in company with an Austrian family up through the islands as far as Martinique. The three CDs were hardly ever off the stereo. The tunes became the soundtrack to our time on board Wind Charger. Luckily the boat was equipped with a decent stereo and music could be patched through from the interior out to the cockpit so we could be sailing along with the music with us on deck.
By the time the hurricane season became a pressing issue I think we were all pretty knackered. We'd done some quite hard sailing and I think both us and Wind Charger were ready for a break. So with the hurricane season fast approaching and after some quite exhausting voyages we decide to head to the safety of Trinidad and haul Wind Charger out of the water for the summer. We realised that Jess was now ready to start school so common sense got the better of us and we decided to head home and revert to a slightly more conventional way of life. For a couple of years we left Wind Charger in Trinidad until in 2008 I went with my Dad to collect her. After an exhausting long haul journey back to Trinidad I climbed onboard a very dusty Wind Charger, connected up the batteries and immediately put on Family Robinson volume one. Me and my Dad spent six weeks in Trinidad getting Wind Charger seaworthy again and then four weeks sailing back to Poole and Ian's mix was always playing.
So 10 years on and we're settled into life in the suburbs of Sutton Coldfield. I'd say that Ian's mix is as important as ever because it takes us back. Back to a brilliant time of adventure and not knowing what day it was and looking out of a little port hole and seeing the ocean rushing past. Hearing the sound of a sailing boat surging down a wave with the wind in its sails and all the creaking and straining that goes with that, and having great music playing is an unforgettable experience. The original CDs had only one track on each so the whole compilation was just one track and you couldn't fast forward or skip anything, which was great as it forced you to listen to everything, every time. As a consequence tracks that you might not have 'got' initially grew on you until everything was your absolute favourite.
A bit about Ian...
Or DJ Lighty as he's affectionately known sometimes. He's always on the decks at parties and he seems to know everybody's favourite tune. He'll be shouting round the room all night to everybody, "this one's for you". He's introduced me to so much great music over the years and I know he's done the same for countless other people. We've been mates since the nineties and have been to many festivals and gigs and parties, initially in a gang of mates and now still doing it but with quite a few kids in tow. We do our own little festival and DJ Lighty is still bringing us all the best tunes. I wanted to big him up a bit as he's had a rough few years having lost two of his best mates to cancer. Firstly Ian was very close to Jonny Brookes of the Charlatans and together they started Onebeat Records and were champions of new musical talent in the West Midlands. And last year his best mate from school, Gary was taken by pancreatic cancer. Ian has kept going and is raising money at events and running fun runs for cancer charities. He's kept Onebeat Festival going too which is a showcase for new talent in Birmingham. Jon said of Ian that it was his integrity which made him so special and I have to agree. He is a man of great integrity and I wanted to say thank you to him because he's an inspiration.
Fantastic Voyage
Wednesday 13 January, by Matthew Mills Team Laverne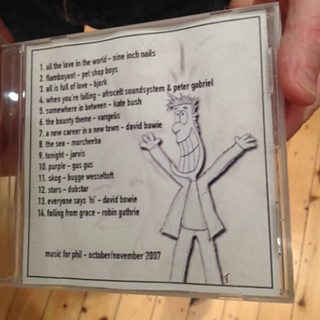 Following the devastating news of the passing of David Bowie on Monday 11th Jan, listener Philippa Moore was driven to contact us to request a song. Like many others, he was not only intertwined with her musically, but also woven into the very fabric of her life and memories. We thought her story and mix CD 'Fantastic Voyage' would make the perfect Memory Tape for this week.
I feel so sad, like I've lost a family member, and I'm speaking as someone who's only appreciated the magic and genius of David Bowie for less than ten years. I can't imagine how people who have loved his music for decades must feel.
The thing I love the most is just hearing Bowie on the radio, as fresh and catchy and memorable as ever. What a thrill to hear 'Young Americans' as I write this.
I would love to hear 'Everyone Says Hi' off Heathen please. It's a song that always makes me think of my then boyfriend Tom, as he put it on a mix CD for me when I went on a solo trip not long after we met. We were just getting to know each other at that stage, and being as passionate about music as he is, he wanted to introduce me to his heroes. And, almost instantly, Bowie became one of my heroes too. So this tape is all about that journey.
He's now my husband and introduced me to the wonderland that is Bowie's back catalogue and Ziggy Stardust, Outside. Hunky Dory became the soundtrack to my early years of living in London - I moved here from Australia in the summer of 2007. I now can't hear 'Suffragette City' without remembering my first London winter and being locked out of my flat in Kilburn. Or 'Starman' without recalling those long treks out to Amersham to see my then boyfriend now husband at weekends. When my boyfriend sang "Let's Dance" to me at a "tranny-oke" bar in Soho. That's when I knew I had to marry him!
And it's only now I realise back in 2007, I fell in love with two Englishmen - my husband Tom, and David Bowie. We also had Bowie playing at our wedding as we signed the register; 'The Wedding Song' from Black Tie White Noise
Fantastic Voyage
Nine Inch Nails - All The Love In The World
Pet Shop Boys – Flamboyant
Bjork - All Is Full Of Love
Afrocelt Soundsystem & Peter Gabriel – When You're Falling
Kate Bush - Somewhere Inbetween
Vangelis – Bounty Theme
David Bowie – A New Career In A New Town
Morcheba – The Sea
Jarvis – Tonight
Gus Gus – Purple
Bugge Wesseltoft – Skog
Dubstar – Stars
David Bowie – Eveyrone Says "hi"
Robin Guthrie – Falling From Grace
Stu's Memory Book
Wednesday 06 January, by Matthew Mills Team Laverne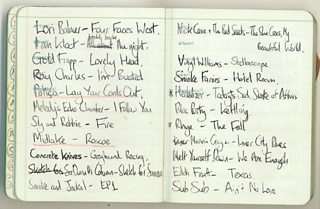 When Stu moved away from home for work, he found solace in the radio (thankfully listening to us!) and began keeping a log of the songs that struck him in a little notebook. The story that those pages tell not only illuminate the twists and turns his life took, but also ended up helping him fulfil a long held ambition...
Almost 8 years ago I left my home city (Birmingham) and landed in Belfast with a new job, and kind of latched onto listening to 6music on headphones. There are loads of little details I could go into but that would take all day (and I really should be working) so I'll keep it on point. About 3 years ago I made a couple of concerted efforts to find out how I could get involved in working on the radio (which I blame on all of you) not presenting, just production or something nice and low key. With little to show for my efforts, I thought I'd missed my window. When you're in your thirties and everyone else seems to be just out of university, you feel like you're making a fool of yourself in keeping on trying. It was a shame but not the end of the world and I happily carried on listening where jobs would allow the freedom to do so.
I've had a little book since June 2011 which I've written down all the good, new or interesting songs I wanted to remember. There are gaps where jobs stopped me listening but it covers a very long stretch of time. I've now filled 49 pages and it averages about 10 songs a page.
A few months ago through a very unlikely sequence of events I ended up helping produce a local music show at a community radio station in Belfast as a volunteer. It's rough and messy in places, things didn't always happen at the time they were meant to, but then I was asked to co-present, and after four previous mildly nerve-racking experiences, I finally had a show where it all went (relatively) right.
Sincerest and warmest regards,
Ian
Featuring
Cymande - The Message
Led Zeppelin – Trampled Underfoot
Concrete Knives-Greyhouse Racing
Serge Gainsbourg & Brigitte Bardot– Bonnie & Clyde
Laura Marling – Goodbye England (Covered In Snow)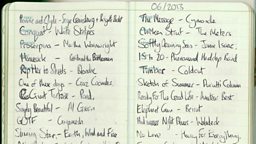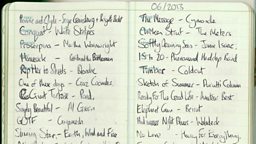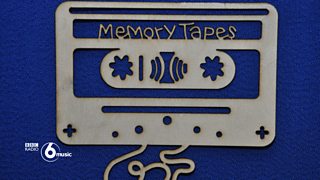 Did you ever make a mix tape for somebody? Did they ever make one for you? We've had mixtapes for friends and from loved ones, the soundtrack to breakups, starting bands, songs played in shops to self-help playlists. We want to hear your Memory Tape, simply email us with the track-listing and story behind it: lauren.6music@bbc.co.uk
The Desert Island Disco is your opportunity to create the perfect dance floor soundtrack. Send us 10-15 of your best party tracks, and check out what previous listeners have selected.