Main content
Ali Plumb reviews Fighting With My Family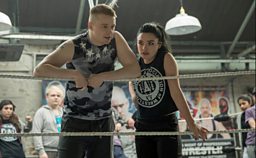 CREDIT: ROBERT VIGLASKY/METRO GOLDWYN MAYER PICTURES
Fighting With My Family ⭐️⭐️⭐️
Synopsis:
Meet Paige (Florence Pugh) and Zac (Jack Lowden). They're teenage wrestlers, born into a wrestling family where everyone gets in the ring, including mum (Lena Headey as Julia "Sweet Saraya" Bevis) and dad (Nick Frost as Patrick "Rowdy Ricky Knight" Bevis). They've both dreamed of becoming part of WWE for as long as they can remember, hoping to get out of their local Norwich wrestling scene and into the world of Smackdown, Raw and The Rock (who both cameos and produces this movie, by the by). Given a shot at the big time when an American talent scout comes to the UK (Vince Vaughn as Hutch Morgan), their lives are about to change forever: will they make it under the big bright lights of Wrestlemania or is it back to Norwich in a clapped-out old van? Stephen Merchant, of The Office fame, directs this real-life story of spandex, bodyslams and bravery.
Third party videos may contain adverts
Pros:
If you hadn't realised already, let me tell you now: Florence Pugh is brilliant. She was great in The Falling, Lady Macbeth, Outlaw King, the BBC 2018 adaptation of King Lear and now this, Stephen Merchant's likeable based-on-a-trueish-story rags-to-riches wrestling tale Fighting With My Family. Her take on Paige is so good, it makes you wonder who else would even dare to give it a try, selling just how scary it is to be slung into the spandexed storm of WWE-level professional wrestling with ease, as well as delivering a believable inner strength that lets her overcome the many obstacles in her way. Essentially, she's very, very good.
The whole cast are great, mind, notably Nick Frost as mohawked maniac – in a good way – Rowdy Ricky Knight (Paige's dad), and Jack Lowden's Zac (who was so good in Mary Queen Of Scots), and Vince Vaughn, and Lena Headey, and, and, and… they're all good, truly. The script works well, smoothing out a few things that in reality were quite a lot trickier, and it's gently funny throughout. If you're expecting harsh, acidic, awkward Office stuff from director Merchant here, don't: this is a witty, gentle, somewhat airbrushed bit of storytelling that beats with a big heart.
The story in of itself is remarkable. The characters, actors, script – yes, they're good, but the actual story this is based on, that of a real teenage girl from Norfolk, born into a wrestling family, who made it to the top through sheer grit and determination, is a belter. It's hard not to be swept up in it all, to not cheer on Paige, to will her family to greater and greater success. Who doesn't like a zero to hero tale? Well, exactly.
Cons:
When I said "airbrushed" before, I really do mean it. The 100% real story of Paige is not this polished or pretty or perfect. Just a quick look at Wikipedia reveals how many creases have been ironed out – most of them relatively harmless editorial decisions to speed up the story or compress certain characters, sure – but don't go thinking this is a clinical recreation of what went down. This is a film that wants to make you feel good, to lift your spirits and remind you how much fun wrestling can be, which makes sense when you remember this is a WWE Studios production, and they're not going to let one of their films really get into the nitty gritty of what professional wrestling can be. A cynic would call this a PR exercise for all parties, but as PR exercises go, this is a pretty fun one.
With the talent involved, you might have wanted this to be a little funnier. It's aiming for the heart and not the funny bone, sure, but just a few more jokes would have gone a long way. The jokes it does have, as mentioned before, are all quite gentle, and if that's your speed, then fill your glittery boots.
There's not enough Rock in this. He's all over the trailer – of course – but he's not a big part of the movie by any means.
Three word review: Pleasing, polished, charming
Ali Plumb reviews all the biggest releases and goes behind the scenes with Hollywood stars.