Main content
The artist reimagining Islamic calligraphy for the 21st Century
In Civilisations: The Eye of Faith Mary Beard enters Istanbul's Blue Mosque and discovers Islamic calligraphy "at its most powerful". But this form – whose name is derived from the Greek word meaning 'person who writes beautifully' – is still evolving, thanks to artists like Soraya Syed.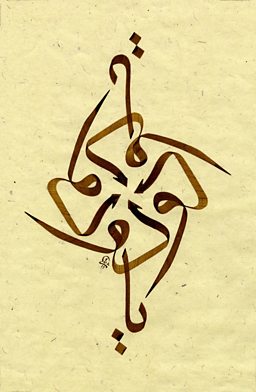 Ya Wadud (O Loving One!), c. 2012 | © Soraya Syed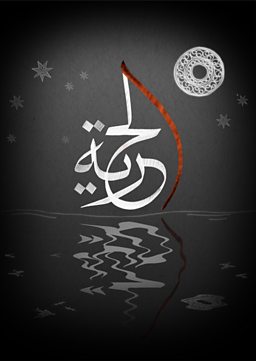 Hurriyah (Freedom), c.2013 | © Soraya Syed
Today, Istanbul remains an important centre of the Islamic art world, with would-be calligraphers coming to the city to learn the ancient form. Soraya Syed was one of the first European artists to go there to train.
While Syed still works in the traditional way, with pen and ink, she also takes the essence of Islamic calligraphy into different contexts.
In 2016, she was commissioned by the Royal Shakespeare Company to produce a work based on a piece of writing by Shakespeare. The resulting piece, A Deep Sleep, is her response to the line 'This sleep is sound indeed' from Henry IV Part 2, where Prince Hal sees his father, the King, on his death bed.
This sleep is sound indeed

William Shakespeare, Henry IV, Part 2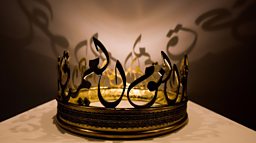 A Deep Sleep, c. 2016. Commissioned by the Royal Shakespeare Company | Photo by David Tett. © Soraya Syed
Syed is the creative brain behind an app called Nuqta which encourages users to post images of Arabic calligraphy and typography wherever they see it.
Her 2015 work The Pen and the Sword saw her bringing together an antique pen case and an innovative 3D technology in order to juxtapose the old and the new.
The piece was commissioned by Cartwright Hall Gallery, Bradford. Syed says: "It uses a holographic box, with a real antique pen case inside. My hand-drawn calligraphy emanates out of the ink-well in the form of an animation. Being able to do this digitally gave me the freedom to play with colour and speed of movement in three dimensions."
She appreciates how technology brings her together with others, adding: "Calligraphy is usually a very solitary exercise and I think that's what I like about using new technology - it gives me a chance to work with other people, to collaborate. Otherwise I'm just in my studio with a pen and paper."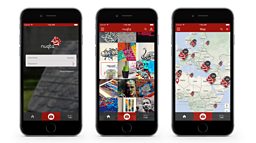 Nuqta allows users to post images of Arabic calligraphy and typography wherever they find it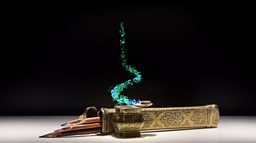 The Pen and the Sword, c. 2015. Commissioned by Bradford Museums | © Soraya Syed
Syed is also interested in the world of virtual reality and is currently working in Tilt Brush for Google. She will be making further announcements about its launch in the spring via social media.
Istanbul connection
Syed was actually one of the first Europeans to go to Istanbul to train in calligraphy. From London, she has a degree in Arabic and History of Art and Archaeology, and a Masters in Visual Islamic and Traditional Arts. But a year studying abroad in Egypt ignited her desire to take up the pen and become a calligrapher herself.
She began her apprenticeship under Turkish calligraphy master Efdaluddin Kılıç after meeting him in Norwich. But distance – Efdaluddin was based in Istabnbul – was an issue back in the late 1990s. She says: "This was before scanning and email were as popular as they are now. It was difficult corresponding – I was sending my work through the post!"
So she made the decision to leave the UK and move to Istanbul in 2002 to pursue her craft through face-to-face tuition. She says: "There weren't any other foreign students that I was aware of. It was quite unusual for a single young female from outside of Turkey."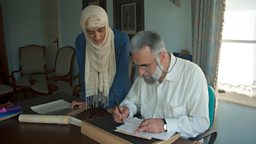 Soraya Syed studying with Hasan Celebi Hoca in Istanbul back in 2003
Syed says the training was daunting at first: "We started off drawing a single line of a prayer. That lesson could go on for weeks, even for months. But it was not just about accuracy, initially – they were also looking for full dedication, patience and a passion for the art, which is perhaps more important than the skill itself."
She also found it took time to get used to the way her tutors would feed back. She says: "You would bring your work to class and everyone would see it being corrected.
"I often liken the experience to bringing the whole doctor's waiting room with you inside an appointment and your doctor saying, 'Here is everything that's wrong with you' and telling you how to remedy it. But it's quite humbling and you get used to it because there are other students going through the same process."
Ultimately Syed's dedication to her craft – the training took a total of seven years – paid off when she was awarded the icazetname. This document is the authoritative Islamic calligraphy licence, which places the users in a lineage of calligraphers that goes back as far as the birth of Islam.
More from Civilisations
Colour is a complicated and, at times, controversial topic.

Five of the most significant paintings in the history of Western art.

OpenLearn, the OU's home of free learning, helps you explore the art of different civilisations of the world.

Explore artefacts using the augmented Reality (AR) app and 360 degrees videos, plus storytelling collaborations with UK museums and galleries.

Viv Jones' audio companion to the BBC Two series is taking us on some intriguing tangents.

Mary Beard and Simon Schama reveal the inside story of writing and presenting the BBC Two series Civilisations.