Main content
Solomon Akhtar
Solomon was fired in week 11 after the interviews due to lack of detail on his business plan. Of his firing, Solomon said, "I'm really disappointed but for me to make the final five at such a young age, that's an achievement in itself. I think Lord Sugar sees potential in me. Not right now but in the future so I'm very happy with that."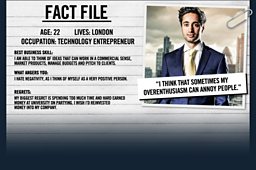 About Solomon
Solomon works at a creative agency while also running his own company, a technology business within the social media field. He has also created and managed events for students including a retail store 'lock-in' and group yacht trip round Croatia. Although he now makes money from entertaining students, he wishes he'd spent less of his own cash on having a good time at university, in favour of investing it in his business.
Solomon describes himself as enthusiastic, energetic and personable and he is passionate about technology and travel, but is angered by negativity. The entrepreneur claims his best business skill is his ability to market products, manage products and pitch to clients in a commercial field.