Main content
The cocktail detective with a licence to chill
It's arguably the most famous drink in literary history but James Bond's shaken not stirred Vesper Martini is at risk of being confined to the pages of the spy novels. One of the key 1960s ingredients specified by author Ian Fleming is in very short supply in its original form.
"Three measures of Gordon's, one of vodka, half a measure of Kina Lillet. Shake it very well until it's ice-cold, then add a large thin slice of lemon peel. Got it?" These are the words uttered by James Bond in Ian Fleming's 1953 novel Casino Royale. But one key ingredient, the Kina Lillet aperitif, is now almost impossible to find in its original flavour, until now.
In a twist worthy of a 007 plot, one man is trying to reverse engineer the flavours of the famous aperitif. As Bond returns to cinema screens BBC News Arts Correspondent David Sillito goes undercover to meet the cocktail detective with a licence to chill.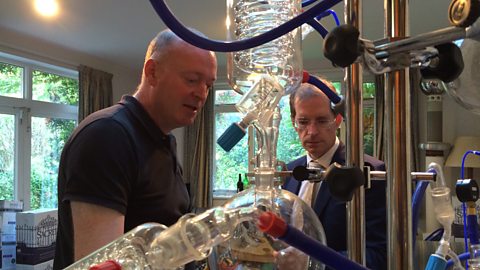 BBC News arts correspondent David Sillito visited the home of a cocktail detective.
By David Sillito
Ian Hart keeps gin ingredients in his daughter's old Wendy House and distils spirits in his living room. Next to his sofa and TV is what looks like a chemistry set gone mad. He is also the owner of a library of forgotten flavours. A chamomile liqueur, an Italian rhubarb liqueur and an original 1960s bottle of the quinine infused tonic wine Kina Lillet sit amongst dozens of bottles on his shelves.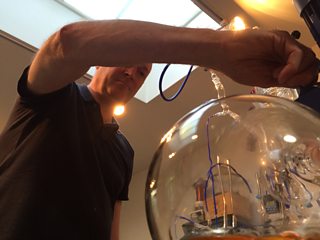 As far as I know there are only three bottles left in existence and I have one

'Cocktail detective' Ian Hart
Many are rare and most are discontinued but it is the Kina Lillet that is his most treasured possession.
"As far as I know there are only three bottles left in existence and I have one."
The Kina is important because it is a key ingredient in perhaps the best known cocktail in literary history – the James Bond Martini – the Vesper. Bond ordered it in Casino Royale and demanded that it was shaken. Now for anyone who knows anything about a Martini, shaking will make it very cold very quickly but it will also kill off some of the aromatic flavours. Ian Fleming was saying that Bond liked a very strong drink that was very cold but he didn't care about appreciating the complex botanical flavours. In essence, he was saying he was a bit of a thug. Men of taste and refinement always stir.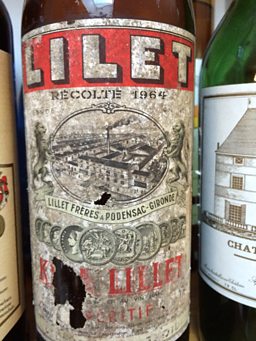 An original bottle of Kina Lillet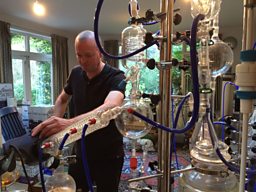 But 60 years on, if you want to replicate the Bond Vesper Martini you will struggle. Kina Lillet became Lillet Blanc in 1986 and with the change of name came a change in taste to make it less bitter. The strong malaria busting flavour of quinine was jettisoned to make something a bit fruitier, a bit less medicinal.
The Kina has a flavour of quinine, it's quite different

Ian Hart
"The Kina has a flavour of quinine, it's quite different," Ian's bottle is still unopened because serious science is brewing. His plan is to analyse the Kina's flavours and 'reverse engineer' his own version. Gin he says has been having its 'moment' - around 300 new gins have arrived on the global market in the last 10 years. (He does several of his own – the cumin flavoured one is particularly spicy.) Ian's guess is that it will be Vermouth's turn next and that the complex, strangely bitter flavours of the golden age of the cocktail are set to return.

More film inspiration on the BBC
Meet the world-record holding crafters making a crochet Christmas project

One of a handful of aspiring artists whose painting was chosen for the Royal Academy's Summer Exhibition

A retired designer who painted a Canaletto-style painting, replacing the buildings with those of his home town

A jewellery designer who discovered a love for digital printing and uses it as a way to relax and to cure jet-lag

A dedicated mum and knitter who makes retro tank tops for her rugby- mad son and his friends to add a splash of style to the stands

A stitcher who joined a sewing group to meet like-minded people. She's made tea cosies and draught excluders as gifts and hopes to move to dressmaking

A stroke survivor who has used painting, music and writing to rehabilitate. He shared his first self-portrait using his affected hand with Get Creative

A keen cross stitcher and crafter who uses it as a way to relax and wind down after a day content producing for Get Creative