Main content
Remembering Sir Jimmy Young
Having spent well over five decades behind a BBC microphone, Sir Jimmy Young was one of the nation's most beloved broadcasters. Here we take look back over his career and some tributes from former colleagues.
Everyone remembers the radio shows they listened to growing up, but Jimmy's programme had particular significance for Gordon Brown. Here the former PM recalls tuning in during a difficult time.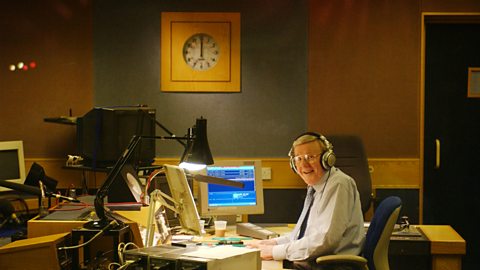 Former PM Gordon Brown tells Jeremy about the important role Sir Jimmy played in his life
As Gordon Brown recounts, Jimmy was part of the original lineup at Radio 1, having cut his broadcasting teeth with The Light Programme and Radio Luxembourg. He presented the mid-morning show, before moving to Radio 2 in 1973. This photo of Radio 1 & 2's original presenters was taken in September 1967, including JY (second from top left) and some other familiar faces.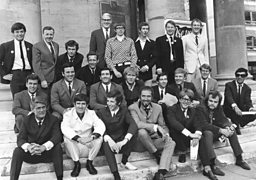 Jimmy's Radio 2 show was known for its unique blend of light entertainment with current affairs, in a format never before heard on the airwaves. In this tribute to Jimmy, Radio 2's Ken Bruce explains just how groundbreaking the "JY Prog" was.
Jimmy's approach made for compelling listening, and his everyman appeal meant that politicians were queueing up to appear on his show. Over the course of his career Jimmy interviewed every British PM, from Alec Douglas-Home to Gordon Brown, with Margaret Thatcher appearing fourteen times.
Because Jimmy's interview style was more conversational than other current affairs programmes, some politicians got the impression that going on his show guaranteed them an easy ride. But in reality that was far from the case, as Jeremy Vine recounts in his tribute to Jimmy.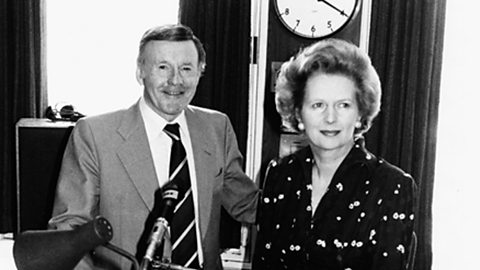 Vine: Sir Jimmy Young would be 'one of the heads' on 'Radio 2's Mount Rushmore'
Jimmy's quick wit meant his shows were never short of memorable moments. Here's some off-the-cuff sparring with fellow Radio 2 legend Terry Wogan in 1978.
When news of his passing broke, tributes flooded in across Twitter, with numerous famous names expressing their admiration for him over the years.
You can find more pictures and tributes to Jimmy here, and be sure to tune in to Radio 2 at 11pm on Wednesday to hear a special programme looking back at his career, and listen again to Tuesday's Jeremy Vine show for an hour-long tribute to JY.