Main content
12 amazing classical sessions with a difference
BBC Radio 3's drivetime show, In Tune, has a long and noble history stretching back almost 30 years. Every weekday from 5pm, you can expect to hear two hours of top-class live music from some of the world's finest classical, jazz, folk and world musicians, presented by Sean Rafferty and Katie Derham and followed by our very own In Tune Mixtape.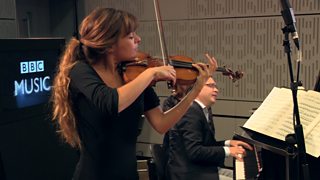 Here are just a handful of the very, very starry names who've passed through the In Tune studio in recent months and years.
Nicola Benedetti
Scottish superstar violinist Nicola Benedetti is a household name: a performer, an ambassador for music education and a regular guest on In Tune since 2004, when she burst onto the classical scene with a dazzling win at BBC Young Musician.
Here's a gorgeous session – one of several – from the In Tune archive: Nicola performing Beethoven with long-term collaborator Alexei Grynyuk.
Sheku Kanneh-Mason's Bob Marley cover
In January 2018, cellist Sheku Kanneh-Mason was a growing name in the classical world, with a BBC Young Musician win, a record deal and a BBC Proms debut already under his belt. Not bad for a 19-year old student!
Sheku and sister Konya joined Katie Derham on In Tune to play tracks from his debut album, including this classical take on a Bob Marley hit.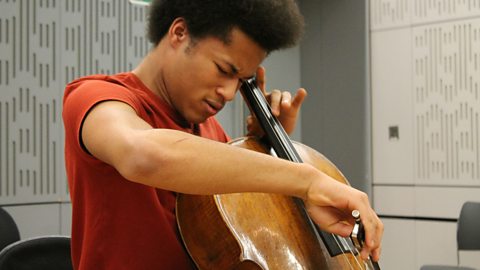 Sheku Kanneh-Mason introduces and plays his arrangement of Bob Marley's classic.
Sheku was already big news to us. But just a few months later, he was catapulted to international uberstardom when his appearance at the Royal Wedding was watched by more than two billion people worldwide. You know where you heard him first…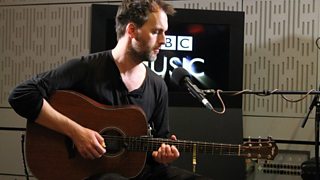 A solo session from a folk music legend
Folk fans distraught by the break-up of Bellowhead in 2016 could be at least temporarily consoled by this session from their former frontman, Jon Boden, who was preparing to embark on his first ever solo tour when he appeared on In Tune.
Eric Whitacre conducts choral music by Laura Mvula
Composer Eric Whitacre is the founder of the one of world's largest singing groups – The Virtual Choir, made up of over 8,000 singers from all over the world. But it was an altogether more intimate affair when he conducted the BBC Singers in an exclusive session for In Tune at Maida Vale.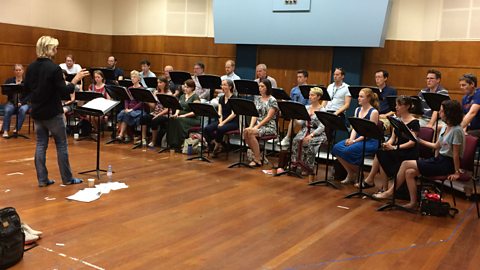 Eric Whitacre conducts the BBC Singers in Laura Mvula's beautiful song.
This performance features Laura Mvula's own arrangement of her magical song, Sing To The Moon. "The reason composers compose is because they can't sing," Whitacre quipped. "I would trade it all to be a singer."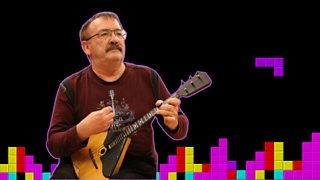 The folk song that gave Tetris its theme
Korobushka (also known as Korobeiniki) is a well-known Russian folksong – but you may know it as something different. Everything will fall into place when you hear this 2017 performance by balalaika maestro Bibs Ekkel.
Jacob Collier's tribute to Leonard Cohen
Hours before Jacob's In Tune appearance in November 2016, news broke of the tragic death of singer-songwriter Leonard Cohen. Jacob had came to the show to demonstrate his new vocal synthesiser, but wound up using his final performance slot to perform an acoustic piano cover of Cohen's Hallelujah. There was no technological flashiness here; just this simple and devastatingly emotional interpretation.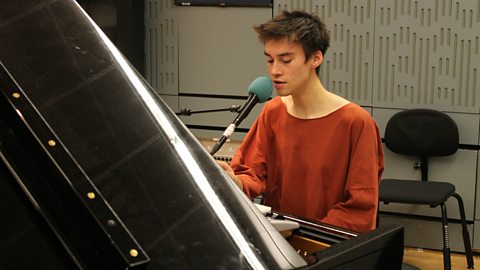 The jazz singer performs Leonard Cohen's Hallelujah live on Radio 3's In Tune
Jacob has since led his own Prom and hosts his own show on Radio 3, Jacob's Collier Music Room, in which he explores music's universal language.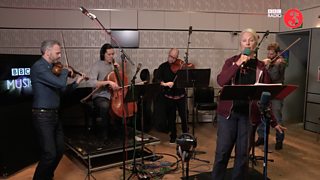 Anne Sofie von Otter sings Kate Bush
Many In Tune listeners will associate the Grammy Award-winning mezzo-soprano Anne Sofie von Otter with opera, or at the very least with classical chamber music. But when she visited the In Tune studio in 2016, it was with a duo of Kate Bush songs in her capacious music folder. "I'm sure Kate Bush loves Baroque music," she said as she took to the stage with the cutting-edge Brooklyn quartet, Brooklyn Rider, to perform Pi.
Jamie Barton's bluegrass alternative
Atlanta-born Jamie Barton told us that she started life as a diehard bluegrass fan, but was just terrible at banjo. So she got into singing instead – and lucky for us she did. In 2013, she scooped not one but two of the opera world's biggest prizes – the main prize AND the song prize at BBC Cardiff Singer of the World. She appeared on In Tune in 2016, ahead of her Covent Garden debut alongside Plácido Domingo.
Jamie returns to the BBC this summer as the prestigious Last Night of the Proms soloist. We. Cannot. WAIT.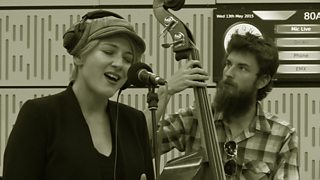 Smoking 1920s jazz from the Hot Sardines
One of our all-time favourite jazz sessions ever comes courtesy of US jazz band The Hot Sardines, who put their own unique spin on music of the 1920s, 1930s and 1940s. Just try watching this without tapping your own (big) feet.
Chineke! debut
Chineke! is Europe's first professional orchestra comprised of black and minority ethnic musicians, and a runaway success. A few days before their sold-out, rapturous debut performance at the Queen Elizabeth Hall in 2015, a small ensemble joined Sean Rafferty on In Tune to give Radio 3 listeners a sneak preview.
Founder member Chi-chi Nwanoku told Sean about her inspiration for forming the ensemble. "It was when I saw the Kinshasa orchestra perform last year, and the looks of surprise and novelty that such a large group of black musicians could play together in such a harmonious way," she said. "Classical music is historically thought of [as] a Western civilisation [thing], something that's 'not for us'. But it's down to education and opportunity."
Chineke! have become an established part of the UK's classical music scene. They made their BBC Proms debut in 2017 and return this year in Prom 21: A Musical Trip to the Moon.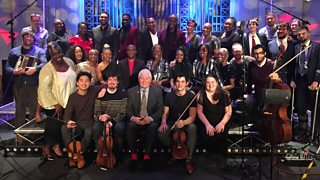 A festive extravaganza
In Tune takes Christmas very seriously. Every year, the show hosts a star-studded festive special. In 2018, we heard carols from The Kingdom Choir (AKA Harry and Meghan's wedding singers) and readings from no less than Game of Thrones's Dame Diana Rigg! Even the most hardened of Scrooges will have a hard time resisting this festive mash-up...
It's all about that bass for Courtney Pine
Saxophone star Courtney Pine made all our heads explode when he rocked up to the In Tune studio with pianist Zoe Rahman and what Sean described as "the biggest saxophone in the universe". As it turned out, it wasn't actually a sax.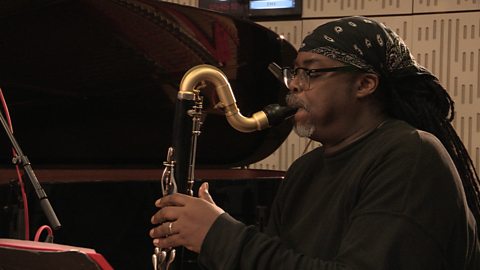 A Child is Born by Thad Jones and Alec Wilde. Recorded live on In Tune 11th March 2015
"The bass clarinet is my favourite instruments," Courtney explained. "It has amazing reach and possibilities. I've always thought it could be a lead instrument, not just a backing instrument." He then proceeded to demonstrate. It was cracking.
Listen to In Tune on BBC Radio 3 every weekday from 5pm. And don't forget to download the In Tune Mixtape - a 30-minute mix of delightful sounds from across the musical spectrum.