Main content
Nine things we learned from Derren Brown's Desert Island Discs
Derren Brown is a mentalist, illusionist and author. Since his television debut in 2000, he has hypnotised a woman into believing she died in a car crash, convinced middle managers to commit armed robbery, and persuaded a nervous flyer to take control of a plane packed with passengers. He even had one man believe the world had ended, leaving only a few zombie survivors. As well as his TV work, he has written several books and created eight acclaimed stage shows.
Here are nine things we learned from his Desert Island Discs.
1. He describes himself as a mentalist
Derren sees this as a wide-ranging profession: "Mentalist is the technical term for what I do and it covers everything from psychic medium through Uri Geller, through to magicians doing tricks with a mental theme." But if within that he has a specialism, it's much more in the realm of the psychological rather than as a magician: "It's not that the hand is quicker than the eye, it's just that you only paid attention to certain things that you thought were important. My interest was definitely in the psychological aspects of it, sometimes in psychological methods, sometimes in psychological effect even if you're using conjuring effects to get there."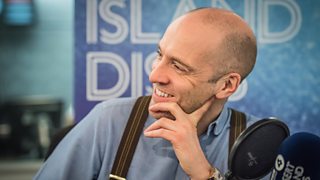 2. He doesn't set out to court controversy when he's planning a new show
"If you aim to be controversial for the sake of it you'd end up with a very thin and meaningless show," he explains. "It's never been about that, I've done shows that created some controversy but there have been plenty of others that have been quite quiet and understated. The key is finding a strong idea, a clear dramatic hook like 'we're going to end the world for somebody and they wake up and it's full of zombies.'" Which is exactly what he did in his 2012 TV show Apocalypse.
3. He remembers being a 'precocious and charmingly revolting child'
"There was something about me even at an early age that enjoyed charming and manipulating," he explains. When he was a small child he went to his great aunt's house — "I came in through the front garden and my opening words were 'Oh great aunt I think your garden is simply marvellous' and this was at the age of two."
"I was an only child until I was nine which means I would play on my own and it's something you take into later life and most of my interests now are quite solitary." He now enjoys painting and street photography in his spare time.
4. Luther Vandross was responsible for putting an end to his teenage shoplifting
Derren talks about breaking the law as a teenager with a terrible shoplifting habit — which he now regrets and describes as "shameful". He tells Lauren: "I remember looking around my bedroom once as a teenager and every single thing in my room I'd stolen." He describes the shock that led to him successfully breaking the habit forever: "I stopped because I set off the alarms sneaking out of the music department of Harrods with a Luther Vandross cassette tape in my pocket. I was so embarrassed and I thought 'that's it, no more.'" And did his parents know? "They do now!" he says.
5. He studied law and German at Bristol University
Derren nearly didn't become a world-renowned illusionist. "I thought I was going to be an international lawyer, but I realised soon that I didn't want to become a lawyer. Or a German." It was in this revelation about what he didn't want to do that the young Derren found meaning in his life: "It became about what was fun in the moment. I remember thinking 'if I take a cross-section of my life does it feel like it's in the right place?' And it did and that's all that I wanted and it never moved beyond that." And he hasn't looked back.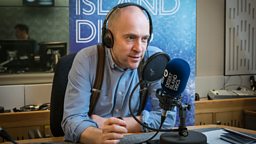 6. He had a unique look at university that he's described as 'Bad Spandau Ballet gay leisure pirate'
"I wore a cloak for many years, I had long hair, I may have had a drop earring for a week and I fancied myself as a philosopher poet but was somewhere more in the gay female leisure pirate." The eccentric look wasn't confined to his outfits, because he had the behaviour to match: "I used to go to a cave that was hidden on one side of the Avon Gorge and I would sit, light a bonfire and read Nietzsche 'cos that was what I was like!"
7. He never does tricks for people in real life
Derren says that as a young man his nervousness and shyness meant: "I would always have tricks in my pocket." But he goes on to say: "It's such a red herring in life, the desire to impress. It feels like that's what you should be doing, but it's the one thing you shouldn't be doing in life because it's the one thing people aren't impressed by! It shoots itself in the foot, but for years that was my thing, I was always having to do a trick."
And does he ever have the desire now, away from the stage and the cameras, to entertain with magic? "Now I'm the opposite. I never do tricks for people in real life, I find it really childish and silly and dishonest!"
8. What unites Willy Wonka, Sherlock Holmes and Hannibal Lecter?
Derren names this unlikely trio as influences on his stage persona – and Hannibal Lecter is doubly important. Lecter, the antihero of Thomas Harris's book The Silence of the Lambs, "is unpleasant because he's a serial killer," adds Derren. And in watching the film of the book, which starred Jodie Foster and Anthony Hopkins, he discovered his second musical choice for the island: Bach's Goldberg Variations which features on the soundtrack and has followed him around ever since.
9. 'I really apologise if this show depresses anybody.'
Derren jokes that there's only one happy piece in his selection which is his first disc, Vivaldi's Gloria. "This is something I put on when on tour and this would really brighten things up, it's a real beautiful start to the day." Of his other selections he says: "Most of the music here has a private and solitary feel". About Richard Strauss's Morgen he says, "it's a song about two lovers but it's achingly sad which for me is a very powerful thing. It's sad and it's beautiful and beautiful things pass and that's why it's sad. It's all of life for me."

More great listens from Desert Island Discs
The writer Marlon James shares the eight tracks he would take to a desert island.

Arundhati Roy, Booker Prize-winning writer, is interviewed by Kirsty Young.