Main content
BBC Bitesize Primary Parents' Survival Guide - Useful links Mon 1st - Fri 5th June
Links for Bitesize Primary Parent's Survival Guide: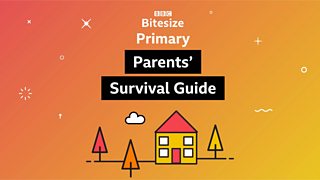 How to tackle the back to school debate with Penny Tassoni (31/05/20)
All BBC Bitesize content is online here.
Bitesize Daily Lessons on iPlayer are back after half term! You can find them for every school age group on bbc.co.uk/bitesize and they're also on iPlayer and the Red Button every weekday at 9am.
Plus all the information and lesson plans are on the Bitesize website here.
You can play Galaxy Pugs on the Bitesize website too!
And there's some great arts activities and live lessons on BBC Teach.
There are plenty more resources for parents on Bitesize, from wellbeing tips to practical advice on activities on the Bitesize Parents' Toolkit.