Main content
7 of the greatest celeb film cameos you forgot happened
In a career move that no one saw coming, David Beckham has swapped his golden boots for medieval knee-highs (not their official name) to make a cameo appearance in Guy Ritchie's film, King Arthur: The Legend of the Sword. Starring Charlie Hunnam, Jude Law and Poppy Delevingne, it's safe to say that the film's glitzy cast list is a little different to the line-ups Becks is used to.
But while Beckham's jump from midfielder to Middle Ages swordsman might be novel, singers making a cameo appearance on the big screen is a tale as old as time. From Drizzy to Bowie, here are 7 of our favourites…
(Warning: Third party video may contain adverts)
When Beyoncé's involved, there's no such thing as a cameo. The singer starred as Foxxy Cleopatra - an undercover FBI agent parading as a disco singer - in Mike Myers' comedy Austin Powers in Goldmember. If you're in the market for funk, 'fros and a whole lot of Foxxy, this is the celeb cameo for you.
OK, so technically Drake's career started on TV back in 2001 (any 'Degrassi: The Next Generation' fans in the building?) but his star well and truly rose when he released his debut mixtape in 2006. It was the latter career swerve that eventually afforded Drizzy the opportunity to cameo in the much-anticipated Anchorman 2: The Legend Continues.
In a part that we can only imagine was named 'Vocal and Incredibly Well-Dressed Pedestrian', Drake hollers at Christina Applegate's character (in the first spoken line of the movie, no less) while sporting some seriously strong sideburns. It's a good'un.
Kanye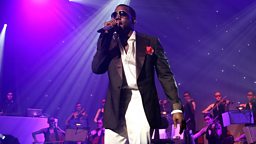 Take a cult classic, give it a sequel, watch the stars queue up to star in it. It's this fool-proof formula that saw Kanye (as well as Drizzy, Will Smith, Liam Neeson, Kirsten Dunst and Jim Carrey) cameo in - yup, you guessed it - Anchorman 2.
Recreating the news team street fight from the original Anchorman, Yeezy represents MTV (clad in a Thriller-worthy leather jacket) and what ensues is a bloody battle against Sacha Baron Cohen's BBC, Tina Fey's Entertainment News, Jim Carrey's Canadian News team and… you get the picture. The newscaster cameos are truly impressive.
(Warning: Third party video may contain adverts)
According to Men in Black director, Barry Sonnenfeld, Michael Jackson turned down the opportunity to cameo in the first Men in Black film but called up 15 months into shooting Men in Black II asking for a part. What followed was a couple of fleeting appearances from the superstar, playing himself as an alien, begging for a job as Agent M.
Speaking to LAUNCH about the cameo, Will Smith said that MJ was pretty insistent: "Michael called after the first film. He said he saw the first film in Paris and he said, 'Look, Will, I don't care what happens. If you are making a part two of this film, I am in this film.' Michael, he's a real movie buff, so he said when he saw this (the first Men In Black), it was the most creative thing he'd ever seen. He said he just couldn't compare it to any other film. He said he was absolutely a part of it (the sequel). He didn't care what we said (about his role)."
(Warning: Third party video may contain adverts)
Before Battleship, before Home and before Valerian, there was RiRi, playing herself, in Bring It On: All Or Nothing. You'd forgotten about that gem of a cameo, right?
Starring Hayden Panettiere and Solange Knowles, the third instalment of the Bring It On series hit the big screens in 2006 and features Bad Gal announcing that the winners of the cheerleading competition with dance onstage with her, while clad in thoroughly noughties attire. Skip to 00:53 for the good stuff.
(Warning: Third party video may contain adverts)
If you haven't seen David Bowie star as Jareth the Goblin King in the 1986 classic, Labyrinth, what are you waiting for?! If you don't want to commit to an entire flick but still want to see Bowie on the big screen, you better opt for Zoolander.
Lauded the most memorable cameo in the first film, Bowie stars as himself and judges a Zoolander-Hansel walk-off. Talking to Digital Spy back in 2006, Owen Wilson spoke pretty highly about the icon: "I just remember that day being thrilled to get to meet him. I think he's used to people sort of being awe-struck, and he's just a cool and lovely guy, put people at ease… and we were just, like, 'why did he agree to do the movie?!'"
(Warning: Third party video may contain adverts)
Ed starred as himself in the latest Bridget Jones installment, Bridget Jones's Baby, although his appearance was all but lost on Renée's Bridget. In a scene sure to make you inwardly cringe, Bridget mistakes Ed for a barista and asks him to take a photo of her, not with her.
Their mistake is realised when they spot the crooner performing on the main-stage. You live and you learn, Bridget.