Main content
Booker Prize winner Douglas Stuart on Shuggie Bain
The Glaswegian author and winner of the 2020 Booker Prize spoke to The Edinburgh Show from New York earlier this year. The book, Shuggie Bain, is a work of fiction that charts the lives of the Bain family and their struggles in 1980s Glasgow.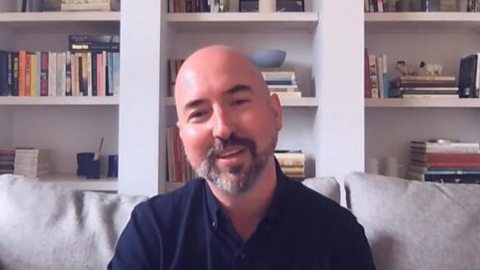 Grant Stott talks to the Scottish author at the 2020 virtual Edinburgh festival.
Originally planning to be in Edinburgh for the Book Festival, until it was moved online due to the Coronavirus pandemic, Douglas explained to Grant Stott over video how the book began as a personal project:
"I sat down to start writing Shuggie, just sort of what was a dream, and I really just sat down to begin writing this book for myself mainly at the beginning, with no expectations about where it would go."
Although suggestions about auto-biographical aspects in the book have been made Douglas points out that the work is fictional.
"I'm just one small, little guy in all of this and I wanted to sort of really capture a time and a moment in the city when a lot of people were struggling."
"When I write about poverty, when I write about homophobia, the patriarchy, addiction, loving - what it means to love - someone who is suffering from alcoholism, I write about that from the inside. And I think that sort of truth comes across clearly in the book."
Latest features from BBC Scotland