Main content
Biting satire: The political caricatures of James Gillray
26 March 2015
Do politics and caricature make for the perfect union? To mark 200 years since the death of master caricaturist James Gillray, the Ashmolean presents Love Bites, a new exhibition of his work. SOPHIE COULOMBEAU examines Gillray's influence and the modern age of political coalition.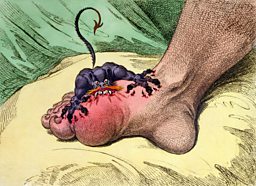 The Gout, 1799
What place is there in politics - and in political satire - for love? It feels like an apt moment to ask the question.
The touchy-feely press conference with David Cameron and Nick Clegg in the Downing Street rose garden in 2010 provided the iconic image of the ConDem alliance – and was ruthlessly pilloried by some sections of the press.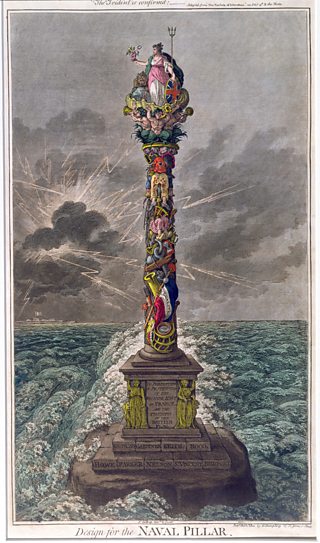 The Trident is Confirmed, or Design for a Naval Pillar 1800
As polls predict another coalition Government after the election on 7 May, caricaturists continue to busy their pencils with portrayals of expedient love-ins. From Cameron kissing a frog-like Nigel Farage to Ed Miliband nestling in Nicola Sturgeon's cleavage, voters are already being inundated with images of future pragmatic partnerships.
Of course, our 21st century age of coalition should be seen less as a new phenomenon than as a return to form. Despite the popular fallacy that there's something very British about strong governments and absolute majorities, our history is littered with coalitions.
Political satire of the past is peppered with texts and images that feed on the comic potential of unlikely alliances - not least from the needle of the kingpin of 18th century caricature, James Gillray.
Sleeping with the enemy is the theme of the rich and stimulating new exhibition 'Love Bites: Caricatures by James Gillray' at Oxford's Ashmolean Museum; the first major showcase of a magnificent collection of his caricatures held by New College, Oxford.
With 60 beautifully preserved and inventively captioned prints dating from 1778 to 1808, the exhibition casts a spotlight on Gillray's imagery of romance, sex and marriage, fusion and embrace, comingling, cavorting and caressing. It poses the question: is Gillray – so often seen as the connoisseur of violence and scorn – in fact an artist of love?
This might at first seem like a counterintuitive approach, since Gillray has been most widely celebrated for his portrayal of – and contribution to – an oppositional form of party politics, characterized by black propaganda and dirty tricks. Love Bites acknowledges as much, with the first cluster of prints entitled "Oppositions".
In 'Phaeton Alarm'd!' Foreign Minister George Canning faces down a monstrous array of his political opponents, and in 'French Liberty, British Slavery' which national stereotypes are grotesquely contrasted in terms of diet, wealth and physique. These prints, the accompanying commentary tells us, "stoked parliamentary factionalism and modern nationalism". They practiced what they portrayed.
But the exhibition quickly moves to introduce less familiar ways of reading Gillray, by arranging prints in clusters themed around various types of formal, legal or sexual alliance. Despite the shift in tone, however, these exhibits are generally far from apolitical.
In 'Enchantments lately seen upon the Mountains of Wales' (1796), the goatish Prince of Wales's reconciliatory embrace with Princess Caroline bears testament to his political venality. 'The Republican Rattle-snake fascinating the Bedford-Squirrel' (1795) shows a serpentine Charles James Fox tempting the naïve (and furry) Duke of Bedford into his gaping maw. And in 'Democratic Levelling' (1796), the marriage between Lady Stanhope and a freakish apothecary assembled from medical equipment symbolizes the worst 'levelling' tendencies of revolutionary reform.
The Reconciliation, 1804
In its exhibits political love is often the tool of political violence
These prints blur the boundaries between human, animal, vegetable and mineral. Bringing subjects closer together in a formal sense seems to necessitate the destabilization of their very humanity.
Art historian Todd Porterfield, who curated the exhibition, sees this principle of destabilization as central to its underlying rationale. In both his critical and curatorial work, Porterfield told me, he aspires to soften and blur critical orthodoxies about caricature. He thinks that by showing how Gillray himself softened and blurred the space between his subjects with images of embrace, caress and penetration, we can do exactly that.
Moreover, Porterfield hopes that considering Gillray's focus on alliance rather than division could stimulate new links on a canonical level; we might insert him into "a pantheon of artists of love that includes Rubens, Boucher, and Brancusi."
The exhibition destabilized categories far broader than those employed by art historians, since in its exhibits political love is often the tool of political violence. Gillray understood how love and sex could be weaponized in the febrile world of Georgian politics; he weaponized it, in turn, in his art.
As well as in his muddling of the lines between species and matter, this is noticeable on a formal level. Often Gillray's cartoons are as densely populated as Hogarth's tableaux, but the selection of prints on display in Love Bites seemed to be formally sparser and simpler than the norm.
A blind Cupid-politician poses on a cloud; a leering threesome embraces in the centre of the image; there is often nowhere else to look, nothing to divert the eye. The effect, at least for this visitor, was to render the couplings, threesomes and cliches intrinsically grotesque.
Repeatedly drawn back to parallels with our modern age of coalition, I was left wondering: What does it mean for British democracy if we, perhaps like Gillray, see political unions and alliances as a symbol of venal depravity?
The topicality of the exhibition hasn't escaped Porterfield and his team. Visitors are treated to a sterling send-off - Gillray-inspired cartoons from two leading present day caricaturists.
In Martin Rowson's 'No Tongues! Or, Coalition Kisses', Nicola Sturgeon ducks out of a queasy four-way smooch between her political rivals, and in David Parkins's 'More Doublûres of Character', seven party leaders find their (superbly and mercilessly realised) darker sides. Rarely have I wanted so badly to get any image reproduced on a tea-towel. But on the other hand, to welcome these prints into one's kitchen would take a strong stomach.
Like the exhibition for which they were commissioned, they would serve as a reminder that partnerships can mean the sacrifice of principles, that kisses can betray, and that love can bite just as viciously as the etcher's needle.
All images © Courtesy of the Warden and Scholars of New College, Oxford / Bridgeman Images
Love Bites: Caricatures by James Gillray is at The Ashmolean Museum, Oxford 26 March to 21 June 2015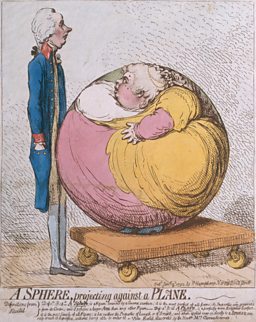 A Sphere Projecting Against a Plane, 1792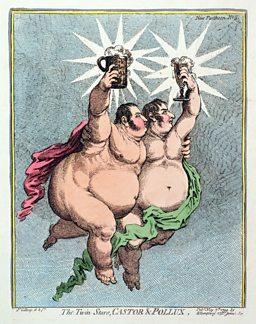 The Twin Stars, Castor and Pollux 1799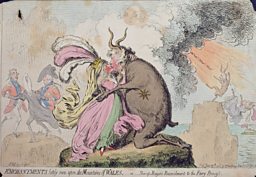 Enchantments lately seen upon the Mountain of Wales, 1796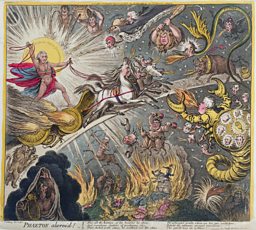 Phaeton Alarm'd!, 1808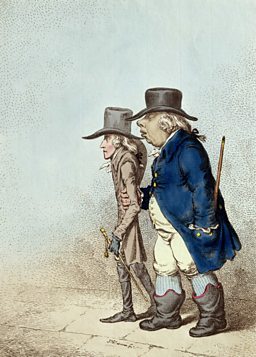 Pylades and Orestes 1797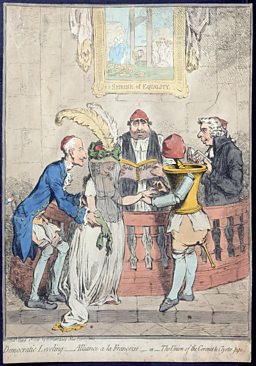 Democratic Levelling: Alliance a la Françoise, 1796
Art and Artists: Highlights
Edinburgh's Dovecot Gallery is hosting two major exhibitions as part of the 2015 Edinburgh Art Festival

An astounding photographic collection by 'Speedy George' Douglas

A sculptural mystery tour which takes in several of Britain's finest galleries

Just who was the man behind some of the most memorable artworks of the last century?

The extraordinary work of award-winning American photojournalist Steve McCurry

A major Tate retrospective of the British sculptor, and the dedicated museums in Yorkshire and Cornwall