Main content
Director's Blog
Director Robb Leech filmed in the East London Mosque for eight months. With access to virtually all areas of the mosque, here he discusses what he learnt and the community's characters he met during his time there.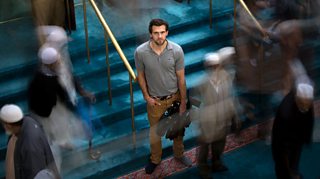 Director Robb Leech filmed in the East London Mosque for eight months
In some ways Welcome to the Mosque is a departure from my previous films for BBC Three (My Brother the Islamist and My Brother the Terrorist). The film doesn't centre on my step brother or extremism, although the latter inevitably becomes a theme, but it is a continuation of my own personal journey.
Getting inside wasn't easy; for a Mosque with a history of battling negative publicity, letting a filmmaker to roam freely for eight months was a big move, and to their credit - it was a risk they didn't necessarily need to take. So it was a great relief when they signed the access agreement.
East London Mosque is a fascinating place and much bigger than at first sight. I was shocked to learn that over 7,000 people fill its walls to pray every Friday morning, and more than two million pass through its doors every year. It provides a surprising array of services for the community too, including an old peoples' home, gym, business centre, marriage and funeral services - and a circumcision clinic.
But my objective wasn't just to see inside the Mosque, it was to meet and learn about the people within it, and I think it's what I learnt through my time spent with them which will hopefully speak most clearly through the film.
My new friends include Salman, the communications officer who becomes inadvertently yet inextricably linked to the story of three missing schoolgirls from Bethnal Green. Omar, one of the Mosque's young volunteers who personally thinks it's morally wrong to hang around with girls - an activity termed as "free-mixing" - but loves zombie apocalypse drama The Walking Dead.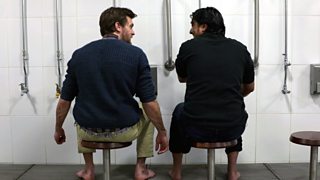 Salman shows Robb how to prepare for prayers by performing Wudu.
I meet Dilowar, the Mosque's director who was routinely beaten up by racists on his way to school as a child, and today's school kids from the Islamic private school on the second floor of the Mosque who are confused after being questioned by Ofsted, about their opinions on ISIS.
Whether it be the notion of arranged marriages or gender segregation, I find my journey and the people I meet along the way often surprising, but always fascinating. Ultimately my time spent at the East London Mosque changed my own perceptions and I hope it can do the same for the viewer, too.
Welcome to the Mosque is on BBC Two at 8pm Wednesday 30th September, and will be available on BBC iPlayer shortly afterwards.