Main content
Mobile Contract T&C's
There are more than 80 million mobiles in use throughout the UK. Almost half of which are on contracts lasting up to 24 months. These contracts are often fixed, which means that customers can't cancel without paying a penalty. However the small print in contracts allows the companies to put charges up or down. In the last year all providers, apart from O2, have increased pay monthly tariffs for customers on fixed contracts in the last year.
Krista Godfrey signed up to a 24 month contract with Vodafone in 2011. Fourteen months into it, Vodafone put up the price. She was one of 10 million Vodafone customers to receive a text from Vodafone about an increase in cost of their contract - even some new customers who were within just one month of their contract received this text.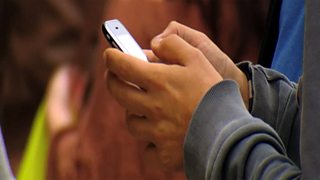 Vodafone states that they can do this in their terms and conditions.
Just as most mobile providers have been increasing prices, we've also been hearing about them reducing benefits.
The companies often use incentives or 'Add Ons' to persuade new customers to sign up, or existing ones to stay loyal but these incentives are not always available for the full length of the contract.
David McWilliam signed up to Vodafone for the data traveller package. This meant that for £10 a month while he was abroad for work he could keep in touch with home – but after just one month Vodafone removed this package – replacing it with the Euro Traveller product that for the same £10 would only provide David with four days of internet use.
Meanwhile Orange pressed ahead with plans to withdraw its 'free broadband' offer. Those who took out monthly contracts between October 2006 and the end of 2008 were all promised the service at no charge. Some were even told that would be the case for life.
But in August, they were informed that their broadband would only continue if they signed up to an Orange landline rental - costing them £11.50 for the first three months and then £14 a month afterwards.
Richard Cook was just 9 months into a 24 month contract when the change was announced. He's adamant he wasn't warned this might happen when he renewed his contract.
The mobile phone providers say they've the right to make these changes as it's all outlined in the terms and conditions. But are they making this clear to customers when they sign up? Our team of mystery shoppers went to find out.
Mystery Shop
Over the course of one day we sent our mystery shoppers to two branches of each of the top five leading mobile phone providers, posing as potential customers.
Our mystery shoppers enquired whether the price of a 24 month, fixed tariff, pay monthly contract would stay the same for the duration?
O2: Although O2 may have not increased their tariffs recently, they claimed that the price would not change for the duration of the contract , although an assistant told us that a drop in VAT might see the monthly charges decrease.
They however failed to mention the clause in their terms and conditions which state that O2 reserve the right to increase charges at any time. In the second branch we visited, we were simply assured that prices would stay the same.
Tmobile: Both of the branches of T-Mobile we visited said that the fixed term contract monthly amount would stay the same.
However a similar clause in T-Mobile's terms and conditions states that the price per month can go up at any time. Neither of the staff in two of the branches mentioned this.
Three: Staff in both branches said yes that the amount would stay the same and in both branches they failed to mention the terms of conditions that states prices could go up at any time.
Orange: Staff members in two Orange branches also said prices would not go up.
Vodafone: Staff in both branches visited informed us that the monthly fee on a fixed term contract would stay the same. They also failed to refer us to the key clause in the terms and conditions despite us explicitly asking the question.
Commercial and Contracts Lawyer Mark Weston says, "If a customer goes in and says they want to sign up on the basis of a fixed price contract, not to be told that term can be altered and leaving the customer with the impression the price will be fixed is missing out a material piece of information and that is potentially a breach of the consumer protection legislation."
How about 'Add Ons' will this remain the same throughout the contract?
In each of the stores visited our reporters also enquired about 'Add Ons'. They crucially explained that it was one of the main reasons they wanted to take out a contract with that provider.
In all ten branches (two from each major mobile phone provider visited), not one of the shop assistants told our mystery shoppers that the add-ons could increase in price, be changed or removed.
But in the terms and conditions it says otherwise.
"The fact that you've got ten cases where there's incomplete information being given seems to be evidence of some sort of systematic problem." says Mark Weston.