Main content
Dippy Diplodocus: Curriculum not very Vitae
The Natural History Museum's cast specimen of a Diplodocus, affectionately known as Dippy Diplodocus, has been seen by approximately 90 million visitors since 1905. However, in 2016 plans were unveiled for the dinosaur to be replaced by the real skeleton of a giant blue whale.
To mark the special episode of Profile which reflects on the historic exhibit, we thought we would lend a helping hand to Dippy, by writing a Curriculum Vitae acknowledging decades of experience greeting Museum visitors.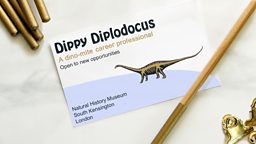 Name:
Dippy Diplodocus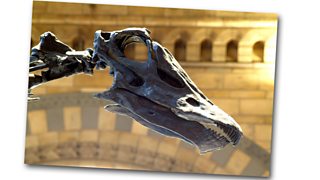 Image: The head of the Diplodocus cast from bones discovered in Wyoming, USA in 1898. Credit: Natural History Museum
Pedigree name:
Diplodocus carnegii – I was named after the Scottish-born American industrialist Andrew Carnegie.
Date of birth:
1905
Address:
Natural History Museum
South Kensington
London
Personal statement:
I am an adaptable, enthusiastic celebrity with an enormous fan base, (and an enormous everything else, to be honest). For decades I was the greeter at the Natural History Museum, but following the sad decision to replace me with a blue whale skeleton (one cameo in Free Willy and he thinks he's George Clooney), I am hoping for a new position, possibly in daytime television.
Gender:
Not quite sure.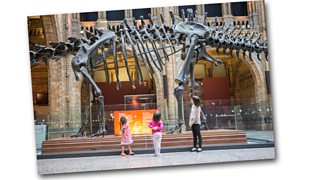 Image: The 292-bone skeleton has stood tall in Hintze Hall since 1979. Credit: Natural History Museum
Career history:
During World War II I took a sabbatical in the basement of the museum.
In 1979 I moved to Hintze Hall where I have remained ever since.
Starred in 'Paddington', 'One of Our Dinosaurs is Missing', etc. Tribute act – Diplo.
Personal Development:
I began my career with my head pointing downwards and my tail on the ground. Following a course on anatomy, I was adjusted: so my neck was raised in the 1960s, and in 1993, my tail was repositioned in order to maximise my dramatic appearance to fans.
Press appearances:
I have been featured in newspaper cartoons, news reports and had starring roles in film and television. Happy to provide autographs, but I would ask that selfies be kept to a minimum. Can't bear the flash.
By Royal appointment:
King Edward VII saw a sketch of my father and admired it, so I was created for His Majesty.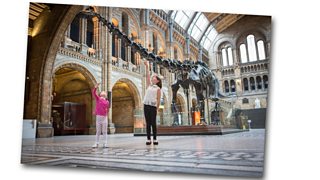 Image: The exhibition has been seen by approximately 90 million visitors to the museum. Credit: Natural History Museum
Special skills and talents:
Standing extremely still for very long periods, and being modular: I have a 292-bone skeleton. Allen keys not supplied.
Travel:
I don't travel well. I took up a whole train carriage and over 100 boxes last time they tried to move me. Mariah Carey's got nothing on me.
Hobbies and interests:
Tennis, reading, cookery, reflecting advances in our understanding of dinosaur biology and evolution.
Discover more about Dippy Diplodocus in Profile, as Mark Coles examines how the replica Dinosaur has become a national treasure.