Main content
Intergenerational volunteering
Fast Answers
What is intergenerational volunteering?
Intergenerational volunteering is when young and older people volunteer to get together, taking part in activities, programmes and projects. It can happen without the label being attached, but the key thing is the aim of bringing the generations together.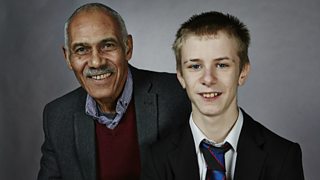 Clive and Jacub from the BBC series Old School with the Hairy Bikers
Why do it?
Whether you are a young person or an older one there are some really tangible benefits.
For the young, a long-term intergenerational relationship can provide you with role models that motivate and encourage you to fulfill your potential. Engaging with different groups of people who you would not usually mix with (such as older people) can lead you to become more active and involved in your community. It can help you feel that you belong.
For older people, engaging with the young can help you remain active as you age, learn new skills and feel valued by society. It can help tackle isolation and loneliness and, just as important, it can be a fun way of meeting new people by sharing and learning together.
Who's it good for?
The young-ish (under about 30!) and the older (over around 50) – if you're in the middle, then explore our other guides to find something more suitable for you.
Where you can you do it?
Intergenerational volunteering happens in a wide range of settings – from schools and old people's homes to parks, arts centres and allotments.
What does it involve?
Most intergenerational volunteering involves meeting up on a regular basis over a period of time, so that relationships can develop. You might just spend time together chatting; there could be some specific sharing of skills, like computing or gardening; maybe you collaborate together on an arts project… it depends on the scheme you get involved with.
Who does it help?
Everyone! Working across generations challenges the negativity and fear that can be felt by adults towards young people. And it can combat some of the negative perceptions that younger people have of those they see as old. Overall this helps communities knit together.
Commitment Level?
To really reap the rewards both parties need to commit for period of time. This isn't a one off activity.
Getting Started - Young People
If you want to find out what is happening in your area and what intergenerational volunteering opportunities might be available to you there are organisations who can help.
If you live in Scotland contact Generations Working Together, office@generationsworkingtogether.org
If you are based in Northern Ireland then Linking Generations, infolgni@bjf.org.uk, and Volunteer Now are the best points of contact.
Across the UK, if you are aged 6-25, girl or boy, you could join the Scouts and get involved in their A Million Hands project, working with older people with dementia. If you are a girl 5-25 you could check whether your local branch of Girlguiding is running any intergenerational schemes.
If you are really inspired then O2 Think Big provide grants for 13-25 year olds to create your own social action project. If you want to start something in your community you can apply for £300 to get you going.
Another avenue to explore for 15-17 year olds is the National Citizenship Service.
If you are a young person over 18 looking to team up with an older one contact Age UK, or pledge your time with Radio 1's #1millionhours project.
If you are over 18 and want to get fit or enjoy running, you could even run to visit an older person who can act as your personal coach with Good Gym. Or if that's your idea of hell you can do befriending work from the comfort of your own home by being a telephone friend with The Silver Line.
And for general links on youth volunteering for 10-20 year olds check out the #iwill campaign's resource page. They want to make social action part of life for young people. Don't forget too, you can speak to your school about setting up an intergenerational project - there are useful links for them below.
Getting Started - Older People
Across the UK, if you are an older person looking to team up with a younger one contact Volunteering Matters, who run a host of volunteering schemes, many working with young people, specifically for the over 50s.
Or search the major volunteering aggregators, like Do-It, Volunteer Scotland, Volunteering Wales and Volunteer Now (Northern Ireland), specifying helping young people in the advanced search options.
If you live in Scotland contact Generations Working Together, office@generationsworkingtogether.org
If you are based in Northern Ireland then Linking Generations, infolgni@bjf.org.uk, and Volunteer Now are the best points of contact.
Getting Started - Schools
If you are a school looking for organisations that could help you facilitate intergenerational volunteering you could try:
Free The Children, who work with primary and secondary schools and academies, as well as notable youth organisations, to deliver their free active citizenship programming.
Envision also works with secondary schools to support 16-17 year olds through their social action programmes.
The Citizenship Foundation has resources for primary and secondary schools who want to get their pupils involved in social action.

Youth and Philanthropy Initiative (YPI) run a whole-year-group philanthropy programme where one team from each school wins £3,000 to direct to their favourite local charity. Based all across Scotland & Northern Ireland.
First Give runs a similar scheme, providing free resources for a secondary school year group who can then compete for grant money for a charity.
UNICEF Rights Respecting Schools Award is a whole-school approach to getting young people out to change the world for the better.
Or, why not get in touch with your local old people's home to find out how your students can help? NCVO have produced a range of resources around volunteering in care homes after a pilot project they ran.
If you were so inspired by the series Old School with the Hairy Bikers that you'd be interested in setting up a similar project of your own, then download this PDF to find out how The Oxford Academy did it.
Be Inspired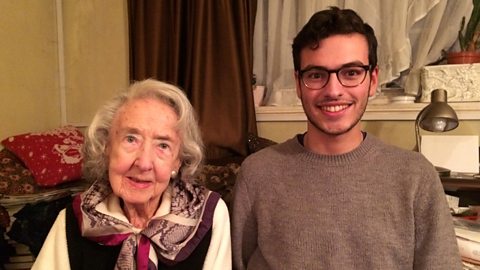 Kamil met Beatrice after he became a volunteer with Age UK while at medical school.
Find out more about the BBC series based on intergenerational volunteering. It paired pensioners and teenagers to see if 12 unlikely couples could improve each others' lives.
Cocktails in Care Homes - Charlie's story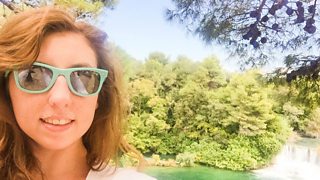 Charlie Smoothy, Magic Me volunteer
Twice a month I take part in an event called Cocktails in Care Homes – volunteers go in the early evening and have a party with residents. It's just an hour or so of your time, but it can be the high point of the month for them. I used to see my grandparents every week, since I've moved away from home I've really missed that contact across the generations. I guess this has filled the gap. I've met some wonderful people with amazing stories – like a lady who flew planes in World War Two. I've been given dementia awareness training and it's been really rewarding to experience how much better it's enabled me to connect with some of the residents. I just have a thoroughly enjoyable time, the hour flies by and I leave really happy. In fact, I've enjoyed it so much that I now run one of the monthly evenings. Charlie Smoothy, Magic Me volunteer
Explore attitudes to aging, hear more about mentoring and have your say. It's all on the Open University site supporting the series Old School with the Hairy Bikers.
Where Next?
Try our on-line quiz to get personalised volunteering suggestions.

See our full list of volunteering guides for more ideas about how you can get involved.

Are you inspired to volunteer? Or maybe you volunteer already? Motivate others with your volunteering exploits and photos - email us on dosomethinggreat@bbc.co.uk or tweet using #DoSomethingGreat and you may appear on our website!