Main content
Would you let your other half control your finances?
In a new TV programme, two brave couples give each other veto power on purchases with surprising results.
It's fair to say couples up and down the country aren't always entirely honest with one another about their spending habits. But could our financial furtiveness be contributing to our nation's escalating household debt?
Standing in a chilly supermarket car park with her daughter, working mum-of-three Jules waits for a text from her partner, David.

Before she can collect her groceries from the check-out, she has to find out whether he will agree with her choices.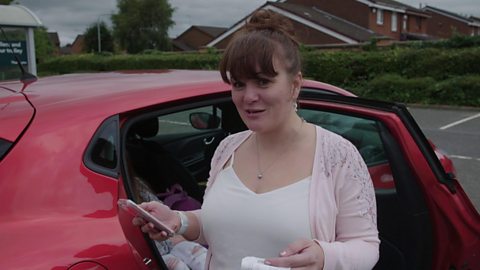 Jules is not happy when David blocks her purchases at the supermarket.
She has sent him a photo of the receipt for his authorisation and nervously awaits his response.
"I think you should leave the dish cloths", his text reads.
"I'm not happy!" Jules declares. "We have no dish cloths! And he doesn't know that because he doesn't dry the dishes!"
This is all part of new programme, How Your Other Half Spends and it isn't just Jules's retail behaviour under scrutiny.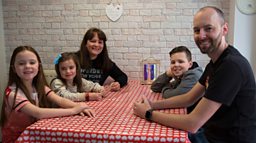 Family of five: Poppy, Elle, Jules, Jamie and David
Equally, husband David's expenditure requires approval from Jules before he can hit the 'Pay Now' button to feed his online shopping habit.
The brave couple are on a mission to find out where all their money is going each month.
"We just feel that we're skint at the end of every month and we shouldn't be", says Jules.
It may sound a little severe but this kind of financial scrutiny might just be the answer for couples like Jules and David to gain better control of their finances. They are certainly not alone.
With up to 8.3 million people in the UK unable to pay off debts or household bills, according to a report from the National Audit Office, perhaps we all need a more transparent attitude to spending.
Jules and David are featured in the programme alongside another couple. Both are displaying somewhat out-of-control spending and both end up revealing their financial dirty laundry.
With the help of a financial intervention, the couples try and get their spending back under control with a series of challenges, including giving each other complete control over their finances.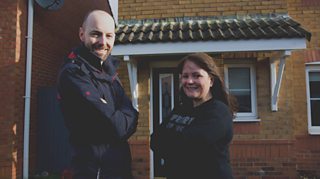 David and Jules don't know where their money goes each month
Perhaps unsurprisingly, the co-authoring of all the couples' expenses results in a radical reduction in spend. Additionally, both couples retail-related flaws come to light through analysis of their annual spending.
David and Jules are desperate to pay off their debts, but can they curb their serious supermarket addiction? And can Nicole and Ewain cut their massive takeaway bills to save the cash they need to start their business?
Money is tight for many couples, and rows about what your other half spends are on the up. So is full financial disclosure the key to sorting these couples finances?
Watch How Your Other Half Spends on BBC Scotland on Wednesday 4th December and afterwards on the BBC iPlayer.
Latest features from BBC Scotland