Main content
Shirley J Thompson's Timeline
1. John Blanke (nickname, c1480), trumpeter and musician, who served in the courts of both Henry VII and then Henry VIII from late 1400s. He is iconised in the painted roll of the 1511 Westminster Tournament, held to celebrate the birth of a son to Catherine of Aragon. For me, he represents the presence and influence of African, Asian and Middle Eastern communities and cultures in Britain and Europe since long before 1400. Indeed there were a significant number of African soldiers (and most likely including some musicians) in the Roman armies occupying England before the birth of the nation!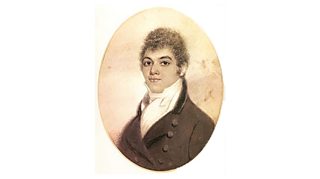 George Bridgetower
2. Ignatius Sancho (c.1729 – 14 December 1780) is the first known Black British prose writer, who was also a composer, a businessman, and key figure proselytising for the abolition of the trade in enslaved African persons during the 18th century. His songs for voice and harpsichord are considered to be amongst the best works composed at the time.
3. Joseph Boulogne, Chevalier de Saint-Georges (1745–1799) was possibly as famous as Mozart in his time for his extraordinary talent as a champion fencer, virtuoso violinist, composer and conductor of the leading symphony orchestra in Paris at the time, amongst his many other accomplishments. He was the son of an enslaved Martinique woman and rose to the top of French society at a time when it was nigh on impossible for such a person to do so. His most highly regarded works include six operas, seven violin concertos, several symphonic and chamber pieces, as well as songs.
4. Joseph Antonio Emidy (1775 – 23 April 1835) was a virtuoso violinist and composer born in Guinea and brought to England after capture, where he settled in Cornwall. He led the Truro Philharmonic Orchestra in performances at the Assembly Rooms from 1816 to 1826. On his death in 1835, The West Briton newspaper reported in Emidy's obituary: "As an orchestral composer, his sinfonias may be mentioned as evincing not only deep musical research, but also those flights of genius."
5. George Augustus Polgreen Bridgetower (11 October 1778 – 29 February 1860) was a renowned virtuoso violinist and composer who is possibly best known as the dedicatee of Beethoven's Violin Sonata in A major (Op.47) with the inscription, Sonata per un mulattico lunatic! He was born in Poland, where his West Indian (possibly Barbadian) father, John Frederick Bridgetower lived, working as a servant of the Hungarian Prince Esterhazy (Joseph Haydn's patron); and his mother is thought to have been a servant from Germany. Enamoured of Bridgetower's amazing musicianship after his father manoeuvered his way into the court, King George IV became Bridgetower's patron and he toured England and Europe as a child prodigy, performing with Beethoven in 1803. Bridgetower composed several works including solo piano and vocal works.
6. Francis Johnson (1792-1844). Born of Martinique parents in Philadelphia, Johnson is considered to be the first African American composer to have his works published as sheet music, the first to give public concerts, as well as the first to participate in racially integrated concerts in the United States. He was a self-taught Kent bugler and violinist who wrote over two hundred compositions in a wide range of genres, including operatic airs, minstrel songs, patriotic marches, ballads, cotillions, and other dance music. In addition, Johnson led the first African American musical ensemble to perform concerts abroad. He is responsible for introducing the extended technique of singing while playing, which became very popular well into the 20th century.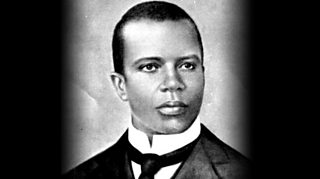 Scott Joplin
7. Joseph White (1835-1918) was a Cuban composer and violinist who trained at the Paris Conservatoire. His integration of West African rhythmic patterns in his dance music and songs gained him international recognition, and he was highly praised by prominent musical figures such as Rossini. His works include symphonies, five operas and choral work. Cuban dance music including the danzon, mambo and cha cha cha are attributed to the compositional output of White.
8. Henry Thacker Burleigh (1866–1949) was a professional baritone, composer and arranger who was renowned for his composition of art songs. He was instrumental in the development of a characteristically American music that incorporated African American folk elements, such as the Pentatonic scale, which influenced composers such as Dvorák. By arranging the folk music for sheet music distribution, African American music became immediately more accessible to a wider audience, as well as to classical musicians.
9. Scott Joplin (1868-1917), the widely celebrated pianist, composer, arranger and businessman, became the leading exponent of a style of American music that combined popular dance and classical music, further to his immersion in work songs, gospel hymns and spirituals in his home town of Texarkana. His best known works include The Entertainer, Solace and The Maple Leaf Rag for piano while his opera, Treemonisha is thought to pre-figure George Gershwin's Porgy and Bess in its ambition and scale.
10. Harry Lawrence Freeman (1869-1954) was an American opera composer, organist, conductor, impresario, teacher, music critic, essayist and advocate, who is compared to Wagner for his style of powerful orchestral writing. He was the first African American to compose an opera, Epthalia (1891), which was successfully produced. He composed over 20 operas as well as popular songs and was a colleague of Scott Joplin. He founded the Freeman School of Music and the Freeman School of Grand Opera, as well as several short-lived opera companies that gave first performances of his compositions. Freeman held a variety of positions during his lifetime that enabled him to promote the cause of African American musical performance and production.
11. Samuel Coleridge-Taylor (1875-1912), the pre-eminent composer, conductor and teacher, achieved a level of acclaim in his own time and subsequently to the extent that he is sometimes dubbed the "African Mahler". He composed many works in his relatively short life and his cantata, Hiawatha's Wedding Feast (1898) has become a choral standard in the repertoire along with Handel's Messiah and Mendelssohn's Elijah. He evidently respected his African roots with works such as African Romances, Op.17 – 1897, African Suite, Op.35 – 1899 and Symphonic Variations on an African Air, Op.63 – 1906.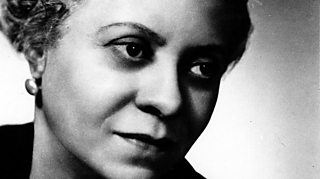 Florence B Price
12. Florence B Price (1887-1953), composer, pianist and organist, is thought to be the first black woman symphonist: her Symphony No. 1 in E minor was completed by 1932. Price composed over 300 works which were performed by leading orchestras and performers of the day, including the Chicago Symphony Orchestra and the celebrated contralto Marian Anderson. Her symphonies and chamber works are noted for their integration of African American folk music.
13. William Grant Still (1895-1978) was the only composer of African descent that I came across in Victoria Music Library in the early 1980s. His 150 works include five symphonies and eight operas. Still was also an arranger and conductor who became the first African American to have a major orchestra perform one of his compositions, Afro American Symphony, in 1931. He was also the first African American to conduct a leading American orchestra, the Rochester Philharmonic. Many of his works reflect his concerns about the lowly position of African Americans in societies.
14. Undine Smith Moore (1904-1989) wrote more than 100 compositions, including a large number of art songs. She was a pianist, organist and educator, and much of her work was composed for choir or solo voice. Her choral works included Scenes from the Life of a Martyr, a 16-part oratorio on the life of Dr. Martin Luther King, Jr., for chorus, orchestra, solo voices and narrator, which was premiered at Carnegie Hall and nominated for a Pulitzer Prize.
15. Olufela Obafunmilayo Sowande (1905–1987) was a Nigerian pianist, organist, choirmaster and composer who is considered to be the father of modern Nigerian art music. His many immense accomplishments include being theatre organist for the BBC and appearing on their arts series, Ebony Club in the 1950s as well as being Choirmaster at Kingsway Hall. His many works include choral and organ music. His orchestral works, including Four Sketches for full orchestra (1953), African Suite for string orchestra (1955) and A Folk Symphony (1960) for full orchestra, are imbued with West African rhythmic and harmonic motifs.
16. Margaret Bonds (1913-1972) composed a significant body of instrumental, vocal, and orchestral work. Her arrangement of spirituals such as He's Got the Whole World in His Hands, performed by Leontyne Price, brought her music to a wide audience, as well as her orchestral work, Montgomery Variations (1965) which was composed during the Civil Rights era and was dedicated to the Rev. Martin Luther King Jr. Bonds performed the piano part in Concerto in F Minor for piano and orchestra by Florence B. Price, her mentor at the 1933 Chicago World Fair, and thereby became the first African-American soloist to appear with the Chicago Symphony Orchestra. Her long-standing collaboration with the writer Langston Hughes produced a number of works, including a setting of The Negro Speaks of Rivers and the cycle for voice and piano, Three Dream Portraits, published by G. Ricordi in 1959.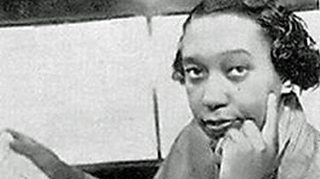 Julia Amanda Perry
17. George Walker (1923 –), pianist and composer was the first African American to win a Pulitzer prize for music. This accolade was awarded to him in 1996 for his Walt Whitman song-cycle, Lilacs, for voice and orchestra. His most performed work, the Lyric for Strings (1946) brought him early recognition for his extraordinary talent. His number of firsts is innumerable.
18. Julia Amanda Perry (1924–1979) was a singer, pianist, composer and conductor, who studied extensively with Luigi Dallapiccola in Italy and with Nadia Boulanger in France, winning the Boulanger Grand Prix for her Viola Sonata in 1954. Her first major work Stabat Mater (1951) brought her wide acclaim and her opera The Cask of Amontillado was staged three years later at Columbia University. By the late 1960s Perry's works were performed by major orchestras, including the New York Philharmonic. Over the course of her life, she completed 12 symphonies, two concertos, and three operas, in addition to a number of smaller works where she integrated neo-classicalism with significant dissonance.
19. Ossie Russell (1933–2012), pianist, composer, arranger and improviser was a child prodigy who achieved an LRAM diploma by the age of 14 in Jamaica. After studying at the Royal Academy of Music in London he returned to Jamaica to run the Jamaican School of Music. His compositional output is relatively small but his Jamaican Dances are performed worldwide and it is here as in several of his works, that he integrates Jamaican folk music with contemporary classical orchestrations. He composed several works for contemporary dance, the theatre and for film.
20. Naresh Sohal (1939- ) is an Indian-born composer who is considered to be the first to make settings of texts in Sanskrit, Punjabi and Bengali. An Arts Council bursary enabled him to research the employment of micro-tonal intervals which was conducted under the supervision of Alexander Goehr. His extensive range of compositions include the orchestral works, Asht Prahar (1965), a tone poem based on the Indian concept of the eight periods of day and night, Poems of Tagore, and Wanderer for chorus, orchestra and baritone soloist which premiered at the BBC Proms in 1982. Several internationally renowned conductors have commissioned works and his latest BBC Prom performance was given in 2013. Sohal also works extensively as a television and film director.