Main content
Brian's Weekly Sleevenotes - 5 July 2014
Welcome to our new show blog Avids! From now on, we will be posting lots of detail on here about the content of each week's programme for you to peruse. We know that it can be terribly frustrating if you miss a show and it's already dropped off the iPlayer before you can catch up, but we hope that this will serve as a great little reference point for those of you that want to re-cap over a few of the little choice facts that Brian serves up between songs.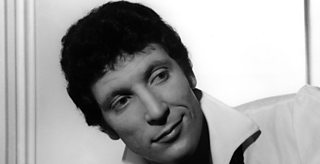 Help Yourself - Tom Jones
We started this week's show with Sir Thomas Jones Woodward, aka Tom Jones and his number five from 1968, 'Help Yourself'. This became Tom's eleventh UK top twenty hit and the title track to his 1968 album. The song was originally written in Italian as "Gli Occhi Miei" by Carlo Donida and originally performed by Dino and Wilma Goich at the 1968 San Remo Festival. Jack Fishman then provided Tom with the English lyrics, and the rest, as they say, is history.
Surfin' USA – The Beach Boys
The title track to the second Beach Boys album was originally credited to Brian Wilson as composer but was in fact a note for note copy of Chuck Berry's 'Sweet Little Sixteen'. So for their 1963 hit, 'Surfin' USA', a lawsuit prevailed and Berry was granted royalties on the record and a composer credit on future pressings – but the problems didn't end there. It later emerged that the lyrics to 'Surfin' USA' appeared to have been inspired by a 1959 hit by Bobby Rydell, 'Kissin' Time' that mentions a number of American cities and also borrows a lot of its melody from 'Sweet Little Sixteen'. Well, they were certainly keeping the lawyers on their toes.
I Live For The Sun – Vanity Fare
Vanity Fare formed as a group at the end of 1967 and consisted of Trevor Bryce, Tony Golden and Tony Jarrett who had been members of The Avengers and Dick Allix had recorded with The Gnomes Of Zurich. Signed to Larry Page's Page One label, they went in search of material and settled on a cover of an American hit by The Sunrays, 'I Live For The Sun' giving them their first of three UK top twenty hits.
Maria – P.J. Proby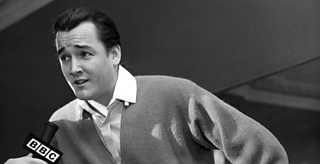 Taking prime position as the focus of our Both Sides of the Record feature, was this 45 from P.J. Proby. After making the top ten with 'Somewhere' from 'West Side Story' in 1964, P.J. Proby and his production team decided to dip into Leonard Bernstein and Stephen Sondheim's show's repertoire once more the following year and recorded 'Maria'. With a big arrangement by Johnny Spence, the song became almost as successful as it climbed its way back into the top ten. The disc was then flipped over to 'She Cried', a song originally recorded by Jay and The Americans, which became their first hit in the US in 1962.
Jim Proby was always a fan of both the group and the song and decided to cover it on his self titled album and when the time came for selecting the 'B' side for 'Maria', he was more than happy that 'She Cried' was the preferred choice.
The Wild Wind – Danny Williams
Although he was born in Africa, Danny Williams grew up in England where he began his singing career. He signed to EMI's HMV label in 1959, releasing his first single, 'Tall A Tree', that passed by almost unnoticed. He recorded and released several further tracks, each gaining a little more momentum than the last until finally in 1961, he hit the big time reaching number one with a cover of the Henry Mancini song, 'Moon River' from the movie, 'Breakfast At Tiffany's'.
Cry – Isabel Bond
As I'm sure you all know, each week Phil 'The Collector' Swern rises to the challenge of digging in the crates for a rare song requested by one of our loyal listeners. This week was no exception as Isabel Bond's 1968 version of Johnny Ray's classic, 'Cry', got a good dusting off. A big heartbreak of a number, 'Cry' was the opening song on her Major Minor release, 'The Heart & Soul' after Philip Solomon snapped her up and signed her to his label in 1968. We've been racking our brains and can't seem to recall ever playing Isabel Bond on the show before, so thank you for reminding us of this little gem. Do keep them coming.
With A Little Help From My Friends – The Beatles
Ringo took over lead vocals on this Lennon and McCartney song that was featured on the classic 'Sgt Pepper's Lonely Hearts Club Band' album. The song was first given the title of 'Bad Finger Boogie', supposedly because Lennon composed the melody on a piano using his middle finger after having injured his forefinger. The title would later become the inspiration behind the name of the group, Badfinger, who were signed to the Apple label in the late sixties. The opening line to the song was originally 'What would you do if I sang out of tune, would you throw ripe tomatoes at me' – but Ringo insisted on it being changed in fear that he would be bombarded with ripe tomatoes if he sang the song in front of an audience.
Don't Lie To Me – The Rolling Stones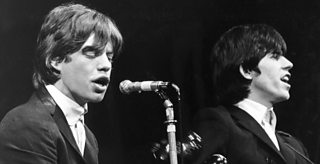 Originally written by Hudson Whittaker who first recorded it in 1940 as 'Don't You Lie To Me' under his professional name of Tampa Red, it became a standard blues song recorded by dozens of other artists including Fats Domino and Chuck Berry. The song was also known as 'I Get Evil' as recorded by Albert King in 1962, but in 1964 The Rolling Stones cut it as 'Don't Lie To Me' and their version remained in the vaults until it was included on their 1975 album, 'Metamorphosis', a classic collection of demos und previously unissued material.
A Shot of Rhythm and Blues – Arthur Alexander
This track, written by Terry Thompson and first recorded by Arthur Alexander, has since been covered by dozens of leading recording artists including Johnny Kidd & The Pirates, Gerry & The Pacemakers, The Hollies, The Beatles who recorded it three times for different BBC sessions and probably the best remembered, by The Rolling Stones on their self titled 1964 EP.
Alexander's recording became the first major successful record to come out of the now legendary Fame Studios home of the Muscle Shoals sound.
I'm A Road Runner - Jr Walker & The All Stars
This track was first released in 1966 when it made the American top twenty but it wasn't until it received a reissue in the UK along with several other Motown tracks in 1969 that it made our charts. Written by Holland, Dozier and Holland, who, when they came to produce the record, discovered that Junior could only play his instrument in two keys, so they had him sing in a key he couldn't play and when it was time to add the sax to the track, they would record it then change the speed of the track to the required pitch, giving the whole recording a unique sound.
Ride My See-Saw - The Moody Blues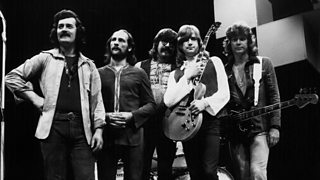 Although released as a single, it just failed to make the top forty, peeking at number forty-two in the UK, it was also their last single to get anywhere near the charts in the sixties. Written by John Lodge, it was taken from their album, 'In Search Of The Lost Chord'. The song became a long standing encore favourite of the band. Ride My See-Saw made a piece of pop history by becoming the first rock song ever to be recorded on 8 track multi-track recording machine.
Shakin' All Over - The Guess Who
This song was originally written and recorded by Johnny Kidd, who with his group, The Pirates scored a UK number one with 'Shakin' All Over' in 1960. Five years later, Canadian group, Chad Allan and The Expressions changed their name to The Guess Who in an attempt to imply that they were a British act due to the British invasion that was hitting the pop world at the time. Their decision to cover 'Shakin' All Over' resulted in a number one in their homeland and a number twenty-two on the American Hot 100. Now that's some clever marketing.
We hope that's enough to give you an edge at the pub quiz for this week, see you next week!
The SOTS team.
Musician and journalist Bob Stanley in conversation with Brian Matthew.