Main content
Tony Wilson: The Mancunian Maverick
20 February 2015
Glibly dubbed 'Mr Manchester', Factory Records founder and Granada TV personality Tony Wilson defied easy summary. On what would have been Wilson's 65th birthday, PAUL MORLEY attempts to distil what it was to be Anthony H Wilson.

Pete Shelley (left) of The Buzzcocks, with Tony Wilson at the Russell Club, also known as The Factory, Hulme, Manchester, 14 May 1979 | Photo Kevin Cummins / Getty Images
I am writing a book about the broadcaster, writer, absurdist impresario and ribald cultural enthusiast Tony Wilson, who died in 2007 aged 57 after mixing up myth, music and Manchester inside his charged mind since the early 1970s.
This means I am writing about a number of public and private characters and personalities, a clique of unreliable narrators, because Wilson was about fifteen people in one and each of those 15 contained their own dazzling contradictions, secrets and peculiarities, and each one had a tremendous thick-skinned capacity for disturbing the peace.
Wilson returned from Cambridge University with a poor degree but a romantic, missionary zeal to make an impression and a worldly confidence rarely seen in Manchester
He was a surprising prophet in a number of ways, not least in how he energetically performed numerous roles, a reality television/social media era dilettantism that was once frowned upon but is now the way of the modern multi-tasking self-promoting content crafting creative-entrepreneur.
He constantly shape-shifted and name changed – from Tony to Anthony H - in his lusty pursuit of the next thing, producing in conjunction with loud mouthed, argumentative self-certainty enough apparent inconsistency and selfishness to infuriate many.
Too big for his own boots, full of himself, banging on about his pet subjects like a broken record, he presented TV shows on his beloved Granada TV, read the news, ran a record company, discovered talent, managed bands, mixed with politicians and punks, criminals and comedians, singers and beauty queens, organised conferences, issued instructions, started arguments, worshipped Shakespeare, sold the world the idea of Manchester as the essential modern city, invented his own local celebrity status, sent as far into the world as he could random, disorientating, wind up probes of information and counter information.
He combined an industrious Germanic background with blunt Salford pride and a Catholic obsession with the power of superstition and ritual, returned from Cambridge University with a poor degree but a romantic, missionary zeal to make an impression and a worldly confidence rarely seen in Manchester, had a real genius for processing the discoveries and inventiveness of others, and a relentless analytical fascination with how information gets distributed and interpreted.
He also had a relish for the revolutionary, insurgent figures and philosophers who gave history the kind of glamour the great rock stars would steal from, so that for him it wasn't much of a move from Spinoza to Springsteen, from 'because to understand is to be free' to 'baby we were born to run.' He also didn't think there was too much distance between Percy Shelley and Shaun Ryder mouthing off.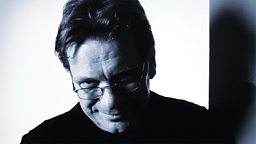 Tony Wilson, studio | Photo by Simon King / Redferns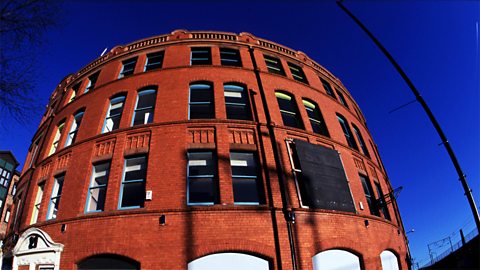 Co-owner Tony Wilson & designer Ben Kelly discuss the Hacienda club in January 1983
He loved making things happen, and his own confidence and self-belief leaked, often poured, into the city he loved.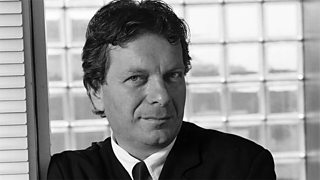 He appointed himself a custodian of Manchester's legacy of innovation and change
He adored Manchester, as a collection of ideas, as a place at the edge of reason, as a series of historical dramas and glorious punchlines, the way it had emerged so swiftly and powerfully in the 19th century, and had in effect been invented out of very little, by a rousing collective of planners, dreamers, publishers, schemers, writers, fantasists and workers.
It was as much as anything a city always experimenting with the idea of what a city is, and his personality favoured the experimental.
Flamboyantly striding from Granada TV studios around the compact city centre through layers of pioneering local history, skipping past ruins and monuments, to museum, town hall, library, book shop, restaurant, hotel, record shop, venue, ultimately ground breaking lifestyle clubs and bars he would part own, he considered he was at the centre of the universe, a place where all knowledge and enterprise originated.
He appointed himself a custodian of Manchester's legacy of innovation and change, and for all the doomed chaos of his reign, he acted it out flawlessly.
Even when a declining Manchester seemed permanently run down and defeated in the 1970s, Wilson was selling it to the rest of the world as an important international location, inevitably destined for a futurist, hi-tech renewal of its 19th century greatness, as intimated in the cover of Joy Division's 'Unknown Pleasures' and the moors meets machinery meets confrontational mental turbulence of the music.
It wasn't so much that his Manchester came true, but the fact that he was always there to amplify whatever did come true. Even now he's not here, the city spirals out from his sense of audacity, his crusade to place it with Berlin and Barcelona, Los Angeles and Lagos, a distinct state of mind that travels the world and brings the world to it.
Manchester has been re-made since the angry, agitated 1970s, a transformation transmitted through songs, entertainment, typography, fashion, buildings, films, clubs, trends, blogs, theatre, TV, football, comedy, books, arts festivals, many of those things inspired or adopted by this voracious hunter of experience.
The city is currently being awarded so many grants and is the recipient of so much potential government investment there are those who suggest this is a Conservative plot to distract attention away from the standardised north-south imbalance and the fact power still resides in London, and get neglected regions in the north to gang up on Manchester.
The city is becoming to the rest of the North what London and the South has traditionally been to the North; it is becoming richer and more funded, leaving other cities and areas shrinking beneath its weight and increasingly resentful.

Dancefloor, The Haçienda, 6 July 1988 | Bez from Happy Mondays 2nd left | Photo by Photoshot / Getty Images
If Tony Wilson was still alive, still a no doubt abrasive, forward looking 65 year old, claiming some of the credit for all this investment, he would be the natural charismatic candidate to become Mayor of this rapidly expanding new version of the city, keen on protecting its special qualities and demanding an independent North West in general.
If we remember him for one thing in particular, it would be his turning of self-promotion into an art. He was his own greatest achievement
This was one of his favourite causes, something which has become less far-fetched since his death. He certainly became the metaphysical mayor of the other Manchester he helped invent in his imagination.
A city needs such a believer, a totally convinced promoter, in what in the end is a battle between cities worldwide for all sorts of resources and attention, and a battle between cities and the new elite multi-media meta-cities of Apple, Amazon, YouTube and Google.
If we remember him for one thing in particular, amongst all the things he did and tried, it would be his turning of self-promotion into an art. He was his own greatest achievement.
Somehow as he made himself known, the city came with him, with a lucid soundtrack of intelligent, swaggering pop the world would recognise.It would have been something without him, with a lively, non-stop music scene not needing his busybody antics, but his priceless determination and the Factory Records syndicate built in his improvising, impulsive image gave the city's reputation a wider focus.
The giddy, ambitious bid for the Olympics in 1992, the post-IRA bombing regeneration of the city centre complete with canal-side loft apartments and NY style boutique hotels, the hosting of the 2002 Commonwealth Games, all seem refracted through his presence, once easily tabloided into the farcical Mr. Madchester and abbreviated near-affectionately as Twat on a movie poster advertising a seductively slapstick movie made of his life as Factory boss.
Factory was a record label, a numbered list of things to do, think and be, madly slammed into bankruptcy; but it was also a fantastic blueprint for the idea of generating personal and artistic freedom in a world where there are many often sinister forces, systems and networks trying to remove it. The internet appears to offer freedom of choice and expression, a freedom to move and make connections, but it is always inside a box, inside a commercial framework, inside a subscription account.
Factory filtered through the Dylanised, punkified Marxist desires of Wilson and his ersatz business partners is the missing link between the whimsical, utopian free thinking Apple of the Beatles, and the enigmatic, controlling, persuasive Apple of Steve Jobs.
Wilson as the arrogant and bullying mix of art groupie and commodity fetishist, conjurer and con man was as much a North West Jobs as he was a McLaren, a McLuhan, a Letterman, a Zappa.
Apple's compilation of talents in an attempt to conceive a new music business model needs the haywire, near hippie-mystical approach of a Wilson with a definite, articulated contempt for central authority to reanimate its libertarian counter-culture roots, rather than the fussy, playlisting DJ / lifestyle mentality.
If pop and rock music has a recognisable, outsider future, breaking free of the attractive, all-encompassing past, it should be about different thinking and the subversive power of the imagination, not merely the glossiest latest beats, the newest upgrades, the wackiest stunts, the biggest list of contacts and the coolest equipment.
The apparently half-crazed Factory was a better, more sophisticated model for what a record company could be in the current digital age than the haughty, dozy corporate labels.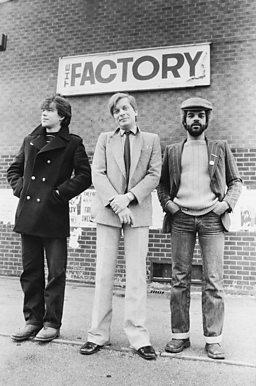 (l - r) Designer Peter Saville and Factory Records co-founders Tony Wilson and Alan Erasmus c. 1979 | Kevin Cummins / Getty Images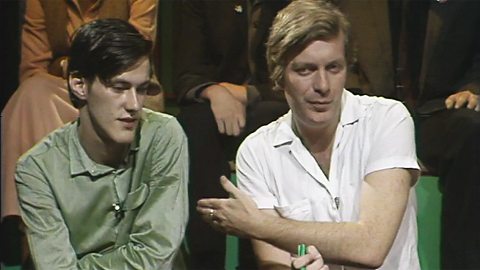 Tony Wilson and Stephen Morris, Joy Division's drummer, discussing the Radio1 playlist
Wilson, oddly for someone who read the local news on television, was committed to a violation of ordinary habits and perceptions, to attacking the ordinary, dedicated to ideas that were all about difference, and newness, and an abrupt, disconcerting, fantastic separation from the conventional.
The corporate commercial - and governmental - culture slickly, emptily absorbs the once avant-garde and the hackneyed techniques of cool which therefore become the new conformity
He worked in and with the conventional, often as corny as a Radio 1 disc jockey, as ingratiating as a Keith Chegwin, but only to further his interests in resisting how the routine everyday plays into the controlling, censoring hands of authority.
In a very traditional sense, Wilson the controversial local hero slips into the history he was always so fascinated by, destined to be remembered, part of what is talked about in the future. He has become, officially, a great 20th century northern figure who left his mark, part of the map of the place, named and famed in the very institutional fabric, a post-modern update of the northern industrialist who left behind buildings, communities, museums, libraries, all those great homes of learning and discovery that Wilson loved.
There will be an arts centre called The Factory built on the site of the old Granada television, a well-intentioned, explicit tribute to the talents of Wilson the great broadcaster and Wilson the well-publicised play-er, do-er and make-er.
There will be a Tony Wilson Place. It's nice permanent reminder, but not in his cryptic, cantankerous, bloody minded spirit; it's the decoration, not the provocation, running in parallel with how sublime Joy Division songs become football chants and are played over the credits of 'Come Dine With Me,' and their bass player Peter Hook tours the world in a sort of post-punk end of the pier Joy Division tribute act draining the music of its original astonishing, mysterious suddenness for the sake of a night out, a sentimental nostalgic kick.
The Wilson that is being memorialised in the city as one of its salt-of-the-earth great and good is not really the Wilson that changed the city.
It is one of the Wilsons, the one who was quite capable of appearing well-behaved, but it removes the erratic loud mouth, the annoying local celebrity, the irrational opinion former, the insulting controversialist, the unlikely spirit guide, the deviant comedian, the irrational professional, the early embracer of new technology, most of all the slippery, confounding and outrageous intellectual.
The outrage and unpredictable, unclassifiable energy threatens to be buried under ordinary memorialising as sanctioned by men in suits. Yes, history inevitably forms in this careful way, smoothed out and accessible to all, but what should come with the investment, the bland hipster texture, the sickly Hacienda nostalgia, the mainstream manifestation of Manchester the renowned international city with a distinct soundtrack, is the mercurial, obnoxious, fanciful Wilson, the one that could never be pinned down, and certainly shouldn't be by simply naming a road after him.
The city as wandered through and wondered about by Wilson was what it seemed to be - made up of shops, roads, stations, pubs, offices, bus stops, cafes, parks, bridges, factories and skyscrapers.
But it was also a poem, a hallucination, a series of philosophies emerging in the shadows, centuries of colossal history colliding in one street, radical energy secreted in darkness, over the border of legality. A place not only mapped out and organised by the politicians, businessmen, entrepreneurs, planners and academics, but by those progressive, iconoclastic problem solving thinkers, pleasure seekers, artists, outlaws and conceptualists who ultimately contribute the most to how things sound, feel, move, appear and illuminate our lives.
Wilson believed that worlds need to exist outside the artificial corporate commercial culture, and that need for those sorts of other worlds is even more necessary now that the corporate commercial, and governmental, culture slickly, emptily absorbs the once avant-garde and the hackneyed techniques of cool which therefore become the new conformity, the new orthodoxy. Yesterday's revolution is today's establishment and corporate deception.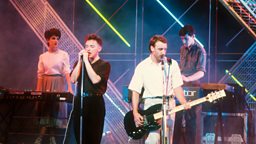 New Order on Top of the Tops, 1983

Tony Wilson on the set of So It Goes,Granada TV, 1976 | Photo by Gems / Redferns
Manchester is getting richer, become increasingly international, a leading candidate for capital city of a nation being left behind by the monstrous, mutating megacity London as it floats outside the UK, and Wilson is a great figurehead for those keen on creating the cosmetically maverick, enterprising brand that goes with this new modern city.
They can't acknowledge the generous, anarchic spirit that idealistically pursued the notion of art and music as a way of outmanoeuvring political and commercial interference
Roads named after him and arts centres honouring his impact at least offer some acknowledgment that the city actually thrives because Wilson and his Factory gang created fantasises in order to rearrange reality.
But they can't acknowledge the generous, anarchic spirit that idealistically pursued the notion of art and music as a way of outmanoeuvring political and commercial interference; in some senses they bring it to a fixed, decorative halt, turning innovation into the always suspect status quo.
The honours on their own don't let Wilson haunt proceedings in his own image. The conventional honours must come combined with other ways of representing in and beyond the city the grand, scheming, sceptical, never satisfied romantic.
I remember one voice dreaming of a giant sculpted representation of Wilson in some form that could be seen for miles around, taller than the giant city centre Hilton, like a madcap Mao Zedong, stretching the city into an entirely new, fabulous shape.
That kind of wonderfully ridiculous statement gets to the heart of what the showboating, big headed, sure thing, weirdly literate, bragging Manchester mind as excessively represented by Wilson actually is. Or maybe the subject of 'Wilson' should be taught locally, and further afield, as a method of making sense of the world around us as it melts into another state altogether.
Wilson used to claim, ultimately against all evidence to the contrary, that every thirteen years – counting back and forward from 1976 – there was always a great pop culture eruption that changed everything.
In Manchester, in 1976 with the Sex Pistols turning up out of the blue, and 1996 with the vicious IRA bombing, you could say every 20 years there was a great shift in momentum (or maybe it was every ten years: in '66, Dylan heckled; '86, the last concert by the Smiths; '96, Oasis giving Britpop a necessary vulgar slash of Manchester).
In 2016, when there will be various Manchester anniversaries, my book about Tony Wilson will be published - even if it's not finished, because more Wilsons keep turning up with more to say and claim.
I feel he's writing it more than I am, a crowd of phantom, gloriously impractical Wilsons with their fighting spirit intact bossing me about, leading me on, still making it up as he goes along, making sure there is more myth than truth, and the dirty, beautiful, battling Manchester he believed in.
A Manchester that is both the everyday city always changing into something else, and a place you can call your own, not be put, and contained, a place where there is no limit, where there is room to breathe, and dream, the meeting point of all contradictions, where you can actually get a say in how the world should be, so the real games can begin, and the philosophers, eccentrics, originators and rhapsodists can win.
It doesn't make sense, unless you believe it does, and you believe that books and learning still matter, in the irresistible, maddening style of Tony Wilson.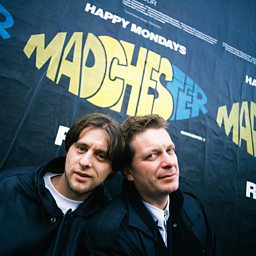 Shaun Ryder (left) of the Happy Mondays, with Tony Wilson, in front of a poster for the band, c 1989 | Photo by Kevin Cummins / Getty Images