Main content
Will live music ever be the same again?

In 2020, the live music scene came to a grinding halt. Glastonbury festival, like countless other events across the globe, became a virtual event. In the Radio 4 documentary The Year the Music Stopped, musician and poet Arlo Parks speaks to artists she admires about how they have responded to the challenges of the Covid-19 pandemic. What have they missed about live performances, and will live music ever be the same again?
Arlo Parks
I played Glastonbury this year for a few cows and a few million people on TV.

Arlo Parks
This year, Arlo Parks launched her debut album: "I'd always had this image of parties and having all my friends around me, but I just ate some chicken and rice and played scrabble with my dad," she laughs. Arlo recalls playing some of the new music to her parents, which she describes as "a beautiful moment just to sit there and hear their thoughts and see how pleased they were about it all. It was almost more special than maybe it would have been if I'd had a wild party."
Still, Arlo longs for the day she can gather with both friends and strangers once again. "What I find most compelling about being in a crowd is that for an hour everyone is completely together," says Arlo. "Everyone is completely immersed in this shared experience."
"I played Glastonbury this year for a few cows and a few million people on TV," she continues. "It was just surreal, honestly. Of course, all the people weren't there, but I still weirdly felt this sense of energy."
Live music makes us feel alive, says Arlo. "And I promise we'll feel that way again soon."
Yannis Philippakis – Foals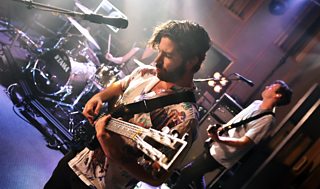 Yannis Philippakis, the lead singer and guitarist of Foals, remembers being a teenager and attending his first gig. "It wasn't great really," he laughs. Still, "the feeling around the gig was amazing." He recalls being surrounded by "cool characters", many of whom he recognised from the local record store, and he was taken by a sense of community. "It wasn't just about the band, but there was this kind of ecosystem really around it," Yannis explains.
However, this year, the ecosystem has suffered greatly. Live music venues have closed, and festivals have taken a financial hit. The impact of Covid-19 on the music industry is "deeply worrying", says Yannis. "It's fragile, and it already kind of was before this."
Will the live music industry survive Covid-19? Can this ecosystem of artists and fans, sound engineers and lighting technicians, booking agents and stage managers bounce back?
"We're all mourning the lack of live music; I think we are all becoming more aware of just how special it is." Yannis argues this time of loss and reflection may be what fuels the industry's comeback. "I think everybody's first show back after lockdown might be their best ever shows." His, he imagines, will be "riotous".
Phoebe Bridgers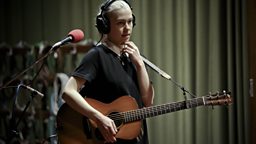 For indie singer-songwriter Phoebe Bridgers, 2020 has been a year of quiet. "I feel pretty lucky to just be bored," she acknowledges. Phoebe was supposed to be supporting The 1975 on their North American tour, but when the pandemic disrupted her plans she announced she would be touring the world virtually.
I feel like there's no vibe to go off of... Yeah, I miss hecklers.

Phoebe Bridgers on performing virtual gigs
Serenading fans from the comfort of her kitchen, bathroom and bed is a stark difference to the usual brutal and gruelling limbo of touring. Still, Phoebe misses connecting with her audience live in a physical space. She misses casting her eyes out across the audience, trying to guess what each person is thinking and feeling. "Is he singing or texting? Is he crying?" she would wonder. "It's fun."
In contrast, touring virtually has been surreal: "I feel like there's no vibe to go off of; it's just you looking at your phone trying to conceptualise how many people are watching you." For Phoebe, nothing can replace the wonder of a live performance. She even misses the hecklers.
Kojey Radical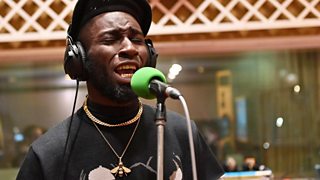 Kojey Radical is a poet, rapper and mixed media visual artist. "I want people to be engaged," he says of his performances. "I take long dramatic pauses in my shows to look at people dead in the eye and let them know I can see you." His performances are also heavily influenced by his background in dance. "If you can see me on the stage being as free as I possibly can be, there is absolutely no reason why you as an audience member must stand with your back against the wall."
Kojey Radical was preparing for his first-ever headline slots when the Covid-19 pandemic struck. "It felt like I had put in all this work to just hit a brick wall," he explains. "But at the same time, I don't think I've been the kind of person that easily accepts a state of defeat."
Like many artists, Kojey Radical attempted virtual performances but struggled to connect with the audience. "I just remember being on the stage, doing the performance [and] just feeling really anxious because I couldn't get no engagement there and then."
Kojey Radical predicts that the music industry will continue to rely on virtual performances for some time as countries around the world learn to manage the virus. Still, he awaits the day he can perform live again. "I think the streets need me."
Ed O'Brien – Radiohead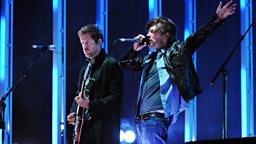 Ed O'Brien and Thom Yorke of Radiohead
Radiohead guitarist Ed O'Brien feels that live music brings about human connection. "To be able to play our music in front of people and connect on a musical, emotional, spiritual level and a physical level, it's such a profoundly important thing for us to do."
To be able to play our music in front of people and connect on a musical, emotional, spiritual level and a physical level, it's such a profoundly important thing for us to do.

Ed O'Brien
"We've been doing this for thousands of years in one way or another," he explains, be it musical performance, dance, ceremony or ritual. "So, of course, we miss that. We miss that connection."
When the live music industry came to a halt, Ed had hoped to use the opportunity to be more creative. However, he suffered a flu-like illness and was left exhausted. He found that he could no longer enjoy listening to the radio: "It was just all this noise. I couldn't bear it." Instead, Ed was drawn to the sounds of nature. "It was really strange, we were surrounded by birdsong, all this birdsong, and they were the sounds that I was craving."
"I have a real sense that things will never quite be the same again," says Ed. "One of the things I was finding challenging was trying to reconcile touring and climate, the climate emergency." He argues that as venues re-open and we start touring again, the music industry must change its attitude towards the environment. "We have to be better than that now."
More from Radio 4
John Doran explores radical music being made in the margins of Britain.

Gemma Cairney selects inspiring music documentaries re-released from the Radio 4 archive.