Main content
5 things every drone pilot on Scotland's islands needs to think about before take-off
By Richard Cook, Director Of Photography, Grand Tours of the Scottish Islands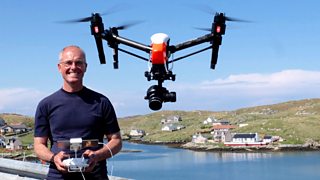 It's always fun in Scotland trying to fly a drone between the rain showers, strong winds and low level turbulence… but I love a challenge!
Here are just some of the things I need to think about when flying a drone over the Scottish Islands.
1. The sea
It's virtually impossible to land on some islands, so our only option is to fly the drone over them. This involves taking off and landing from a boat — not easy to do as it can confuse the drone's GPS.
It's possible with the help of a skilled skipper, although the 'landing' is often more of a 'catch' — not something I'd recommend unless the pilot is very experienced.
2. Location
In many ways, the biggest issue we face each day is getting the drones to the locations.
In our quest for the best shots, the Grand Tours team often travels to remote places that involve quite a walk and even a scramble or climb. The shots you see in series 4 of the Quiraing and the Old Man of Storr in Skye involved about nine hours of walking across quite difficult terrain carrying the kit, so for that reason I have to work with fairly lightweight units.
We do, however, try to share the load and all take our turn carrying the gear — even presenter Paul Murton who is happy to muck in with the rest of us!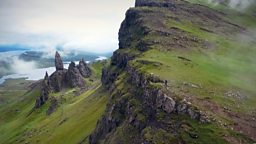 Old Man of Storr, Skye
3. Weather
We had some amazing weather this year, especially on Uist, but even blue skies bring the difficulty of depth of perception: a problem drone pilots face when flying close to terrain.
It's hard to judge how close the drone is to, say, a cliff, the sea or the edge of trees if the pilot is situated some distance away. And, since I fly over Paul a lot of the time, I certainly don't want to crash into him!
We had quite a bit of low-level cloud this year on Skye, which looks fantastically atmospheric, but it can appear quite suddenly and it's not ideal when the drone disappears into the mist!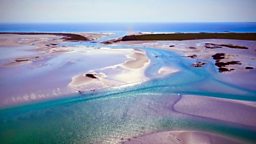 Baleshare and Kirkibost
4. Cliffs
One of the most spectacular places we've filmed were the cliffs at Rothiesholm on Stronsay in Orkney.
We wanted to get really dramatic shots of the cliffs to illustrate the story we were telling, but it was a very exposed spot right next to the sea so there was little margin for error.
One of the most common reasons drones crash is, quite simply, because they run out of battery power as people keep filming in the quest to get the perfect shot, so it's really important to be acutely aware of exactly where the drone is so you are able to land it safely if it starts to run low on 'fuel'.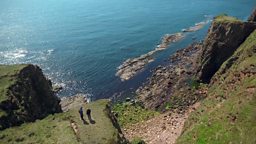 Rothiesholm cliffs on Stronsay, Orkney
5. Arctic Skuas – the aggressive pirates of the sea
Filming off the coast of Shetland gave me perhaps my biggest challenge yet: within minutes of the drone becoming airborne, it was mobbed by Arctic Skuas (known by many as Bonxies) — a notoriously aggressive bird.
This was something I hadn't anticipated, so it was a scary few moments! But fortunately they were just curious, so the drone survived to fly another day. It's probably is only a matter of time before a bird decides to take it down, though...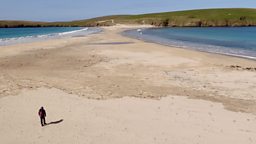 St Ninian's Isle, Shetland
Touchdown!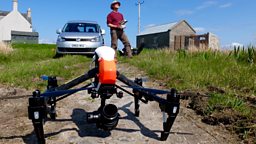 Richard lands his drone safely after another flight