Main content
Molecules Under a Microscope
Writer Graham White unpicks the elements that make up Primo Levi's The Periodic Table, a book he has adapted into a complex new drama for Radio 4.
Primo Levi lived his whole life in the same apartment on Corso Re Umberto in Turin, apart from a period during World War Two when his 'home' address was altogether more notorious - the Buna-Monowitz labour camp in the Polish town of Oświęcim, or, to give it its German name, Auschwitz.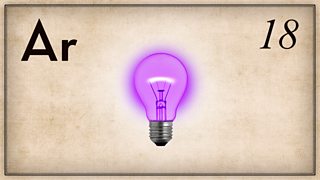 Argon
Lives harden, dreams coalesce with reality and the detective work of chemical analysis provides striking insights into human experience"
Levi survived Auschwitz and, on his return to Turin, he became a profound chronicler of the experience of the Nazi extermination camp in books such as If This Is A Man. Working as an industrial chemist, his writing also often focused on science and its role in human experience, particularly in people's everyday working lives.
The Periodic Table was written some way into a maturing literary career; part memoir and part fiction, it is a meditation on the presence in human life of the components of The Periodic Table of the Elements – hydrogen, potassium, zinc, carbon and so on. The book assembles tales based on individual elements: stories of literal and metaphoric reactions and transmutations in which lives harden, dreams coalesce with reality and the detective work of chemical analysis provides striking insights into human experience.
At the book's heart is the richness and vivacity of skilled storytelling, whether in the anecdotes of Levi's Piedmont ancestors, captured in their easy-going benevolence in the chapter entitled Argon, or the voices of imagined characters such as the narrator of Lead, a metal trader in an ancient Europe. Levi's stories are full of the characters encountered in his working life: a small-time crook trying to create cheap lipstick in the wreckage of post-war Milan; a factory owner vying to match Levi's literary standing by spinning yarns of his own wartime experiences in Uranium; a cobbler who wants to know whether a rival is attempting to poison him in Arsenic. Some of the stories are vividly first person, demanding little resetting to allow their dramatic qualities to speak – Lanza in Sulphur is one of Levi's quiet heroes, button-holing his listener to tell his tale.
The string of tales which deal with Levi's experiences as a student chemist in pre-war Turin as, under Mussolini's laws he grows increasingly aware of his Jewishness, becomes a single play in our adaptation. In it, Levi's fight to maintain his identity and rights is forged, in part through the example of others, into Iron. In Gold, Primo writes powerfully of the fall into captivity which led to his transport to Auschwitz. Among the mountains above Aosta in the Italian Alps, Levi holed up with comrades – the "least prepared" partisans in the Piedmont – until they were betrayed by an Italian militia spy.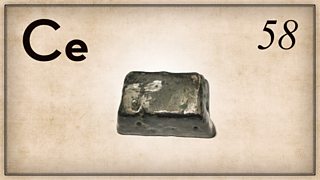 Cerium
Levi put his survival in Auschwitz down to his knowledge of German, his training – his skills as a chemist led to work inside a building in the Monowitz synthetic rubber plant – and luck, including the gifts of food from an Italian civilian worker who risked his life in order to help his fellow countryman.
In the story Cerium, Levi points to the ways in which his humanity changed under the pressures of imprisonment, as his friend Alberto taught him not to accept the "values of the concentration camp universe", the moral complexities of which Levi explored in his celebrated book The Drowned and the Saved. The final stroke of luck for Levi was near fatal illness which meant he was left behind when the forced evacuation marches from the camp began. Alberto did not share his luck, and died on one of the marches. Levi returned to his widowed mother and their apartment in autumn 1945.
Levi's war also haunts the story Vanadium. Here, an apparently routine correspondence with a foreign manufacturer of defective resin twists into an encounter with the past when the misspelling of a compound's name reveals the true identity of Primo's German correspondent.
Further plays explore the place of chemistry at the core of human experience. In Mercury, Levi creates an astonishing fantasy of life on a 19th Century garrison island as the settlers encounter alchemical mysteries. In Arsenic and Silver the storytelling of Primo and his workmates fills the air as he looks back on his career.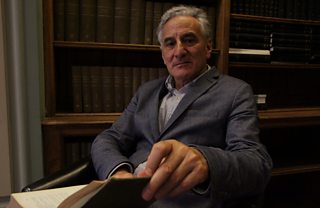 Henry Goodman, who plays the older Primo Levi in Radio 4's drama
Finally, in Carbon we are able to explore the radiophonic possibilities of the studio as Henry Goodman's Levi traces the life of a Carbon atom through history and a chain of multiple reactions and transmutations.
It was in the same Turin apartment block to which he had returned that Levi met his death in 1988. The verdict was suicide, provoked by depression, his mother's illness and the fears of a resurgence of the far right. Recently that verdict has been disputed, with the New York Review of Books carrying heated articles for and against the possibility of an accidental fall – a reflection perhaps of the investment of readers in Levi, the warm, witty and humane figure whose own life and experiences became a model for resilient humanism.
Primo Levi's The Periodic Table is on Radio 4 from Monday 18 July at 9.45am. Listen online in any order.
Janet Suzman presents a short feature about Primo Levi's life and writing.