Main content
Six famous politicians who have been on Desert Island Discs
Over the decades, numerous politicians have been cast away to Radio 4's desert island; the most recent being the leader of the opposition, Sir Keir Starmer. We look at six other party leaders who've been on Desert Island Discs, where they were asked to choose eight tracks, a book and a luxury item to help them live in isolation on an imaginary island.
From childhood tantrums to moments of political awakening, these conversations offer a fascinating insight into six famous politicians…
Boris Johnson
Boris Johnson appeared on Desert Island Discs in 2005, while he was juggling his work as an MP with his role as editor of the Spectator. Johnson tells presenter Sue Lawley he was reluctant to give up journalism: "I think I've successfully ridden two horses for quite a long time, but I have to admit there have been moments when the distance between the two horses has grown terrifyingly wide… And I did momentarily come off."
Johnson's choice tracks include Start Me Up by The Rolling Stones and Pressure Drop by The Clash. "It was the highest moment of my journalistic career when Joe Strummer actually sent me a letter saying how much he admired a column I'd written about hunting, funnily enough." Boris went on to tell Sue that Joe Strummer was a "great hero" of his.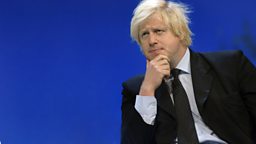 Gordon Brown
In 1996, then shadow chancellor Gordon Brown agreed to be Sue Lawley's castaway. He spent much of his youth playing sport like rugby, and at 16, suffered a head injury that caused his retinas to detach. He remembers listening to The Beatles' Hey Jude during one of his many hospital stays: "You had to lie flat for weeks, blinded so that the retina could set in place." Brown was left with sight in only one eye. "I think people might be suspicious of my driving," he tells Sue. "But apart from that it doesn't make any difference at all."
Brown attended the University of Edinburgh where, while still a student, he was elected Rector: "I ended up, at the age of 21, making all the decisions about millions of pounds being spent". This "baptism of fire" drew him even closer to politics. When he was elected to Parliament in 1983, he found himself sharing a "windowless office" with the MP for Sedgefield, Tony Blair.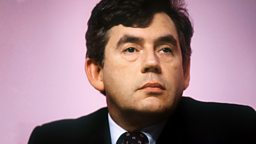 Margaret Thatcher
Then the leader of the opposition, Margaret Thatcher was Roy Plomley's castaway in 1978. Thatcher's discs include music by Beethoven and Mendelssohn, and a routine by the American comedian Bob Newhart. She tells Roy that music is "what I go to when I want to take refuge in something completely different; when I really want to get away from worries and go from the very logical life that I've lived, and I've always been trained to live, to a different depth of experience."
"We were never allowed any amusements on Sundays," she says of her strict upbringing. "My father taught me, very firmly indeed, you do not follow the crowd because you're afraid of being different… Oh, it was very hard indeed but my goodness me it stood me in good stead."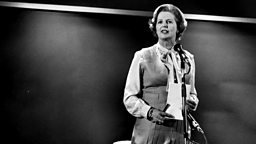 Ed Miliband
Ed Miliband joined Kirsty Young on Desert Island Discs just two months after beating his brother to become leader of the Labour Party in 2013. "You can't understand me without understanding where I come from," Miliband tells Kirsty. His mother, a human rights campaigner, and his father, a renowned Marxist academic, were both Jewish refugees who survived the Nazis. He grew up discussing politics around the kitchen table: "My dad thought you could abolish capitalism. I don't, but I think it throws up fundamental injustices."
Miliband's final track was from his father's record collection; a 1960 concert recording of Edith Piaf's Non Je Ne Regrette Rien. Miliband explains: "One of my regrets is that both of my parents were French speakers but my French is awful."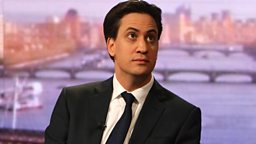 Nick Clegg
Nick Clegg appeared on Desert Island Discs in 2010 while he was the Deputy Prime Minister and the leader of the Liberal Democrats. He talks about growing up in a multicultural household. His father was English-Russian and a banker, his mother, born in Indonesia, was Dutch and had been interned during WWII.
His chosen luxury item came with a confession. "I do like the occasional cigarette," he tells Kirsty Young. "I can just imagine, as the sun's going down, and I've got the beard flowing down to my knees… just puffing away at a cigarette would be quite nice."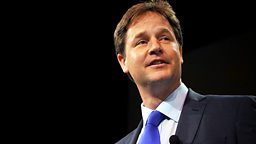 Nicola Sturgeon
Scotland's first minister and SNP leader Nicola Sturgeon was Kirsty Young's castaway in November 2015. Nicola's "childhood obsession" was Cilla Black. "I stood in Littlewoods demanding to get her album bought for me," she tells Kirsty. When her parents said no, young Nicola threw a tantrum until her grandad "rode along to the rescue" and bought her the album.
Sturgeon was a studious child, and was encouraged in her interest in current affairs by a teacher. She joined the SNP aged 16, and at 21, she was the youngest candidate in the 1992 General Election. Sturgeon's confidence increased over the years: "As I got older, that divide between the real me and the politician me has definitely disappeared. So, what you see now is the real me, for better or worse."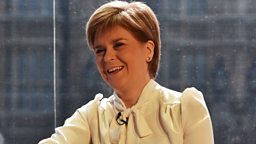 More politicians who have been on Desert Island Discs
The former Prime Minister spoke to Kirsty Young in 2014 when she was the Home Secretary.

Charles Kennedy appeared on Desert Island Discs in 2003 when he was the leader of the Liberal Democrats.