Main content
Museum of the Year 2019: Meet the five finalists
25 April 2019
The finalists for the biggest museum prize in the world, Art Fund Museum of the Year, have been announced on Front Row. The five UK museums on the shortlist span Scotland, England, Wales and Northern Ireland, and are in contention to win a £100,000 prize.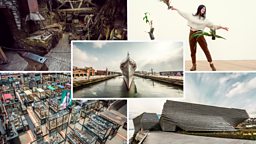 The Art Fund Museum of the Year finalists | Photos: Marc Atkins
The museums in contention for the title of Art Fund Museum of the Year 2019 are:
HMS Caroline, Belfast
Nottingham Contemporary
Pitt Rivers Museum, Oxford
St Fagans National Museum of History, Cardiff
V&A Dundee
The Museum of the Year seeks out museums and galleries across the UK that have shown exceptional imagination, innovation and achievement in the preceding year, with past winners including Tate St Ives, The Hepworth Wakefield and V&A London.
The members of this year's judging panel, chaired by Stephen Deuchar, are David Batchelor, Brenda Emmanus, Bridget McConnell and Bill Sherman.
The winning museum is announced at a ceremony at the Science Museum in London on Wednesday 3 July 2019 and will receive £100,000. The other four shortlisted museums each receive £10,000 in recognition of their achievements.
Museum of the Year 2019
Front Row announce the shortlist and speak to Art Fund director Stephen Deuchar.

Last year's winner celebrates the contribution of artists who lived and worked in Cornwall.
HMS Caroline, Belfast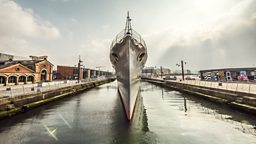 HMS Caroline | Photo: Marc Atkins
Located in Belfast's Titanic Quarter HMS Caroline is a floating museum offering a unique insight into naval history, maritime warfare and the story of Irish sailors. HMS Caroline is the last British World War One light cruiser still afloat and the sole survivor of the Battle of Jutland. Decommissioned in 2011 the ship opened to the public in June 2016 and features recreated historic spaces such as the captain's quarters, marines' mess and engine rooms, while the newly renovated Victorian pump house surrounding the ship offers an innovative learning programme and an immersive introductory exhibition to HMS Caroline's career.
Nottingham Contemporary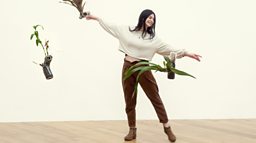 Visitor to Daniel Steegmann Mangrane exhibition at Nottingham Contemporary | Photo: Marc Atkins
Opened in 2009 and housed in a RIBA Award-winning building, Nottingham Contemporary is one of the largest contemporary art centres in the UK. Over the past decade they have hosted more than 50 exhibitions of international art, with the aim to stimulate important discussion about culture and society. Previous exhibitions at Nottingham Contemporary include The Place is Here (2017), a landmark survey of Black British Art, and From Ear to Ear to Eye (2017-18), an exploration of the politics of listening across the Arab world. Virtual reality tours of the exhibitions allow online visitors across the world to engage remotely in fully immersive 3D.
Pitt Rivers, Oxford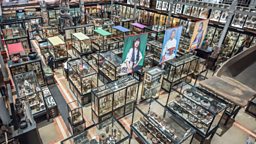 Pitt Rivers Museum, Oxford | Photo: Marc Atkins
Founded in 1884 Oxford's Pitt Rivers Museum houses over 500,000 objects, photographs and manuscripts from across the world. Rather than be arranged by geographical or cultural areas the artefacts are gathered together by type in a 'democracy of things' which reveals distinctions and parallels across cultures. In 2018, the museum embarked on a series of innovative programmes: 'Hope' asked radical questions about their collection's colonial past, 'Making' examined the link between making objects and health, 'No Boundaries' worked with refugees to reinterpret collections and 'No Binaries' encouraged queer responses to the museum's collections.
St Fagans National History Museum, Cardiff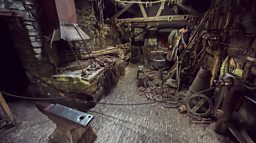 Blacksmith at St Fagans National History Museum Cardiff | Photo: Marc Atkins
St Fagans is a people's museum, exploring history through people's everyday lives. Since 1948 over 40 original buildings from different historical periods have been re-erected in the 100-acre parkland surrounding St Fagans Castle, including a woollen mill, ironworkers' cottages, a bakehouse and an Anderson air raid shelter. Last year the museum completed its Making History project, a £30 million redevelopment to become Wales' National Museum of History, opening new galleries and workshop spaces. The transformation was shaped through an imaginative public programme – reflecting the museum's aim to create history 'with' rather than 'for' the people of Wales.
V&A Dundee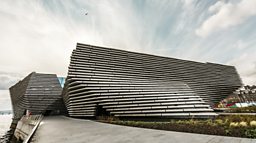 V&A Dundee | Photo: Marc Atkins
Scotland's first design museum and the first UK design museum outside London opened in Dundee on 15 September 2018 after 11 years of planning and construction. Designed by renowned Japanese architects Kengo Kuma & Associates the building sits at the centre of a £1 billion transformation of Dundee's waterfront. V&A Dundee presents the brilliance of Scottish creativity and the best of design from around the world through their museum's permanent Scottish Design Galleries, new commissions by emerging artists and designers, and a programme of major exhibitions. Over 500,000 people have visited since it launched last year.
The winner of the Art Fund Museum of the Year is announced on Wednesday 3 July 2019.