Main content
What will happen to my disabled son when I die?
Charlie Beswick is the mum of 12-year-old twin boys, Harry and Oliver. Harry was born with a birth defect and has autism and learning difficulties.
For BBC Radio 5 live, Charlie investigated what might happen to Harry when she was no longer able to care for him.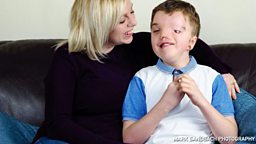 As a new parent, the concept of death is about as far from your mind as it possibly could be.
However, when your baby has a life-limiting disability, the certainty of your own death is painfully ever present.
This is my reality, as it is for a large number of parents who have children who may always be somewhat or entirely dependent on others for their care.
When my twins were born I had no idea that Harry had a rare craniofacial condition, Goldenhar syndrome, which effectively means that the left-hand side of his face had never developed.
He also has autism, is technically non-verbal and has significant learning delay.
Through his childhood years I have focused very much on Harry's day-to-day care and progress but as he approaches adulthood I am left fearful and wondering: What will happen to him when I die?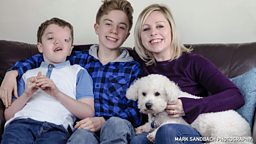 A survey by the disability charity Sense suggested that three-quarters of family carers have no long-term plans in place for what will happen when they can no longer support their loved one, and two-thirds live in fear of what will happen after that.
I am one of those statistics.
The thought of working with local authorities when previous experiences may not have been particularly positive is daunting, and the notion of planning for your child's care after your own death is exhausting and overwhelming.
However with no plan in place, the reality is that my son - who requires stability and structure - could be placed into crisis accommodation which more than likely will not have his needs or interests at heart.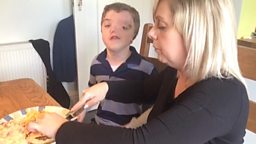 First I spoke to Richard Kramer, the Chief Executive of Sense, who pointed me in the direction of the 'tool kit' resource on their website called 'When I'm gone'.
This breaks down the options available and provides an initial point of guidance on issues such as funding, accommodation and legal rights.
As part of the programme, I also spoke to another mum who has an 18-year-old son who needs full-time care.
Carol and her husband are building a house in their garden for Jamie to live in and I was encouraged to hear the plans they were making for his future.
Carol made me realise that everyone strives for independence in their own way and that in fact, a home for Harry where he can live without me may be something he craves in time.
I had only ever thought about keeping him with me, and not that he might not actually want that.
Philip Warford, a legal expert who specialises in helping families like ours plan for the future, really made me think about the ways in which I can hand over information about Harry, from the small things to the big aspects, all of which are significant and crucial to his routine and continuity of care.
He spoke about the importance of the care package provided as part of an Education, Health and Care plan (EHCP), which is in place to help children and young people up to aged 25 who need more support than is available through special educational needs support.
He suggested that 14-16-years-old is a good age to be researching options available and considering a plan as the child moves to adult services.
Philip also mentioned the importance of a will, and receiving specialist advice to ensure that the very best arrangements both regarding care and finances are in place for your child.
I will certainly be chatting more to him about this, as the will that I do have is very vague.
Finally, Chris, a listener who called into the show explained the plans that had been put in place to care for his severely disabled brother when his parents die.
It sounds strange to aspire to a 'peaceful death' but it's what I hope for when I'm older"
He said that his parents had been incredibly anxious before making any plans.
He hoped when the time did come for them to pass on, that they would feel at peace knowing their son would still be fine without them.
It sounds strange to aspire to a 'peaceful death' but it's what I hope for when I'm older.
This show has helped me move one step closer to ensuring my son still has the care and life he deserves when I am no longer here.
Although the fear of what will happen when I die still lurks at the back of my mind constantly, addressing it has been something I have put to one side.
I now feel more positive about moving forward and investigating my options.
Charlie's guest takeover was on BBC Radio 5 live's Afternoon Edition programme. Click below to listen.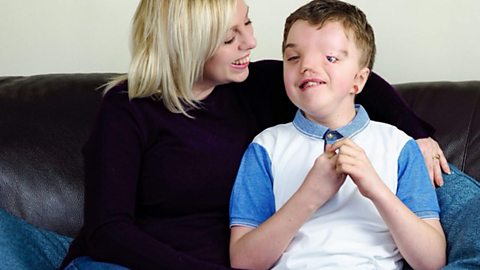 Mum Charlie Beswick wants to plan for her son's future when she can't care for him.