Main content
Security - Perth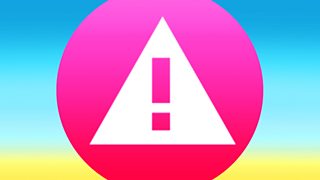 We take the safety and security of our audiences very seriously. If you're attending one of the Biggest Weekend shows we want you to have a great time, so please take note of the things we are doing to help everybody have a safe and enjoyable experience. There are also a few things you can do to help as well.
What are we doing?
We'll be searching every bag that comes into the event. We have restricted the size of bags that are allowed in to help make this easier – no bigger than A4 and limited to one per person. We may also search bags once you are in the arena.
You are also likely to undergo a search as you enter- this may include the use of search wands. You could also be searched once you are in the arena.
Security staff will be visible and on patrol both inside and outside of the venue.
Sniffer dogs will also be on patrol.
A network of CCTV cameras has been installed around the venue, these will be monitored from our event control room.
We've worked closely with the Police and other emergency services to plan a safe event for everyone.
The will be Police patrols around the event and local area.
There will be many other security measures that you can't see.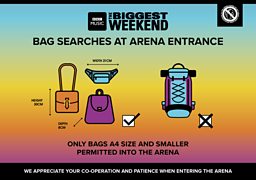 What can you do?
Make sure you only bring one small bag per person (no bigger than A4 size – W21cm x H30cm x D8cm) or even better don't bring a bag at all. Please don't stuff your pockets as that will also lead to delays. There are no cloakroom or storage facilities so please don't discard bags at entrances or surrounding areas. Any items left will be removed and disposed of.
Check the list of prohibited items to make sure you don't bring anything that might cause you any delays at the search points. Items that are surrendered won't be returned to you.
Arrive early and allow plenty of time to go through the search points. We don't want you to miss your favourite artist.
Keep your tickets safe and don't be tempted to buy extra ones from 3rd party sources or touts. There's no guarantee they'll be genuine.
If you see something that doesn't look right, let a member of security or the Police know straight away.
- Talk to our security staff, they're there to help you have a great day as well as keep you safe.