Main content
Goldsmith Street wins the RIBA Stirling Prize 2019
08 October 2019
Social housing scheme Goldsmith Street in Norwich has been named the winner of the Royal Institute of British Architects (RIBA) Stirling Prize 2019, in a ceremony at London's Roundhouse. The estate, designed by Mikhail Riches, was described by the RIBA President as "a beacon of hope".
About the project
Goldsmith Street is comprised of almost 100 ultra low-energy homes for Norwich City Council. The result is the UK's largest social housing scheme to achieve 'Passivhaus' Certification.
Goldsmith Street is a ground-breaking project and an outstanding contribution to British architecture
David Mikhail, founding director of winning architect firm Mikhail Riches, said: "Goldsmith Street's success is testimony to the vision and leadership of Norwich City Council. We thank them for their commitment and support. They believe that council housing tenants deserve great design.
"We hope other Local Authorities will be inspired to deliver beautiful homes for people who need them the most, and at an affordable price."
With seven terrace blocks arranged in four rows and bookended by three–storey flats, the design exploits angled sloping roofs to maximise daylight throughout the development and prioritises pedestrians over cars.
In addition to low fuel bills, a clear social focus was a priority for architects Mikhail Riches. In a bid to create community and limit isolation they were keen that front doors faced front doors, and looked to a traditional Victorian street model for inspiration. With cars pushed to the outer edges of the development more space is available for people to walk and for children to play safely.
The 2019 RIBA Stirling Prize judges, chaired by Julia Barfield, praised Goldsmith Street "as a modest masterpiece. It is high-quality architecture in its purest most environmentally and socially-conscious form. Behind restrained creamy façades are impeccably-detailed, highly sustainable homes – an incredible achievement for a development of this scale. This is proper social housing, over ten years in the making, delivered by an ambitious and thoughtful council. These desirable, spacious, low-energy properties should be the norm for all council housing.
"Over a quarter of the site is communal space – evidence of the generosity of the scheme. A secure alleyway connects neighbours at the bottom of their garden fences and a lushly-planted communal area runs through the estate, providing an inviting place for residents to gather and children to play, fostering strong community engagement and social cohesion.
"Goldsmith Street is a ground-breaking project and an outstanding contribution to British architecture."
RIBA President Alan Jones added: "Faced with a global climate emergency, the worst housing crisis for generations and crippling local authority cuts, Goldsmith Street is a beacon of hope. It is commended not just as a transformative social housing scheme and eco-development, but a pioneering exemplar for other local authorities to follow."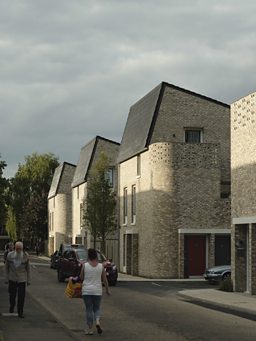 The black glazed pan tiles, angled roofs and pale brickwork of Goldsmith Street flats | © Tim Crocker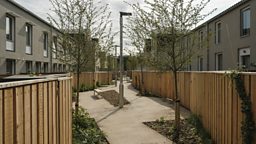 Communal space for children to play safely | © Tim Crocker
Additional credits
Goldsmiths Street additional footage: Living Projects/Tim Crocker
Arts highlights on BBC iPlayer