Main content
Wemyss umbrella stand
Here we have a magnificent Wemyss ware umbrella stand.
It has the trademark cabbage roses covering it. This would certainly have been something that was specially commissioned. Every single part of it is smothered in cabbage roses, almost certainly by the head decorator Karel Nekola.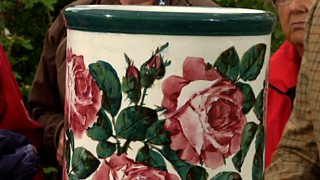 The late Queen Elizabeth, the Queen Mother was a great fan of Wemyss and had a very fine collection, so this is something she may well have liked to have because it's a real collector's piece. This piece dates to the turn of the century, 1890-1900.
Wemyss umbrella stands are rare and if this came on the market, a comfortable auction estimate would be between £3,000 and £5,000.
Did you know? Wemyss ware was first made in the 1880s and was named after the Wemyss family. It is often decorated with brightly coloured fruit, flowers, animals and insects.
Get the app that lets you join in by guessing the values of items featured in the show.