Main content
Chris Evans' Children in Need Auction Packages
Monday 10th November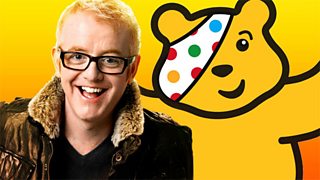 The Superswing Golf Package: This is for four couples and takes place on the 19 – 24 May 2015 with the Pro-Am taking place on the 20. Includes five nights accommodation and the Pro-Am Dinner on the 20.
TOTAL RAISED: £374,008
Festive Foodie Auction Package: There are five items up for auction. You and three friends will join Chris Evans and Alex Jones in the week beginning 15 December. The package will include overnight accommodation in London. All the winners will attend The One Show on the 19 December followed by an after show party.
TOTAL RAISED: £349,621
Tuesday 11th November: The Dirty Dozen
The 12 highest bidders and their partners will get to drive the Magnificent Seven Ferraris and The Drophead Drop-Dead Gorgeous Five. This will take place between the 26 August and 28 August 2015. The winners will join Chris for the Breakfast Show before setting off for three amazing days of driving and dining, and which will end with them attending CarFest South with AAA passes as Chris' guests.
TOTAL RAISED: £726,348
Wednesday 12th November: Dine & Disco Package
This famous evening will take place on the 4 July 2015.It will include wine and food selected especially for the evening by a whole host of celeb chefs including Paul Hollywood, Tom Kerridge and Olly Smith, followed by live music in the tepee of love by some massive acts to be announced!
TOTAL RAISED: £1,317,638
Thursday 13th November
10 Go Mad in Monaco
The five winners and their partners will come into the Breakfast show before leaving in the drop dead gorgeous drop-heads, and jetting off to Nice and Monaco for the Grand Prix. The package includes accommodation and hospitality on a yacht in Monaco.
TOTAL RAISED: £1,193,264
40 Go Bonkers to Brighton
The top FIVE bids will join us as part of The London to Brighton Veteran Car Run in two vintage buses driven by Chris Evans, Alex Jones or Ken Bruce on Sunday 1 November, 2015 before being transported by AIR from Brighton to Surrey and to The Mulberry Inn, for a spectacular vintage themed lunch.
TOTAL RAISED: £349,628