Main content
Shopping safely online
Avoid getting caught out online. Here are some top tips to bear in mind.
Whilst at the launch of the national E-Consumer week, Arjun Rajyagor, winner of the first BBC Junior Apprentice, shares his views on shopping safely online.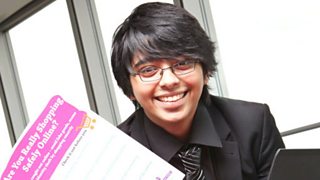 Trading Standard Institute's top tips for safely shopping online:
C. Choose your shopping sites carefully...
Research the site you want to purchase from. Does it have bad customer reviews? If so, it may be best to try somewhere else. If you're buying a well known brand, check with their official website for authorised dealers.
H. Help yourself...
Think price, place and packaging – if the price is very low, for a product that is normally higher, then it may well be a fake. Also think about where and how the goods/services are being sold – is there a postal address on the website?
E. Ensure the site is secure...
Look for https and the padlock sign – the padlock on the screen is usually an indication that a website is secure, but to provide extra security, use a credit card for payments of over £100.
C. Contacting the authorities...
If you come across a website that looks suspicious then we advise you to contact Consumer Direct with your concerns.
K. Keep a copy of your order...
Make sure you hang on to details of the website and acknowledgements of your order (it's best to print off the payment confirmation page). Note down the full website address and any contact details that are available. Also, if you have any liaison with the supplier then keep a record of this too.
Please note: The views expressed in this film are not those of the BBC.
This page was last edited in November 2012.