Main content
10 things we learned from Bruno Tonioli's Desert Island Discs
Bruno Tonioli is a dancer and choreographer whose face is familiar to millions on both sides of the Atlantic. The joyfully flamboyant Strictly Come Dancing and Dancing with the Stars judge is known for his humour and energy, but says he's equally happy in his own company and could easily cope with isolation on a desert island. Here's what we learned from his Desert Island Discs…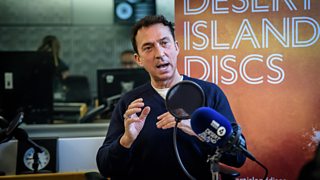 "I always felt I was from another planet, totally disconnected at times."
1. Popping out of your TV
Although he's famed for his colourful on-screen persona in Strictly Come Dancing, Bruno says he could never maintain it 24 hours a day. He tells Kirsty: "The show is so glitzy, so glamorous – so, in a way, larger than life – and I think the only way to approach it is as an entertainment. Still put across a message and a point, but in a way that engages, makes people smile and entertains them. You want to pop out of the screen and draw them in."
2. An escape from accountancy
A creative child, Bruno struggled with the pressure of his parents' conventional expectations. He says, "As a kid I used to paint, I used to do collage, I used to do sculpture, I used to design clothes, I used to sing – I did singing competitions, plays… I mean, anything but being an accountant, which is what my parents wanted me to be. And I really had a lot of angst and conflict because of that… I didn't see any escape... I always felt I was from another planet, totally disconnected at times."
3. Born this way
For his second track, Bruno chooses Born This Way by Lady Gaga, describing it as "My anthem. But not just for me, I think it's an anthem for a lot of people." He explains, "She says really that it's okay to be who you are and, you know, don't be afraid of being who you are in spite of what people are saying to you… They've always told me, since I was a kid, 'You can't do that, you will never come to this'. But you have to go for it. Be yourself. You're born this way – be it, embrace it."
You're born this way – be it, embrace it."
4. Bruno's big break
At 18, a remarkable coincidence gave Bruno his big break as a performer. While he was at an international arts festival, the leading man in its biggest show walked out. Bruno was cast in his place because he was "almost the double" of the star, could dance, and fitted all the costumes (except the shoes, which were too small). The show was a huge hit, touring Italy before transferring to Paris and London.
Press clippings of Bruno's burgeoning career, and a "wonderful" fur coat, helped him avoid serving in the Italian army. At the time, you were exempt from National Service if you could prove you were gay. This caused many men to pretend they were homosexual: "By 1975 / 76 everybody [was] turning up in full makeup".
5. Partying with Bananarama
As a choreographer in the 1980s, Bruno worked on music videos with many major artists, including Duran Duran, Elton John, Boy George and the Rolling Stones. He collaborated with Bananarama on all their big hits for almost ten years and says the partnership was all about "pure pop, pure fun… with the girls we just liked really having a party."
6. A fan club of builders
Strictly is one of the most popular shows on TV, with over 10 million people tuning in for each episode. Bruno says he's found it's a surprise hit with builders: "Every time I walk across a building site – 'Oi, Bruno! Yey, Bruno!'" he says. "They all know about it."
7. "You become like a racehorse"
When Kirsty asks Bruno about the competitive air that emerges among contestants around halfway through each series of Strictly, he explains how at the start, "They think it's all gonna be… all fluff and sequins". But the more the celebrities train, the more they realise that "actually if you wanna win it you've gotta work and you've gotta put the hours in… And what happens – the body changes as well… when you keep training at that level you feel a difference in yourself, you become like a racehorse. And you see the finishing line and all of a sudden [you say]: 'I'm gonna get this.'"
You don't want to let people down – they're expecting something from you and you have to deliver."
8. The transatlantic commuter
Between September and November, Bruno works on shows in the UK and US at the same time, travelling back and forth each week. He says it's very draining: "You feel like your brain is detached from your body, you never quite know where you are. And you have 15 people here, 15 people there. You have to come up constantly with these one-liners, because you don't want to let people down – they're expecting something from you and you have to deliver."
9. A seven-year nightmare
Bruno experienced "a relentless period" between 1994 and 2000 when "everybody passed away. Not just my mum – then my grandma, my grandfather, very close friends in London…" He describes it as "seven years of nightmare", but also says that "I was very lucky, I have a group of very close friends that supported me."
In an emotional moment, he dedicates his seventh disc, Rod's Stewart's In My Life, to the people he has lost, saying: "In spite of what has happened in my life, I might have moved away… but they're still part of me".
10. Seasoned in solitude
Despite being famously loud, Bruno says he's "very, very happy on my own" and would love life on a desert island. "A couple of years ago I went to the Maldives on my own for two weeks," he says. "I only spoke to order room service."