Main content
Behind the scenes: Quentin Blake's revelations of Roald
The Marvellous World of Roald Dahl features contributions from Quentin Blake, who illustrated some of the author's most famous books. Producer/director Andrew Thompson shares his experience of meeting Blake and hearing his moving stories about Dahl.
Sunlight was pouring into a very white room. It was full of every conceivable piece of paper and drawing implement you could imagine.
In the corner were a range of feathers that had been turned into quills – "that's a swan's feather".
Messy paints were everywhere.
As part of the making of a Roald Dahl documentary I had the great honour and pleasure of meeting the illustrator Quentin Blake (please don't use "Sir").
Quentin is not as tall as Roald, and quite elderly, but his wit and energy and sheer charm shone through.
He had kindly agreed to talk on camera about his friend and collaborator, Roald.
Not only that, but Quentin was also willing to draw out some of the key moments from Roald's life that we were keen to cover within the programme.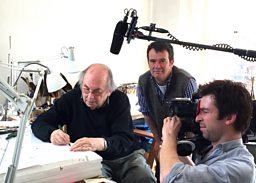 Quentin Blake with Andrew Thompson (producer/director) and Tom Hayward (cameraman)
Roald's life was so extraordinary and varied it could have popped out of one of his more fanciful books. Mischievous schoolboy, fighter pilot, secret agent, inventor, and of course genius writer.
Quentin is a quick drawer and no sooner had I mentioned the great mouse plot (where a seven-year-old Roald had sneaked a dead mouse into the gob-stopper jar of a hated sweet shop owner) that he had rattled off Mrs Pratchet, the shop owner, a dead mouse, a young Roald ("in school cap") and a lovely 1920s glass jar.
His drawings (which are so familiar to so many of us) have so much energy that they are almost climbing off the white paper.
Quentin's drawings would all be painstakingly animated in the hope that they would help capture the spirit of Roald's extraordinary life.
My favourite drawing Quentin did for us was "duck lunch". This is when Roald dined with the author CS Forester in 1941 in Washington during the war.
Forester (of Hornblower fame) had asked Roald to tell him about some of his fighter pilot exploits which could be used as pro-British propaganda in the US.
Because Forester had ordered duck as his meal which was awkward to eat, he could not take proper notes. Roald kindly suggested that he write up the story for him later that evening.
This became Roald's first published writing (he was 25 years old). Quentin perfectly captured this surreal and fortuitous moment when Dahl first became a writer.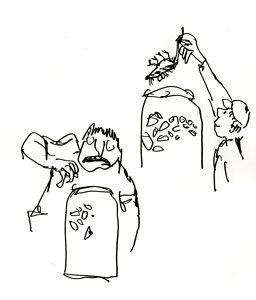 "Roald's revenge"
"Duck Lunch"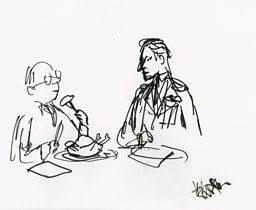 Roald meets CS Forester for lunch
And as Quentin did the sketches he talked about Roald in such an intelligent and moving way.
What motivated Roald, what helped give him the inspiration of his stories. How brave Roald was. What he was like as a person.
We all said our goodbyes to Quentin, and he signed some of his books I had brought with me. Then it was off to film at a bespoke chocolate factory.
What a great day filming.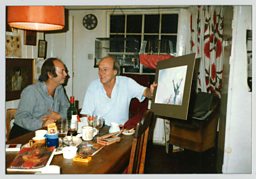 Quentin and Roald working on The Witches at Roald's house in 1983
Does Quentin miss Roald?
It was surprising to me when he wasn't there any longer, because he seemed kind of battered, but as though he would go on and on, so it was something of a shock when he wasn't there anymore. But at the same time I think he's still there. I mean he's very present for everybody, really I think.

Quentin Blake
I asked this at the end of our interview.
Roald Dahl centenary on the BBC