Main content
Superdad: DIY toymaker father who creates kingdoms from clutter
Surely in the running for world's number one dad is Kirk Crosby from Leeds, who by day works for a facilities management company, but by night becomes official toymaker to two-year-old daughter Roma.
Art was all Kirk was ever interested in while at school and he hung onto his passion well into further education where for five years he studied fine art at university. Unfortunately he felt it wouldn't offer him a sustainable career.
"Going into a career as an artist was, I felt, a bit like trying to be a pop star: only a tiny percentage can really make it", he says. Kirk ended up working in the classic office environment but always pushed himself to apply his love of art to whatever he did. And a new arrival in his life further sparked this passion for creativity.
"When Roma arrived I was given the perfect licence to re-visit my model making youth and begin creating handmade toys for my daughter as my parents had done for me."
A Family Tradition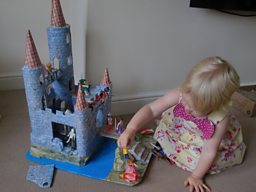 Roma playing with her 1:24 scale Sleeping Beauty castle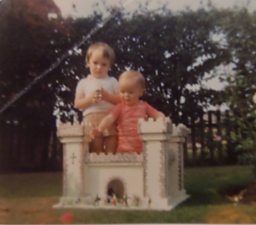 Kirk and his little brother in a castle built by his dad
Kirk's father and grandmother had both wanted to be artists but, like Kirk, hadn't been able to translate their creativity into a paying job. That creativity runs on both sides of Kirk's family.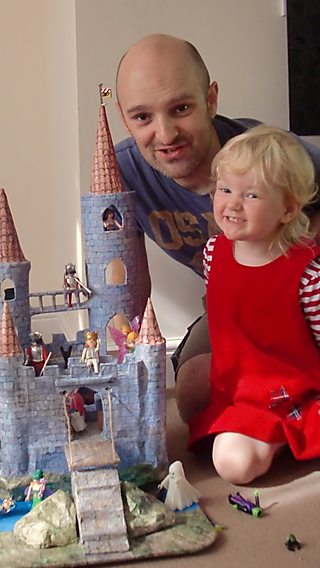 We have freedom not to be constrained by what the toy markets say we should be purchasing and playing with
"My mum and dad were always making things for us. Mum made us costumes and I remember dad used to make us castles that were so big we could climb into them. Whenever there was a craft project to be made for school, Dad always got stuck in planning it out and ensuring it was really high end."
Challenging gender stereotypes
As well as carrying on the family tradition, Kirk's models, made from recycled materials, have been helpful for his daughter's development and fulfil a need that he feels most regular toy manufacturers can't.
"I am no fan of the obsession for colour-coded gender-specific toys for kids which have become disturbingly prevalent nowadays. I don't mind my daughter playing with Barbies or dolls prams, I just don't like the garish neon pinkness which seems to be everywhere."
With his two-and-a-half year old daughter as patron and project manager, Kirk and Roma build what they want to build, "we have freedom not to be constrained by what the toy markets say we should be purchasing and playing with."
Teaching Aid
Some of the models Kirk has made have had a more direct impact on Roma. The model hospital he made helped prepare Roma for when she herself had to go to hospital.
"Every kid has to go to hospital at some point and because she had acted it out with her own model, instead of feeling anxious, she really enjoyed the process."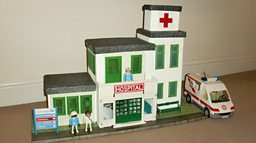 Hospital exterior
The hospital model has a working elevator - a hand winch at the top makes it go up and down:
"Roma can operate it really well - it was great for working on her motor skills. I deal with the maintenance of lifts for our contracts at work and my boss wanted to know if it was fully compliant with the Operations and Lifting Equipment Regulations 1998", laughs Kirk.
Art therapy
Kirk's creative passion has also helped him with his own medical condition:
I suffer from Idiopathic Hypersomnia (similar to Narcolepsy) and it helps me focus and battle against constant fatigue
"I have found that as well as keeping me occupied on an evening it's also a great stress reliever and as I suffer from Idiopathic Hypersomnia (similar to Narcolepsy) it helps me focus and battle against constant fatigue.
My condition relates to my brain's systems not having the correct ability to regulate sleep and wake therefore I am the opposite of an Insomniac. I can have a good night with ample sleep bit I will wake un-refreshed and fighting the urge to sleep throughout the day.
Its not totally understood and can be seen as a comical affliction but in finding things to occupy my brain in this way and keep me focused I can aim to avoid drifting off!"
Eco-friendly
Kirk's models are also eco-friendly - made from good old fashioned recycled materials, "I prefer to use recycled bits and bobs that would normally go in the green bin therefore producing toys and models that are cheap, and ethical in some respects."
His latest project is a 1:24 scale Sleeping Beauty castle, "it's got kitchen roll bastions, a 4" diameter carpet tube tower and cardboard crenellations all papier mâchéd and covered in textured paper sourced from the net.
"The feeling of satisfaction when completing a project is great but I just have to curb my enthusiasm in order that our ever expanding collection of models don't take over the house!"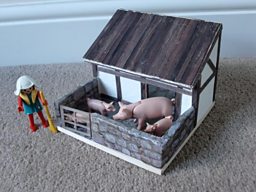 Pigsty
Chicken coop

Nativity Scene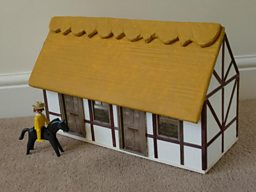 Stables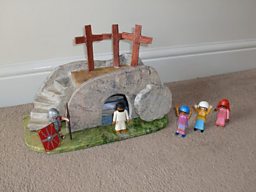 Easter scene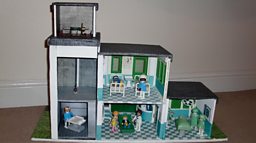 Hospital interior with working lift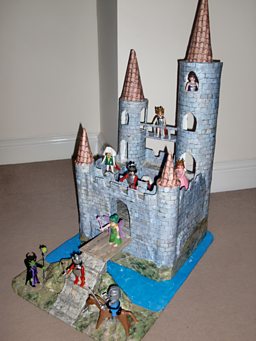 Kitchen roll bastions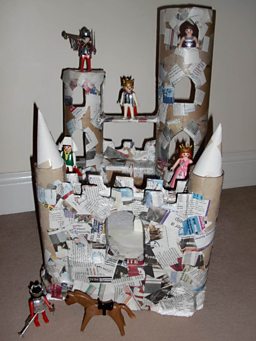 Meet the world-record holding crafters making a crochet Christmas project

One of a handful of aspiring artists whose painting was chosen for the Royal Academy's Summer Exhibition

A retired designer who painted a Canaletto-style painting, replacing the buildings with those of his home town

A jewellery designer who discovered a love for digital printing and uses it as a way to relax and to cure jet-lag

A dedicated mum and knitter who makes retro tank tops for her rugby- mad son and his friends to add a splash of style to the stands

A stitcher who joined a sewing group to meet like-minded people. She's made tea cosies and draught excluders as gifts and hopes to move to dressmaking

A stroke survivor who has used painting, music and writing to rehabilitate. He shared his first self-portrait using his affected hand with Get Creative

A keen cross stitcher and crafter who uses it as a way to relax and wind down after a day content producing for Get Creative