Main content
Carlos Acosta presents Cubanía: Performance exclusive
International ballet star Carlos Acosta curates and stars in Cubanía, a mixed programme of vibrant Cuban dance inspired by his homeland and performed and recorded on the main stage of the Royal Opera House in July 2014.
BBC Arts presents exclusive complete performances of four of the works: Russell Maliphant's Flux, Edwaard Liang's Sight Unseen, George Céspedes's La Ecuación and Miguel Altunaga's Derrumbe - the latter two were world premieres.
Carlos Acosta's Cuban Night was on BBC Four on Boxing Day, featuring dancers and choreographers from the Royal Ballet, Rambert, Cuban National Ballet and Danza Contemporánea de Cuba, in which Acosta explores the varied styles of Cuban contemporary dance. The programme is available until 25 January on BBC iPlayer.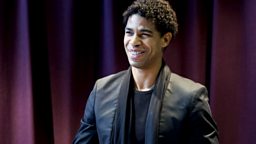 Carlos Acosta