Main content
Prison performance: How theatre behind bars transforms lives
Although it seems counter-intuitive, creativity can flourish even in a restrictive environment like prison. What impact can an artform like theatre have on prisoner rehabilitation? BRUCE MUNRO spoke to current and ex-offenders about the effect of performing while serving a sentence.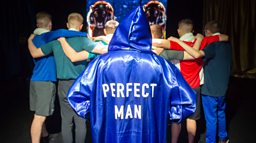 The cast of Motion | Image: Tim Morozzo / National Theatre of Scotland
Motion, part of the National Theatre of Scotland's Futureproof festival in October, was a huge success. It played to packed audiences who raved about it on social media. Leading critic Joyce McMillan described it as "a brilliantly wry, funny and perceptive reflection on what it means to be a man in Scotland today, performed by a terrific company". The Motion company also devised the show, supported by autobiographical theatre specialists Glas(s) Performance.
But this was not your average theatre company – all, bar one, was serving a sentence at Her Majesty's Young Offenders' Institute Polmont in central Scotland. Audience members had to check all their possessions at reception; they were guided through locked doors by Scottish Prison Service officers to the performance space.
After the show the performers mingled with their audience. I briefly spoke to Jamie. He'd opened the show, bounding onto the stage and commanding the audience's attention like a seasoned stand-up. When things went wrong during a Mastermind sketch, he rolled with it and kept the laughs coming.
A brilliantly wry, funny and perceptive reflection on what it means to be a man in Scotland today

Joyce McMillan, The Scotsman
Standing up
Jamie reminded me of Kevin Bridges. He was unsurprised at the comparison; quite a few people had said this to him. He also told me that his family were coming to see him perform the next day before heading to Glasgow to watch Bridges perform at the Hydro.
When I returned a few weeks later to speak to him at more length, I found out that his entire involvement in the project stemmed from his challenging behaviour.
He said: "When I first came in to Polmont, I was causing it a bit, not really buying in to all the rules and I ended up being sent down to the Dunedin Unit [a small, segregated unit]."
George Ferguson, Head of Offender Outcomes, told me that the idea of Jamie taking part in the theatre programme came about during a discussion with his Barnardos project worker (the children's charity provides support to young offenders in Polmont). Jamie was initially a reluctant participant.
He admitted: "To be honest, doing the theatre, it wasn't the top of the bucket list. But then I started off thinking what's better – sitting in the cell all day looking at four walls or going down and seeing what's going on? They were trying to get us to do mad stuff, roly-polies and jumping about doing mad stuff, stuff you're not used to doing. I thought, 'I'm not going back down there, they're fruit loops'."
Extract: What makes a man?
Motion posed challenging questions about masculinity.
Despite setbacks like this during the eight-month production, Jamie was encouraged to stick with the programme and ended up taking a starring role during the final show. The highlight was getting to perform for his family and show them tangible evidence of growth and change.
He said: "If I tell my family that I've learnt to do something, that's just hearsay because I've been telling them all sorts of bullshit all my life. I'd have 10 diplomas by the time I've done everything I've told them. So it was good for them to actually come in and witness it themselves."
George Ferguson believes the impact on Jamie has been remarkable.
He said: "Last week Jamie was coordinating activities and games for a group from a school that caters for pupils who have a range of disabilities. If I'd have said that ten months ago, when Jamie was sitting in an segregation unit, angry and upset with the world, not wanting to engage with anyone, I'd have been laughed at."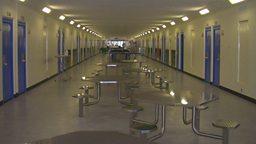 One of Polmont's halls in which offenders are housed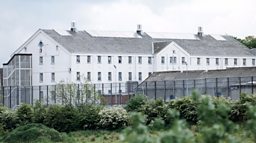 Polmont houses male young offenders aged between 16 and 21 as well as female prisoners | Image: Trinity Mirror / Mirrorpix / Alamy
On the outside
Can performance remain a part of someone's rehabilitation after they leave the confines of a prison? Jacky certainly believes so. While serving a sentence in Greenock prison she took part in a one week process to devise and perform a show, under the guidance of Jess Thorpe, an Arts in Social Justice lecturer at the Royal Conservatoire of Scotland (RCS).
Jacky said: "Myself and another woman were asked to come up with a dance to highlight certain emotions, to show, without speaking, friendship, grief and support between people. That whole week, what a lift. It built all my confidence up, I felt alive again. I felt like there was a future."
What a lift. It built all my confidence up, I felt alive again

Jacky
Jacky struggled to adjust after her release, particularly in terms of alcohol consumption, and has found that joining a community drama group in Glasgow has helped her to stabilise.
She said: "The first goal I set to myself was to attend that group. From that goal, everything else has built on it – getting medical treatment, taking exercise, looking to get back into education. It's made that much impact."
"When you go into the group, there's such a variation of people, no airs and graces, nobody judging. I know I'm not the only person there who's been in prison. It's just a really friendly, peaceful, lovely place to be. It's my release at the end of the week, it's been hectic trying to get back on my feet."
While Jacky is looking to return to higher education to pursue a new career, she plans to make performance an ongoing part of her life through the community drama group as well as taking beginners' acting classes at the RCS.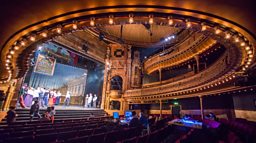 Jacky recently joined a community drama group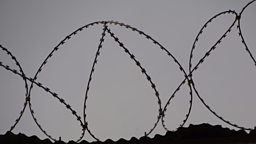 A future in the arts
Lewis's prison path also led to the Royal Conservatoire of Scotland, with his journey beginning during a sentence at Her Majesty's Prison Perth.
He said: "I'd been getting my hair cut by one of the guys on the hall. He said, 'I do this sort of drama group, would you be up for coming down?' They were putting on a show. But I think they had some people drop out - in prison people are getting moved all the time.
"I was a little sceptical at first. The last thing you want to do in prison is appear weak and there's an attitude that there's nothing more weak than showing an emotional side and being involved in the arts. But I decided I'll go down and give it a try.
"They were already in the process of making a show. I did some writing and other bits and we put on the show."
The last thing you want to do in prison is appear weak

Lewis
This was a turning point Lewis's life, one that led to him successfully applying to do a degree at the RCS and pursuing a career in the arts.
He said: "It was through doing that show I met Debbie, who is the leader of the Contemporary Performance Practice course, which provides you with the tools to be a self-managing artist."
Lewis credits Debbie, along with fellow RCS lecturer Jess Thorpe, for opening his eyes to a completely different kind of performance.
He explained: "When I was growing up in Dundee, the theatre scene was quite traditional, focused on getting bums on seats and there wasn't very much abstract work happening, so I didn't really have a very good picture of what performance could be.
"If I hadn't gone into jail, that opportunity would never had arisen and I would never have ended up at the RCS. I wouldn't be doing the kind of work that I'm doing now - work that I really love and that I think is beneficial to other people."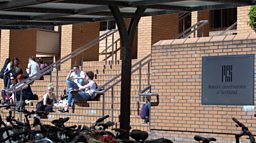 The Royal Conservatoire of Scotland is a top performing arts institution | Image: Gerard Ferry / Alamy
Lewis stressed that gaining entrance to the RCS, completing an honours degree there and then forging a career in the arts was an achievable goal for him.
He said: "I wasn't involved in organised crime, I come from decent loving family and had support and aspiration. I'd done Higher Drama at school [equivalent to AS level] and I'd started a degree in music technology.
"But there are two paths when you go into prison. It's a university for criminals. You might go in there very small time but... I now do loads of facilitating work with young people, and you never take all the bad kids and put them in the same group. Which is pretty much what prison is, it's a breeding ground for criminal activity and ideas.
"I met loads of people who were like, 'Do this for me, do that for me'. Someone said, 'Break your tag in the last week and smuggle in heroin and we'll pay you ten grand'. It wasn't a threat, it was presented as an opportunity, you can make yourself a lot of money and it's a tempting thing.
"Looking back on it, through doing that performance in prison I saw an opportunity. I'd always wanted to make performance work and I said to myself, 'I'm going to take that opportunity'. I just went for it."
Through doing that performance in prison I saw an opportunity and I just went for it

Lewis
More from BBC Arts on iPlayer
Elite dancers from across the globe create a modern-day Swan Lake from their own bathtubs

The Oscar-nominated actress gives a singing masterclass