Main content
The coastguard helicopter enlisted to deliver a very special package
The incredible story of one multi-tasking mum who juggled the job of marrying a couple in the Scilly Isles...while delivering a very special surprise.
Celebrant Alicia MacDonald, from Inverness, had been planning her trip to the Scilly Isles to conduct her friend's - and her first ever - wedding ceremony for over a year. The only hitch was she was eight and a half months pregnant. It may not have been conventional, but she had been practising her script for months in advance and was determined not to let the bride and groom down - so what could possibly go wrong?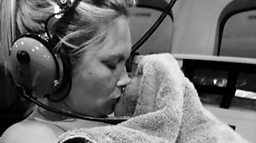 What went right: A big surprise in a small package
On the morning of the wedding Alicia admits she was beginning to get cramps in her stomach - which she passed off as pregnancy pains,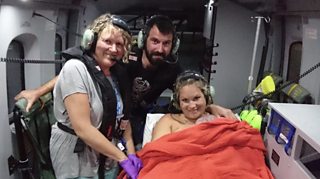 "It had been a joke that whole year, that I was going to go into labour at the wedding.
"I had actually got in touch with the midwife...and I'd actually left her messages that week to say I was coming over and that I wasn't planning on going into labour, but just to let her know that I was there and I was quite late on in my pregnancy...but she was actually on annual leave at the time so she never got any of the messages."
Luckily, Alicia managed to get through the ceremony which offered some relief,
"We'd been laughing about it, the whole year and how funny it would be if my waters had broken during the ceremony, and I'm so thankful that it did not."
However, it was during the meal that she began to feel the pain of early labour,
"I'd said to my husband I'm going to go home and he was actually going to stay, he wasn't going to come with me, he was enjoying the wedding and he'd had quite a few wee drams!"
With only a small GP surgery and no hospital on the island, there was no other option but to call 999.
Paramedics attended and made her comfortable; however, with the air ambulance on another call out, the paramedics decided to enlist the help of the National Coastguard who made their way to the hospital on the mainland.
Alicia's husband was ecstatic about the experience,
"My husband was having the time of his life to be honest, he was absolutely delighted to be getting a ride in a helicopter and he'd had quite a few drams so he was quite merry!"
Just ten or so minutes into the flight baby Toran was born - at 1400 feet in the air.
"I was just so happy that he was ok."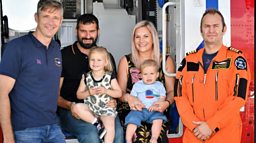 Alicia still keeps in touch with the coastguard crew and actually met up with the team on Toran's first birthday. To this day she still remembers their delight in announcing "They had taken off with seven, but they were landing with eight!"
On BBC Sounds
Michelle McManus gathers together a whole host of stories which reflect contemporary Scotland. Upbeat, positive and inspirational, giving us energy to face the week ahead.
Latest features from BBC Scotland