Main content
What we learned from John McEnroe's Desert Island Discs
We could barely contain our excitement when we discovered tennis legend and formidable straight-shooter John McEnroe was about to join the esteemed ranks of Desert Island Discs' castaways. And we weren't disappointed. During an engaging and occasionally eyebrow-raising conversation, John touched on everything from his fabled bad temper, his abiding love of music and even losing his virginity. Here's what we learned about the man they called "SuperBrat"…
You might want to think twice before shouting "You cannot be serious" at him
How many times a day does someone shout his famous catchphrase at him? "Probably seven to ten." And what is the response? It depends what mood you find him in. "I deal with it sometimes better than others. At immigration, when I came into England, the guy said it to me after I'd waited over an hour in line so I wasn't as amused as I normally am… but it's incredible that people say that to me all the time, I suppose if I hadn't played as well as I did that no-one would have remembered any of this."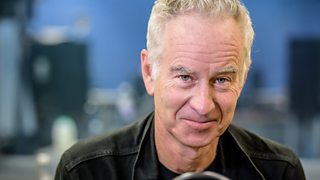 He can't remember first picking up a tennis racquet
Growing up in a family of "yellers", both his parents pushed him to succeed in all areas of his life. John's father was even correcting his grandson's grammar while on his deathbed. But he can't remember that first moment when he picked up a racquet. "I don't remember learning how to play. I just remember knowing how to play… If you believe in 'up above … Some kind of God wanted me to play tennis."
His first impressions of Wimbledon were not great
John arrived for his first Wimbledon tournament in June, 1977. His first impressions of England were not too favourable. "The beer was very warm. It tasted terrible. There was no ice in the entire country." And once he'd finally made it to the celebrated All England Club he was similarly confused. "I didn't understand it. I was taken aback by how tradition-orientated they were. Now I understand how some of that is great. At the time, I thought 'what a bunch of stiffs, I don't understand this at all', but I could tell pretty quickly that they didn't understand me either."
He has an art gallery
Tennis has dominated his life but he has a by-appointment-only art gallery and collects contemporary art. "I love art and I relate to artists because they're out there on their own. You're exposed and naked."
He arrived in London as punk rock peaked
John's arrival in London during the summer of 1977 coincided with the punk explosion in the UK. He recalls walking down the King's Road, seeing punks and thinking, 'God these people are freaks!' But McEnroe soon realised that his anger and outspokenness echoed the energy and anti-establishment stance of punk. "I started thinking, those are the people that rally behind me."
John McEnroe on his first experience of Wimbledon
Not everyone was impressed with his world ranking
John envied Björn Borg's and Vitas Gerulaitis's success with women. He couldn't get into disco hotspot Studio 54 without the help of his tennis-playing superstar contemporaries. It was when he was trying to impress girls by telling them he was ranked 21 in the world and they responded by not giving 'a rat's ass' (in the great man's own words) that he decided he had to get a lot better at playing tennis. "That was an incentive. You get things that push you."
David Bowie had doubts about his guitar playing
While preparing for Wimbledon one year, John was playing and 'butchering', David Bowie's classic Suffragette City. He was surprised by a knock on his hotel room door and found Bowie himself standing before him. David invited him up to his room for a drink, but added, "don't bring the guitar."
John McEnroe on his "superbrat" behaviour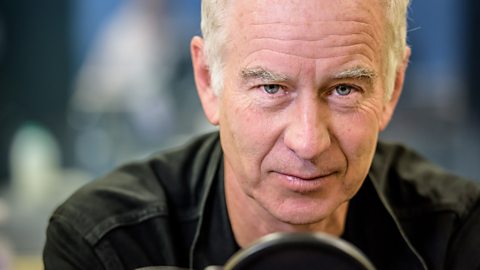 John McEnroe on his 'superbrat' behaviour.
Stevie Wonder reminds him of losing his virginity
"The first unfortunate soul who had to put up with me…" is how John describes the lady in question with whom he enjoyed his first, ahem, intimate romantic experience. She happened to have a deep, abiding love of Stevie Wonder and opened John's eyes and ears to a completely different type of music. He soon appreciated that "there's a lot more to music than I know."
Despite appearances, he claims to be shy
When he was younger, John says he was actually quite shy. "I'm not sure I've totally lost it, even though I've done a pretty good job of faking it. My life changed 40 years ago, completely: it was a process that took a number of years until I felt more comfortable in my own skin."
And what about Serena?
John is now happy to clarify his recent comments about Serena Williams and how she might rank in the men's game. "Serena Williams is a magnificent athlete and a magnificent player… In retrospect I would have been better off saying 'it's apples and oranges and there's no number needed.'"

More Castaways from the World of Tennis