Main content
Mamma Mia!: Five things we've learnt about the first film
With the release of Mamma Mia! Here we go again! BBC Radio 5 Live is looking back at the first film, released in 2008.
5 Live presenter Anna Foster spoke to actor Philip Michael, who played Pepper (Sky's best man), Lydia Louisa, a dancer who was in every ensemble dance scene, and to Chris Newman - first assistant director.
They had to create a special bed for the Dancing Queen sequence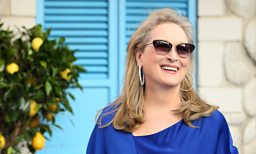 (Meryl Streep at the World premiere of Mamma Mia! Here we go again! Photo: European Photopress Agency)
Chris Newman - first assistant director explained how complicated it was to film the Dancing Queen song in the film:
"[It] starts off inside the bedroom and ends up on a pier in Greece. The whole number goes through so many pieces. The track may be laid-down but certain events have to happen within certain beats of the song.
We had to develop a special bed for Meryl to bounce on, so she could be bouncing in the bed without careering off into the scenery.
They all had to slide down a bannister which sounds easy but what you don't want to do is slide down a bannister and fall off on the wrong side of it, so you have to make sure that nobody is going to come adrift."
Chris said it was particularly tricky with timings at the end of the song: "Julie Walters has a moment that has to hit, just when her lyric hits, so you have to time how long it takes her to slide down a bannister.
"From start to finish it was a three month song."
'Pepper' had to improvise the dancing in Does Your Mother Know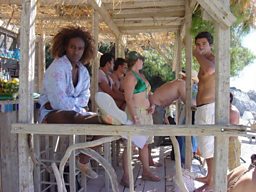 (Philip Michael on set. Photo: Philip Michael)
Actor Phillip Michael had a long dance sequence to Does Your Mother know, with actress Christine Baranski who played Tanya.
Philip said on the day of filming, director Phyllida Lloyd said to him "OK Philip, show me what you got.
"The whole thing had to be improvised, I just had to follow where she [Christine] was at and just improvise around her. It was crazy awesome.
We're just feeding off each other, wherever she goes I'm following, when she turns I like to turn around her. Her character would ignore me in specific points and I have to dance off to try and win her heart.
She's remarkable, she gives you so much to feed off and makes it so easy.
I was so nervous that day - I was shaking from 5am when I woke up all the way through until they said action."
Lydia Louisa said the dancers played a key role in a lot of the musical scenes: "We were the glue holding it together a bit – you've got these actors, huge Hollywood stars but not trained dancers or singers.
So when it came to those numbers, we all knew they were following us...relying on us to keep in time, to know what's going on."
Tom Hanks turned up on set (and everyone got very excited)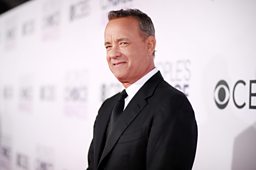 (Tom Hanks. Photo: Getty Images)
Tom Hanks was one of the executive producers on the film (and he's executive producer on Mamma Mia! Here we go again! too).
Phillip Michael said he was surprised Tom Hanks knew who he was when he met him: "He was like, 'I know who you are' and he said 'we were watching from LA'."
Lydia Louisa said a lot of the ensemble were star-struck: "For me it's the film Big from being a child, I don't see him in any other way. I remember Bryan Adams randomly turned up one day as well."
They didn't realise how big it was going to be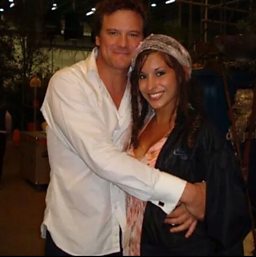 (Lydia Louisa with Colin Firth. Photo: Lydia Louisa)
Lydia Louisa said she didn't know much about the film when she auditioned, but she was really keen to be involved:
"When you're young and you have a love of musical theatre, it could have been Mamma Mia! in the local pub and I'd have still wanted to do it. I don't think anybody realised how big it was going to be, even with certain names attached you still don't really know what's going to happen.
To be honest I was really astounded by the commitment that the actors showed.
I know Amanda [Seyfried], when we did our first vocal rehearsal she was so nervous. But they went for it, the actors. They really committed themselves to it and it was amazing to see."
Benny and Bjorn were impressed with the singing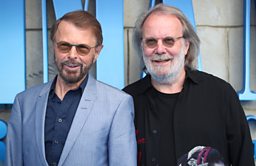 (Benny Andersson and Björn Ulvaeus. Photo: Reuters)
The songs were all recorded in the studio beforehand - something Chris Newman said was a challenge:
"You're in the studio with the composers of the music, and all the actors I'm sure would say that singing wasn't their first port of call, so they all came to that with a sense of being in an audition, even though they were going to do the show.
It was great fun for me to be there to watch it all because I've never seen that process happen from the start up. I could see everybody coming in doing a number felt like they were auditioning for Benny and Bjorn."
But were Benny and Bjorn impressed with the quality of the singing?
"All the time – the performances all have a character. You're casting them for the character not for their voices. You get lucky and then other times you prefer the challenge of the actor doing what he doesn't do best – it just brings another element to the show."
Anna Foster speaks to actor Philip Michael, dancer Lydia Louisa and Assistant Director Chris Newman, who all helped to make the original Mamma Mia! a success.
Watch Mark Kermode's review of the first Mamma Mia! film
If you're making a film about space - better ask these guys for some technical advice first...

Muppet puppeteer and voice artist Frank Oz shares a few insider secrets...

Here are Mark Kermode's film picks for the wedding season.