Main content
Rock Against Racism: Syd Shelton on shooting a turning point in British culture
13 February 2017
Rock Against Racism was a groundbreaking movement which staged marches, festivals and concerts from 1976-81 with the aim of fighting racism through music - and photographer Syd Shelton was in the thick of it. He tells BBC Arts the stories behind 12 of his favourite shots.
Rock Against Racism is at the Street Level Photoworks gallery at 103 Trongate, Glasgow, from 11 February - 9 April.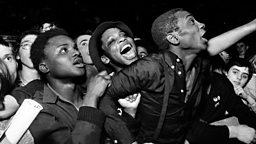 Specials fans, Potternewton Park, Leeds, 1981: "The Rock Against Racism/Anti-Nazi League Carnival Against the Nazis was the last ever Specials gig before they split up and the shot is from the mosh pit. I never printed this at the time and it only came to light years later when I was looking for something else. I like its style narrative, which charts a journey from the rude boys via the skinheads back to the rude boys." © Syd Shelton, courtesy Autograph ABP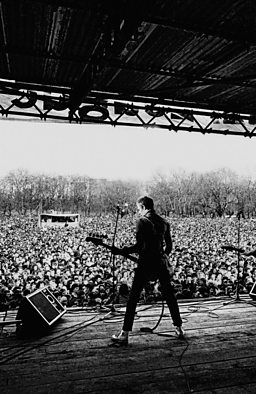 Paul Simonon, The Clash, Victoria Park, London, 30 April 1978: "I had only seconds to get this shot from the back of the stage at the Rock Against Racism/Anti-Nazi League Carnival 1, as The Clash's management policed the stage. It has become the most reproduced photograph I have ever taken." © Syd Shelton, courtesy Autograph ABP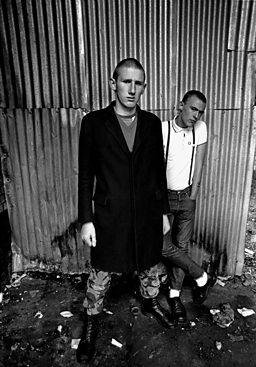 Skinheads, Petticoat Lane, East London, 1979: "I met these two guys at a shop called The Last Resort where they bought skinhead gear, Harrington jackets, Crombies, Doc Martens boots and Ben Sherman shirts. This was another slow shoot and it was only when I started to argue with them about racism that they started to give me some attitude. This was the last shot and they were getting really mad with me. I saw the guy at the front clenching his fists so I took the shot, said thanks and legged it as fast as I could." © Syd Shelton, courtesy Autograph ABP
How we started RAR
I studied painting at art school but I grew frustrated with, what seemed to me, an increasingly abstract, academic pursuit with little means of expressing my political point of view.
It was in the early 1970s that I turned to photography as my principal means of creative expression. I loved the instant production of images. I also like the alchemy of it; when you go into the darkroom and you're never really sure if you got the shot.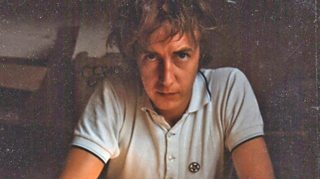 Syd Shelton in 1979
Politics was one of the reasons that I became a photographer and it's still the driving force in my work. I have always thought one of the roles of the photographer is to look at the world and construct a visual argument - the idea of the objective photographer is nonsense.
Rock Against Racism (RAR) was formed by a mix of photographers, actors, graphic designers, writers and musicians in response to a tirade in support of Enoch Powell made by Eric Clapton at a Birmingham concert in 1976. [Clapton later said: "There's no way I could be a racist."]
Over a five-year period RAR staged massive carnivals and over 500 gigs throughout Britain. I became a part of RAR in 1976, after meeting founder and fellow photographer Red Saunders when I returned to England after living and working in Australia for four years.
I was appalled at the state of race relations in Britain. Racism had become normalised with The Black and White Minstrel Show on prime-time Saturday TV, black people being used as the butt of dumb jokes, notices in letting agents saying 'no dogs, no blacks, no Irish; and at the same time an openly racist party, the National Front, gaining significant votes in elections.
The events in Lewisham in 1977, where the Metropolitan Police targeted black youths and forced a massively provocative march by the neo-Nazi National Front through a huge opposing demonstration, really cemented my involvement.
It was after those events that we realised that we had to become a much more serious activist organisation. The Anti-Nazi League was formed at that time too and together we went on to produce the RAR Summer of Carnivals, including Carnival 1 at Victoria Park in East London. Around 100,000 young people marched the seven miles from central London to the park where X-Ray Spex, Steel Pulse, The Clash and Tom Robinson Band rocked against racism.
As well as being on the London organising committee of RAR, I was one of the key photographers and designers of RAR's graphic output, posters, stickers, badges and the magazine/fanzine Temporary Hoarding.
I always like to think that RAR had more in common with the Dadaists in Zurich than a political party. One of the things that was great about Rock Against Racism was that it was collaboration; and an often-changing collaboration. At the core we were all very different and had differing political views, but we were all committed anti-racists and we all loved music.
I think photography is my language. But I never thought of this project as being a narrative - I think it's a bit staccato, you know, a bit here and a bit there. It isn't comprehensive and it isn't the illustrated history of RAR. In a way it's much more autobiographical than that.
Mark Sealy, co-curator of the exhibition and Director of Autograph ABP, said: "The history of photography is full of missing chapters, suitcases of images waiting to be opened and archives in distress lying in filing cabinets waiting for cultural agents to enunciate their worth."
This is exactly what happened with this archive - and the other co-curator, Professor Carol Tulloch, was instrumental in rescuing this work after 35 years of it lying in a filing cabinet.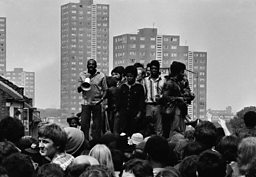 Civil liberties activist Darcus Howe addresses anti-National Front demonstrators, Clifton Rise, Lewisham, London, 13 August 1977: "A quarter of the Metropolitan police, together with their entire mounted division, were deployed as escort to the NF through the huge counter demonstration. The day turned into a whole-day battle between the anti-fascist demonstration, the NF and the police. After the NF had been bussed out of the area, the police used riot shields for the first time in mainland Britain and it was the start of the militarisation of the police." © Syd Shelton, courtesy Autograph ABP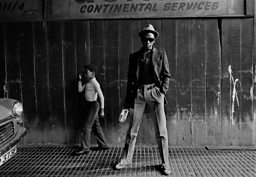 Bagga (Bevin Fagan), lead singer of British reggae band Matumbi, with the son of Dennis Bovell, founder of the band, Hackney, East London, 1979: "This was shot underneath the railway arches near Cambridge Heath Station, which I used to call 'my studio' because it had the most perfect available light for portraiture. It was one of the first shots I took that day. Bagga instinctively picked up the bottle and I knew I had a picture." © Syd Shelton, courtesy Autograph ABP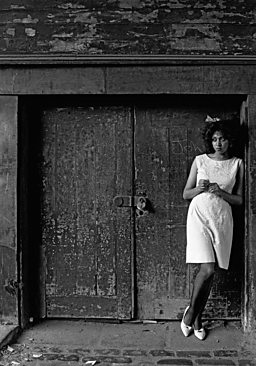 Linda, Hackney, 1980: "This is another portrait shot underneath the railway arches near Cambridge Heath Station, which I used to call 'my studio'. Sometimes when I'm shooting portraits, the very first frame, before the sitter has put up a guard, is the shot, but this took a long time - it was only when she started to get bored that she relaxed and I got the picture." © Syd Shelton, courtesy Autograph ABP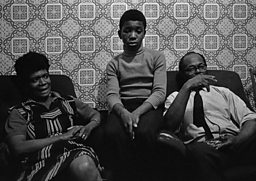 The Foster family, Lewisham, London, June 1977: "The Metropolitan Police staged dawn raids on 30 homes in New Cross and Lewisham. 21 young people were arrested, including 16-year old Christopher Foster. They were accused of being involved in muggings. Christopher's father, David Foster, was instrumental in the establishment of the Lewisham 21 Defence Committee to support those arrested. The campaign HQ was their front room, where I took this shot. I went with journalist Kim Gordon to cover the story for the black newspaper, Flame." © Syd Shelton, courtesy Autograph ABP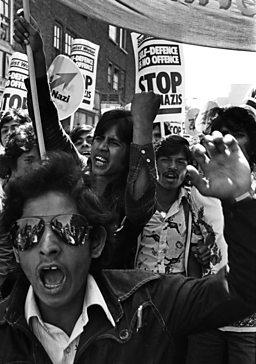 Bengali youths lead a demonstration, Brick Lane, London, June 1978: "This was shortly after the racist murder of Altab Ali and it was a spontaneous response, mostly from second-generation Bengali textile workers who were not going to tolerate racist attacks ever again." © Syd Shelton, courtesy Autograph ABP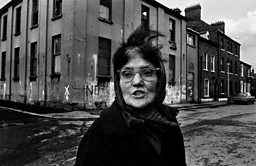 West Belfast, 1980: "I went to Belfast several times in the late 70s and I wanted to take photographs which weren't directly about the Troubles. As I photographed this woman she made a statement without any prompting from me: 'I don't really mind the British Army patrolling the streets but the worst thing that ever happened to me was when I was in the outside toilet and a Bloody Brit came and kicked the door open. If you can't even go to the toilet in peace, that's it, you're finished.' By the time I took this shot, she really had completely forgotten that I was pointing a camera straight at her - she just wanted her say." © Syd Shelton, courtesy Autograph ABP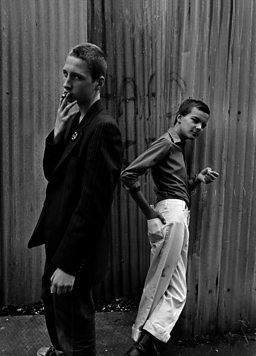 Anti-racist skinheads, Hackney, London, 1979: "These two lads were a part of a group called Skins Against the Nazis, and I photographed them for RAR's magazine Temporary Hoarding." © Syd Shelton, courtesy Autograph ABP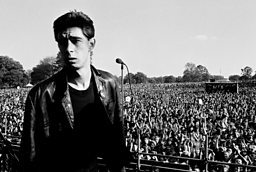 Carnival 2, Brockwell Park, Brixton, 24 September 1978: "Elvis Costello and the Attractions headlined the event. The rest of the line-up included Aswad, Misty in Roots and Stiff Little Fingers. Sham 69 were billed to play but due to death threats in reaction to their anti-racist stance, pulled out. Jimmy Percy, the lead singer, did appear and made a brave, passionate anti-racist speech to the Carnival crowd. I was on stage between Aswad and Elvis Costello's sets and was reloading my cameras with film when Jimmy charged past me and grabbed the mike. I quickly sorted out my film and he turned away from the stage, his face stressed with emotion, and I hoped I had got the shot. I don't see myself as a 'decisive moment' kind of photographer but this was one of those and I was itching to get into the darkroom to see if I had got it." © Syd Shelton, courtesy Autograph ABP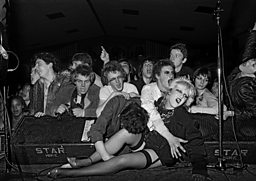 Militant Entertainment Tour, West Runton Pavilion, Cromer, Norfolk, 1979: "This gig was in a massive shed on the beach at Cromer and all the punters were bussed in from places like Norwich on a fleet of double deckers. This was during the Ruts set and I saw her climb on the stage and take up the reclining pose between the on-stage monitors. I had to get the shot and climbed on the stage with two Nikons and a Norman flash and pointed and shot. A few seconds later I was in the air, thrown off by two very big bouncers. My cameras and I survived with only a few bruises. On the six-hour drive home to London I couldn't get this image out of my head. I got back at seven in the morning and went straight into the darkroom. I dread to think how many cigarettes I smoked waiting those 20 minutes until the film was washed and I could open the tank to check it." © Syd Shelton, courtesy Autograph ABP
A version of this article was originally published on 23 June 2016, while the exhibition was at Bradford's Impressions Gallery.
More music photography from BBC Arts