Main content
Take part in Steve's show
Robin Ince: Music Profiler
Every Tuesday on the show we are joined by comedian and Musical Profiler extraordinaire Robin Ince.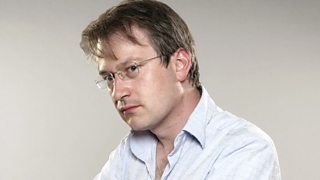 Here's how it works - we ask one of you to pick six tracks that have been important in your life, starting with the first song you remember hearing and working all the way through to a track that is never off your MP3 player. Robin Ince: Musical Profiler then takes those tracks and reveals everything about you without even having met you. Trust us, it's spooky...
Email lamacq.6music@bbc.co.uk to take part, with the following information:
Name
Age
Email address
Phone number
The first song you remember hearing
Song 2
Song 3
Song 4
Song 5
And a song that is never off your MP3 player
Tell us about the songs you've chosen
Where did you grow up?
What was your first gig?
If you could be anyone in a band who would it be?
Please read the following before sending your comments.
The BBC promises that you will NOT receive unsolicited mail by supplying your personal details.
The BBC and any service provider we engage will use the information you supply to respond to your queries/comments, to develop and enhance our services and for statistical analysis of audiences and users. For full details of our policy regarding the personal information we collect about you visit our Privacy & Cookies page.
All personal information supplied is held securely by the BBC and in accordance with the Data Protection Act 1998. Your details will not be used for any other service.