Main content
Nástio Mosquito's postcard from Venice
11 May 2015
Is this the coolest artist at the Venice Biennale?
In a filmed postcard from Venice, Angolan-born artist Nástio Mosquito shows BBC Arts around his own exhibition and also visits the Belgian and Japanese pavilions to highlight some personal favourites. And below, we take a closer look at this intriguing young artist.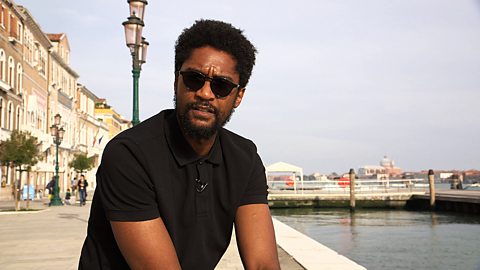 Mosquito shows BBC Arts his own exhibition as well as picking his Biennale highlights
In this filmed postcard from Venice, Angolan-born artist Nástio Mosquito shows BBC Arts round his own exhibition and also visits the Belgian pavilion to see Black Lives Matter #2 by American artist Adam Pendleton and a reading of Mark Twain's King Leopold's Soliloquy (1905) among ceramic bones by Elisabetta Benassi, entitled M'Fumu (2015). He then views one of the Biennale's hits, Chiharu Shiota's The Key in the Hand at the Japanese pavilion.
A Cultureshock Media Production for BBC Arts.

Nástio Mosquito in one of his videos
"Don't be cool, be relevant," runs a slogan in one of Nástio Mosquito's videos, before adding the kicker, "Yep! And if you can be relevantly cool, good for you". On the evidence of his current show at the 56th Venice Biennale, this stylish Angolan artist easily does both.
Nástio Mosquito on the Calle del Vento, Venice
In 2014, he was the joint winner of the Future Generation Art Prize, which is awarded to artists under 35.
As the jury succinctly put it; "Combining text, performance, video and installation in a distinctly original manner, Mosquito re-invents storytelling for our current moment".
On the back of this award and a successful exhibition earlier this year at Birmingham's Ikon Gallery called Daily Lovemaking, he's now garnering plenty of attention. That show makes up the backbone of his Venice offering.
With a background in broadcast (he has worked as both director and cameraman) Mosquito is obviously media savvy, able to balance a career as an idiosyncratic singer - he gave a private performance in Venice - and as an equally idiosyncratic fine artist and occasional slam poet.
Mosquito is unafraid to take on edgy subjects.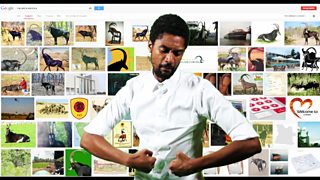 Nástio Mosquito in Demo de Cracía (2013)
In one video, Demo de Cracía (2013), he plays an African singer shooting a video who has a breakdown, questioning his identity when he realises he can't dance.
He is happy to adopt different personas in his videos, sometimes to ironic effect. In the expletive-laden Nastia's Manifesto (2008) he seems to take on a Russian accent and develop an amoral character who is both charismatic and scary, who proclaims 17 often outrageous ways to be successful.
Mosquito was born in Huambo, Angola, educated in Portugal and currently lives in Belgium. After Venice, you can't help but think his globe-trotting is going to accelerate.
Nástio Mosquito is at Orario di San Ludovico, Calle dei Vecchi, Dorsoduro 2552, Venice until 26 July 2015.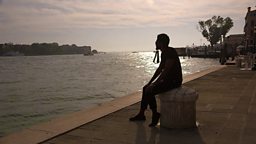 Venice Biennale
Angolan-born artist Nástio Mosquito's exhibition and also picks his own highlights from the Biennale

Sonia Boyce visits the Czech and Slovak Pavilion to see one of the Biennale's most talked-about works

A tour of Sear's exhibition for Wales in Venice and she visits the Nordic and US pavilions

Will Gompertz with an overview of the British artists on show at the Venice Biennale 2015

Art critic Rachel Campbell-Johnston reports from Venice to review this year's 56th Biennale
Art and Artists: Highlights
Edinburgh's Dovecot Gallery is hosting two major exhibitions as part of the 2015 Edinburgh Art Festival

An astounding photographic collection by 'Speedy George' Douglas

A sculptural mystery tour which takes in several of Britain's finest galleries

Just who was the man behind some of the most memorable artworks of the last century?

The extraordinary work of award-winning American photojournalist Steve McCurry

A major Tate retrospective of the British sculptor, and the dedicated museums in Yorkshire and Cornwall