Main content
Two girls on a train – It was the 8.36am from Clapham Junction to Teddington...
It was just an ordinary commute into work for 26-year-old Jessie Boston. Same train, same seat. Opposite her sat a young woman wearing jeans and a plain white top. She was with a man, older than her, wearing sunglasses, sweating...
Jessie was about to disappear into social media-land on her phone, but something about the couple opposite bothered her. Their ages didn't match. Their accents didn't match. Worst of all their body language didn't match what Jessie expected. The girl was clearly afraid of the man she was travelling with.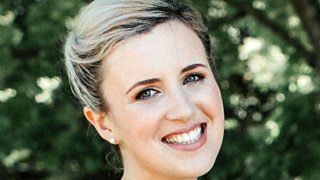 Jessie was sure that she was meant to do something to help. "Give me courage," she prayed, as she followed the girl getting off the train.
"If this was my own sister I would want someone else to intervene. But I am here and I could do something."
Jessie discreetly let the girl know that she was willing to help, and later distracted the man by engaging him in conversation.
At this point the girl made her escape. Speaking to the police later, they confirmed Jessie's suspicions that her actions had helped stop the young Eastern European woman from being trafficked.
The UK National Crime Agency (NCA) estimates there to be tens of thousands of victims of modern slavery in the United Kingdom today.
If you see someone who is in immediate danger you should phone the police on 999. If you hold information that could lead to the identification, discovery and recovery of victims in the UK, you can contact the Modern Slavery Helpline 08000 121 700.
What Jessie saw and did that day changed her life. Driven by her faith, she now works for an anti-trafficking charity to make a difference in the lives of vulnerable and exploited people.

Spiritual journeys on Radio 4
Ethical and religious discussion that examines some of the larger questions of life.