Main content
Eight things we've learned about the future of wood
In Costing the Earth: Superwood Tom Heap visits Finland, which is pushing for a new industrial revolution based on trees and plants rather than oil and coal. He takes a glimpse into a future where cars, clothes and computer screens could begin life in the forest. And he finds out how the UK is leading the way towards wooden skyscrapers. Is a new age of wood about to dawn?
Here are eight astonishing things we learned about the future of wood...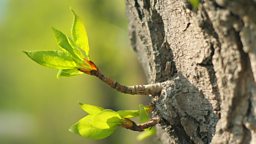 1. We could soon be wearing t-shirts, trousers and tracksuits made from wood
Stora Enso is a timber and wood pulp multinational, re-inventing itself as a renewable materials company. One of its development strands (excuse the pun) is fabric. Sirpa Valimaa explains the process of making fabric from the forest: "Firstly you need to naturally produce pulp", dissolve it in "chemicals and formulate textile fibres." These are then cut into shorter fibres, and a yarn is spun "from which you then weave or knit the apparel." These fabrics have "a beautiful lustre… nice drape, they breathe" and they have "really nice touch and feel."
Who knew you could hold face cream together with wood, or make lipstick from cardoon thistles?
Clothes made from wood already exist. If the label in a garment references "viscose or rayon then you know that you are wearing wooden fibres" but, Sirpa says, wooden textile fibres account for only 6% of the world's fabrics, with "65% of all textile fibres in the world" made from plastic.
Stora Enso wants to increase the use of wooden textiles and, as chemicals used to dissolve wood pulp in viscose production can be damaging for the environment, their "target is to create the fibres in a more sustainable manner." Sustainable pine pullover, anyone?
2. Our computer screens could be made out of wood
Marc Pilahi from the European Forest Institute explains how in the future the screens of our computers and solar panels will be "made out of wood-based nanocellulose" and how, in fact, "transparent wood is already possible."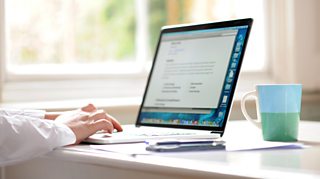 What is nanocellulose? Plant cells are formed from cellulose, and now strands of it – no bigger than bacteria – can be extracted from wood using chemicals and pressure.
Bendy mobile phones are in development and scientists in Singapore have invented nano paper, which can conduct electricity and could be used in foldable computers. No need for that new laptop bag after all.
3. Wood could be used to regrow our broken bones
Kristin Syverud from RISE research institute is working with nanocellulose to regrow shattered bones. The idea is that you can "replace or regenerate your own bone by using stem cells from your own body. These cells need nutrients but they also need a scaffold they can adhere to and that can guide their growth into this new bone." That's where wood comes in.
Nanocellulose is like a gel – fluid but solid enough to "3D-print a new shape" that will then "remain in this shape" – so we can 3D-print exactly the body shape we are missing. This scaffold will help the body to regenerate for a while and then, as it decomposes, break down into cells that can be absorbed by the body and used as energy.
4. Your cosmetics and creams might be made from wood
In Costing the Earth, Tom Heap attends an international summit in Finland to learn about how an economy based on growable resources might become a reality. One presenter talks through a new bio-product face cream: "Cosmetics depend on stabilisers. Microfribulated cellulose is a highly effective stabiliser produced from sustainable forestry materials."
She says the "cream is easy to apply with a lovely soft matt look, and it stays looking perfect for longer, and it prevents wrinkles from developing." A wonder product!
Who knew you could hold face cream together with wood, or make lipstick from cardoon thistles?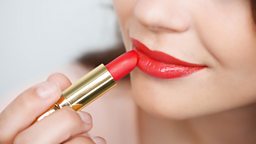 5. We'll be biking around on beech wood
Also at the summit, Tom examines a bicycle made from beech wood and explains how "the bike's frame is made from tubes of very thin but incredibly strong beech plywood."
Sarah Black from Bio-based Industries Joint Undertaking says "it's lighter" than a normal bike, weighing in at a miniscule 10 kilos. Although, with a price tag of 5000 Euros this one is aimed solely at the serious cyclist!
6. Our shampoo bottles could soon be made from pine rather than plastic
Stora Enso show off a whole range of timber-based packaging products at the summit, from a leak proof fish box to a shampoo bottle.
Maria Holopainen, the Senior Manager for New Business Development at Stora Enso talks Tom through some of their innovations: "Think about having your takeaway meal in bio-based tray" that has its "barrier and film made also from renewable materials."
She admits that renewable doesn't automatically mean biodegradable, but that they're working towards that: "Already today you can make 100% bio-based products and in the future we aim at also having biodegradable products made of renewable materials."
7. Brits are leading the way with wood in the construction industry
Andrew Waugh from Waugh Thistleton Architects states how "about half the landfill in London comes from Construction waste alone" but building using cross-laminated timber is cost-effective and good for the environment: it's fast, accurate, cleaner, quieter and means around 80% less site deliveries.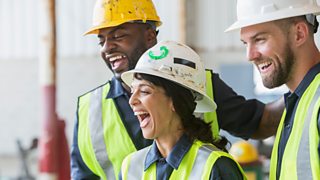 There are already around 500 buildings made from cross-laminated timber in the UK. So what is it?
Planks of pine are laid out and sprayed with glue, then another layer is laid on top, perpendicular to the first. The layers then go in a giant press to create "a jumbo plywood."
In a six-storey office block being erected by Andrew's company, "all the floor slabs, the core, and all the external walls are made from solid timber" with little concrete and steel used.
He says it is like "wooden Lego" or "an Airfix model in many ways" because "all the pieces arrive on site, precisely made, and then they're just fitted into place."
The majority of CLT comes from Austria and Germany, but it's now being produced in Scandinavia, the US and Australia too and hopefully soon the UK will be producing its own CLT – "truly a sustainable construction material."
8. The race is on to build the world's tallest "plyscraper"
Cross-laminated timber is so strong that the race is on to build the world's tallest timber skyscraper – or "plyscraper".
Norway is currently constructing an 18-storey "plyscraper" and the Japanese are planning a 350-metre tall tower in Tokyo (with some core steel for withstanding earthquakes). Will Britain be next?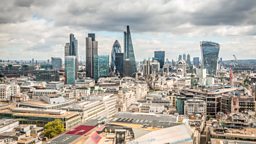 More from Costing the Earth