Main content
90 questions about the 90s: Take Radio 2's Ultimate 90s Quiz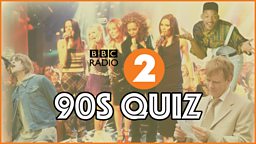 Feeling nostalgic about the 90s? Luckily, Radio 2 has you sorted with the weekly SO 90s mixes, available now on BBC Sounds, alongside some other amazing 90s-themed mixes.
It was the decade that brought us everything from Phil and Grant Mitchell to Mr Motivator, Friends to Prime Suspect, Euro 96 to the Millennium Bug, and Maureen Rees to Carrie Bradshaw.
And while the big screen was dominated by films like Toy Story, Trainspotting and Titanic, our stereos were playing the hits of Spice Girls, Take That, and a whole load of Britpop.
But how much do you remember about the era? Test your knowledge by taking Radio 2's Ultimate 90s Quiz below...
And for inspiration, why not listen to Radio 2's British Bangers from the 90s or Claudia Winkleman's 90s Glastonbury Headliners mixes on BBC Sounds while you play!