Main content
Pass the Pasty - Follow the journey
This week, Greg James is on a mission: to get a Cornish pasty into the hands of someone who's never tried one before.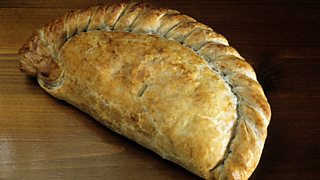 Radio 1 Breakfast with Greg James listener Sarah last week revealed that she hasn't tried a pasty.
She's never experienced the starch-filled joy of munching on the famous Cornish delicacy.
Sarah lives in Aberdeenshire – about as far away in the UK as you could possibly be from Cornwall. But Greg is determined to direct a pasty to Scotland by the end of the week.
With the help of Radio 1 listeners, it's being passed like an olympic torch to the top of the country.
#PassthePasty - a brief explainer
Why is this happening?
Because everyone deserves to try a Cornish pasty, obviously.
What standard of Cornish pasty are we talking about?
The very finest, baked in the world famous Chough Bakery in Cornwall and preserved in a transparent Radio 1 box. As traditional as it gets.
How can I follow the pasty's journey?
Head to bbc.co.uk/radio1 every day until 5pm to watch progress of a pasty (very) slowly embarking on its bold journey.
Listen to Radio 1 Breakfast with Greg James every morning from 6.30am Mon-Thurs, and throughout the rest of the day for regular updates.
Or follow the #PassthePasty hashtag on Twitter!