Main content
Piecing together the bigger picture
29 January 2016
Murals bring art to the public sphere, whether that be with a political goal, as a way of advertising or simply something to brighten up an area to make a space more welcoming.
Artist and Get Creative Champion Tracy McGuinness Kelly has turned her talents to designing huge murals which have gone on display inside and outside of schools. But she doesn't work on her own to create these murals, she enlists the help of groups of schoolchildren and their creative talents through workshops to help bring her designs to life. She told Get Creative how this process works.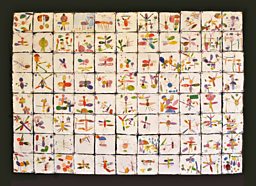 After looking at posters and pictures of various mini-beasts using magnifying glasses, the children at Great Moor Infant school in Stockport were asked to design their own unique mini-beast that would also become part of a collaborative mural.
By Tracy McGuinness Kelly
I create large collaborative murals for permanent display in schools and organisations that are bright, fun and intensely detailed.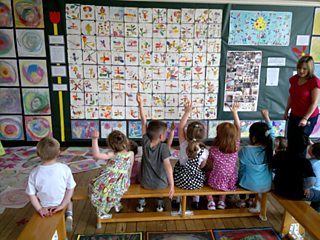 Art as a group activity is one of the greatest communicators
They are unique because, as well as my own work, the final piece is made up of elements created by lots of different people, so far mostly children, but recently with adult refugees through Refugee Action and adults with learning difficulties/disabilities, in a series of workshops.
Preparation for me involves hand painting (with acrylics) multiple sheets of acid free white tissue paper or newspapers.
Then in a series of workshops held in schools or community settings, groups of people create collaged elements that will then be integrated into the final piece.
The technique is very accessible to all ages and levels of artistic ability and the atmosphere in the workshops is a relaxed, friendly and fun-shared experience, despite age or background. It proves art as a group activity is one of the greatest communicators.
The beautiful colours and abundance of painted papers always inspire individuals to create wonderful imagery and the vivid array of hues create a gorgeous environment to work in and it is so easy to tidy up!
It's non-wasteful because I continue to use it for the final piece and it's a low cost resource - all that is needed is scissors, glue and imagination.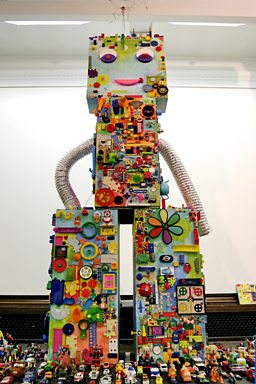 Big Friendly Robot was created with broken and unwanted toys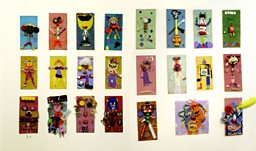 I then take all these created elements back to my studio and put it together on a huge canvas, allowing it to unfold organically, and I add lots of patterns and characters of my own.
It becomes a metaphor for how we can all contribute, in any small way, towards creating something that can include, and benefit all
The result is a huge brightly-coloured, intensely detailed mural which can then go on permanent display, indoors or out.
I have also started to create murals combining scanned drawings and paintings in Photoshop then printed out large scale.
My most recent work was for a Metro link Park and Ride in Oldham where I worked with a local nursery school to create imagery to weave into the final murals.
The success of this technique is when the people involved see how their individual work has been integrated into the 'bigger picture'.
It becomes a metaphor for how we can all contribute, in any small way, towards creating something that can include, and benefit all. And there is pride of ownership in that.
The appeal of this work is its accessibility to everyone and anyone, young and old can work side-by-side in a wonderful creative, non-judgmental environment.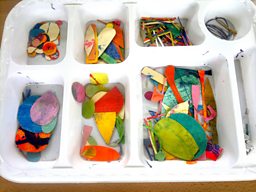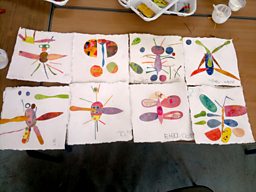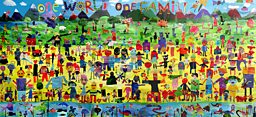 Each child was given the task of creating one "Citizen of the Earth" one element from Nature from supplied white and hand-painted, multi-colored tissue paper
In my work for schools, my intentions were to create final pieces of lasting artwork that would help children create their own stories and serve as a backdrop for role-play leading into writing their own stories down on paper.
I also want to create a way for teachers and carers to communicate with children, while of course creating something for visitors to enjoy which will really brighten up community spaces.
I think it is important to teach awareness of being part of a bigger picture, creating something we can all contribute to and cherish, while of course passing on technical skills. I hope what I help create can have a positive, far-reaching effect on the environment for many years to come.
For me it is a metaphor for what our society is trying to achieve: a way where we can all contribute something positive and beautiful for the enjoyment of all.