Main content
Six Ways to Upcycle on a Budget
BBC One series Money For Nothing sees unwanted items saved from recycling centres and transformed into desirable pieces of furniture by some of the UK's most talented designers and makers.
Here are some of their top tips on how to tackle your own upcycling projects on a budget.
1 - Repurpose an item you already have
If you're strapped for cash but want to change up your home, the first thing you should do is look at the furniture that you already have. Money For Nothing presenter Jacqui Joseph says 'If you're fed up with your old coffee table, rather than rushing out to buy a new one, think about what you could do to liven up your existing one. Sometimes the simplest upcycles are the most effective - as well as being the most cost-effective. Little things like changing the handles, legs or feet on a piece of furniture can make all the difference when it comes to giving it a fresh, new look'.
You could also try giving old items a completely new purpose - carpenter Tibby Singh suggests adding castors to drawers to create underbed storage or popping legs on a vintage suitcase to create a unique side table.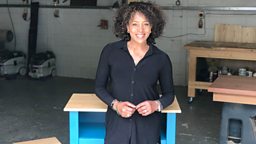 Money for Nothing presenter Jacqui Joseph.
2- Textiles
Queen of upcycling Sarah Moore has some thrifty tips on how to find fabulous fabric without breaking the bank.
'Vintage fabric can be very expensive if you buy it by the meter. I've found that auction sites are a great way to find fabric at a fraction of the price - searching online for vintage curtains, bedspreads or sofa covers is a great way to get a lot of material for a snip'.
Recycling old clothes is another pound-saving way to get crafty. Scouring charity shops can be a great way to pick up the perfect materials for an upcycling project, with fabrics like denim and tweed ideal for cladding a piece of furniture or making bags.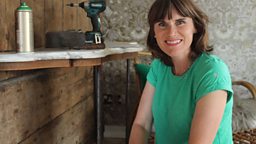 Money For Nothing presenter Sarah Moore.
3 - The right tools for the job
Before undertaking an upcycling project, it's a good idea to figure out which tools you will need. Sarah Moore says 'a hammer is a hammer, second hand tools will do the job just as well as brand new ones.' Try asking around to see if friends or family have tools you could borrow, become a member of a local tool library, or consider picking up pre-loved items from a re-use shop at your local recycling centre.
Money for Nothing presenter JJ Chalmers agrees that you don't have to splash out on tools. 'People say buy cheap, buy twice but when it comes to figuring out which tools you need, a set of the basics from a local hardware shop should stand you in good stead.'
Lighting designer Duncan McKean says 'screws and fixings are essential bits of kit for any aspiring upcycler, and you can pick these up at a bargain price from car boot sales.'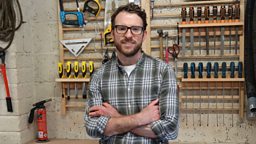 Money For Nothing presenter JJ Chalmers.
4 - Pick your perfect paint
Adding a splash of colour to a tired piece of furniture can be a great way to revitalise it. Sarah Moore recommends using tester size pots of paint when working on smaller items, 'it saves having left over tins of paint lying around and costs a fraction of the price'.
Furniture artist Chloe Kempster says chalk paint can be a budget friendly way to transform an old item, 'It's fast-drying and versatile, and without the need for sanding and priming, it's great for people who want to get stuck in straight away'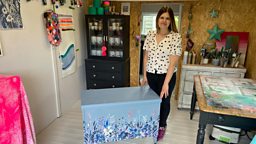 Furniture artist Chloe Kempster.
5 - Waste not want not
Hanging on to bits and pieces that may come in handy for a future upcycling project is a great way to keep costs down. Designer Sarah Peterson says - 'I never throw away fabric offcuts, as I hope I'll be able to re-use them or incorporate them into a project some day. I have a huge stash of fabric offcuts that are just waiting to be used'.
6 Measure twice cut once
Bruce Faulseit says planning is key in keeping costs down when it comes to woodworking projects.
'It's so important to have a plan. I'd suggest testing out early designs on scrap pieces of wood to begin with. Once you have a plan in place, using reclaimed timber is a cost-effective option, while also being more environmentally conscious than using fresh timber.'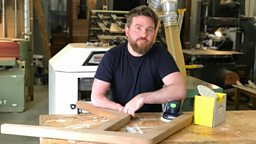 Designer woodworker Bruce Faulseit.
Final thoughts
Trust the process. Sarah Moore says it's not unusual for a project to look dreadful half way through, but the trick is to keep persevering and have fun with it!