Main content
Rip Off Britain: Live - Your Consumer Questions Answered
Many thanks to everyone who took part in our latest series of Rip Off Britain: LIVE. We do read all of the emails that are sent to the programme and we're grateful to our viewers for taking the time to contact the programme.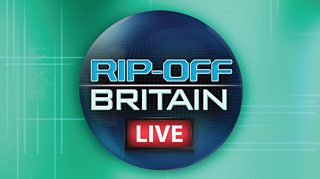 We're sorry we didn't have time to include them all on air...
BUT we've put some of YOUR questions to our experts, and you can find their answers below.
Rip Off Britain is back on BBC One later this year, and the team wants to hear from you. If you feel like you've been ripped off, short changed or have a holiday horror story then please get in touch by e-mailing us at RipOffBritain@bbc.co.uk or by completing our online form.